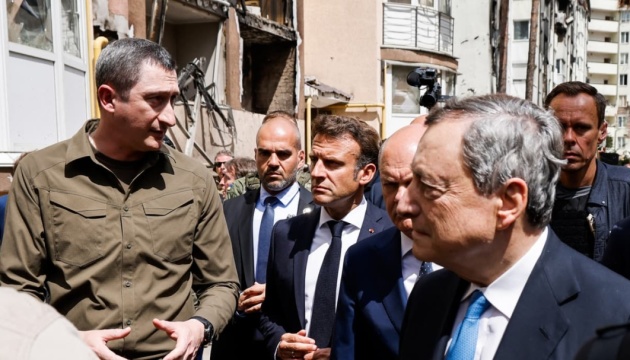 Macron commends heroism of Ukrainians in face of Russian barbarism
President of France Emmanuel Macron has commended the heroism of Ukrainians in the face of Russian barbarism during a visit to Irpin, Kyiv region.
"We all have seen the pictures of a devastated town, which is also a hero town, because it was here, in particular, that the Ukrainians stopped the Russian army, which was advancing on Kyiv. So you have to imagine the heroism of the army, but also of the Ukrainian population," Macron stressed, French TV channel BFMTV reports.
The French leader, who is visiting Irpin along with his German, Italian and Romanian counterparts, said that they "have come to pay our respects",
On June 16, President of France Emmanuel Macron, German Chancellor Olaf Scholz, Prime Minister of Italy Mario Draghi, President of Romania Klaus Iohannis arrived in Kyiv.
Photo credit: bfmtv.com
ol