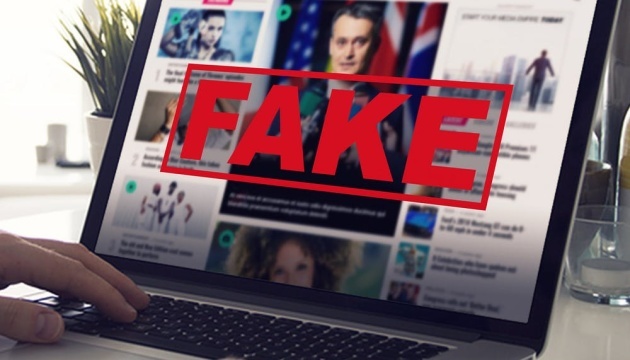 Anatomy of one provocation: Bercoff and Bocquet v. Ukraine
Since February 24, anti-Ukrainian propaganda has been inefficient in Europe
During the Russian-Georgian war on 08/08/08 and at the beginning of the 2014 war against Ukraine, which was a hybrid one back then, Russian propaganda worked quite effectively both in the internal and the external information markets. Now, in the ongoing large-scale war, the situation is completely different.
IS INTERNATIONAL EFFICIENCY OF RUSSIAN PROPAGANDA OVER?
First, the Kremlin's blackmail overture demanding "security guarantees" (actually diplomatic capitulation) from the West has made the situation more transparent. Second, the public line of the Ukrainian authorities on the eve of the war – "do not succumb to provocations" and "think about a peaceful future" – made the transition from peaceful plans to the need to defend against the aggressor too abrupt, tragically obvious to everyone. And further on, our government has worked well in the media space, leaving no chance for the enemy.
But Russian propaganda is rolling in huge money which is worked out to the last cent in the domestic market. The incitement of war and hatred towards Ukrainians (under the pseudonym of "neo-Nazis") is almost round-the-clock on federal TV channels: from 11:00 to 24:00 (the program of Russia-1, the main propaganda channel, on weekdays).
Meanwhile, Russian propaganda for export goes poor. For almost three months of the war, it has actually had no achievements. Only the story of French volunteer Adrien Bocquet, which began on May 10-11, caused a relative stir. The Ukrainian media have already sorted out the doubtfulness of his statements. On May 14, Stopfake.org platform released the article entitled "How Frenchman Adrien Bocquet whitewashes Russian atrocities in Bucha". On May 15, Information Navigator published the article entitled "Russia uses French agent of influence for information attack on Armed Forces of Ukraine". The analyses are good and high-quality (although some things can still be clarified and supplemented in small details, which we will do later).
However, this case turned out to be very interesting as it showed who and how the Russian propaganda selects for its bogus stories.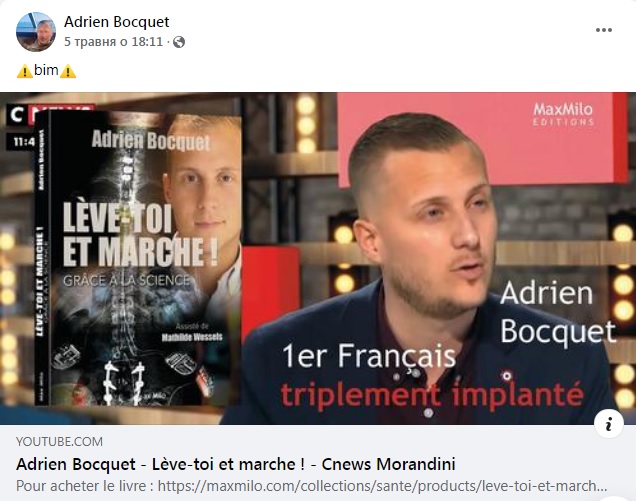 GOOD CHOICE OF PERFORMER: AN OPTIMISTIC MARTYR
Let's start with the figure of performer: newsmaker Adrien Bocquet. He is a military man in the past. In 2010, during some military training, a 21-year-old guy received a severe spinal injury, a spinal fracture. For two years, Bocquet was completely paralyzed. He underwent a long treatment and struggle with excruciating pain. According to him, the pain was so strong that doctors prescribed morphine in large quantities: "Morphine! Morphine! They didn't know what else to give me." … In 2021, three neurostimulators were implanted in Bocquet's spine, after which the rehabilitation period began. He gradually began to move and soon wrote a book about his experience with the attractive, optimistic title "Lève-toi et marche! Grâce à la science" ("Get up and go! Thanks to science").
What can I say? A character for propaganda newsmaking was chosen very well. A former military. This means that everything he talks about the war will subconsciously be more trusted than if he was some random civilian.
A man of hard fate who was on the verge of death. So, original sympathy and trust in him are guaranteed. In addition, thanks to participation in TV shows with stories about the fight against the disease, he has some initial recognition, albeit not very wide, but absolutely positive.
The character lacks a clear political background, and it's also an advantage. It is more difficult to suspect him of political engagement: he is just a common nice guy who tells according to the principle "I sing what I see."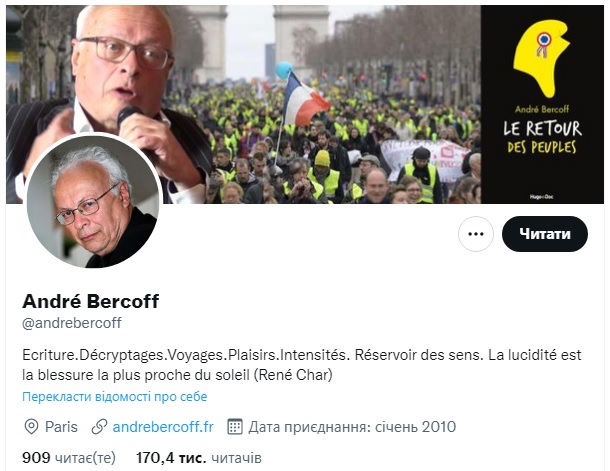 'ROCKET FOR ACCELERATION': FAMOUS JOURNALIST, VETERAN
The journalist who launched Bocquet "into the orbit" with his (their) provocation was also chosen quite well. An extremely interesting character.
Of mixed Russian and Spanish parentage, André Bercoff was born in 1940 in Beirut, which was then under French mandate. Although Lebanon gained independence in 1943, French influence persisted. So, the Russian Spaniard Bercoff became a Frenchman and a prominent French-speaking journalist. His fame ramped up after he moved to France. In the 1980s, Bercoff was a figure close to François Mitterrand (President of France in 1981-1995). In the 2000s, Bercoff held senior positions in the authoritative newspaper France-Soir (it began to turn into a tabloid only after 2006). In 2004-2007, Bercoff was the president of the Press Club of France.
In the 2010s, the seventy-year-old journalist moved to the right. In 2016, he became the first journalist to do an interview with presidential candidate Trump for the French press. In the same years, Bercoff began hosting a daily two-hour live program on the right-wing populist Sud Radio. He is still "the noisiest of the French Trumpists" and a fan of conspiracy theories (it's generally one of Sud Radio's main lines).
So, the character to launch the provocation is also not accidental, frankly speaking. A very famous and highly experienced journalist, who has become adept in manipulations and demagogy. At the time, he enjoyed authority. And now? .. Well, now someone will say that the 81-year-old old man stands out and fell under the spell of Trump with his promise to drain the hypocritical "political swamp."
As for the pro-Russian threads, Bercoff came to light in 2020, when Estonia finally began to wage a systematic fight against Sputnik, the hotbed of Russian propaganda, which by that time had a strong media hub in Tallinn. Russian propaganda then managed to organize an off-site tour of the Sputnik Estonia leadership to Paris and Strasbourg, with the support of the Rossiya Segodnya international news agency. So, Andre Bercoff also participated in the Parisian debate about Sputnik Estonia, organized by the "Dialogue Franco-Russe" Association. As a sign of his fierce opposition, he then came wearing a "yellow vest" (a photo taken at the yellow vests protests is still his Twitter profile photo).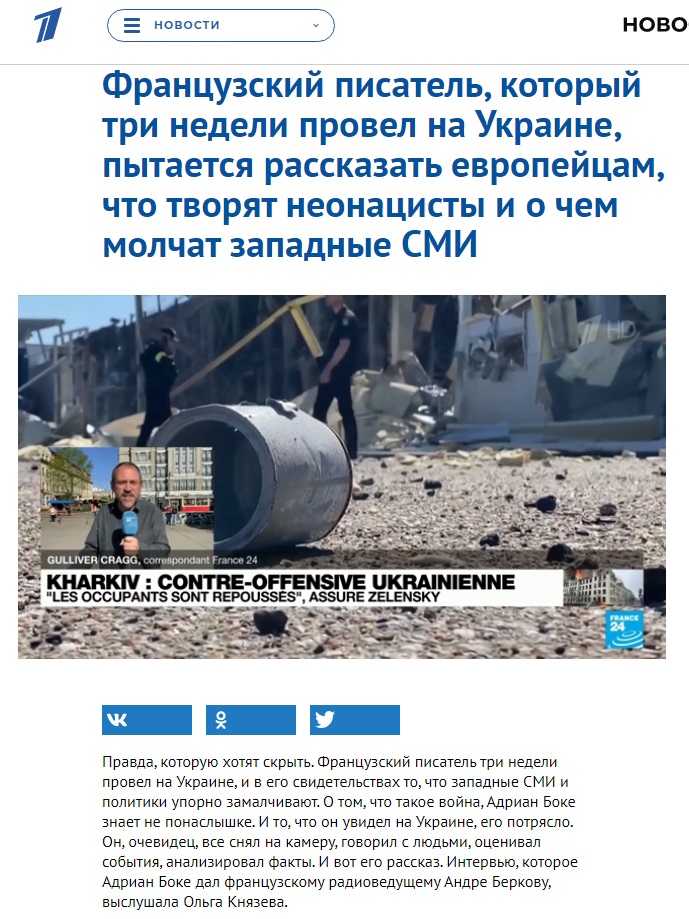 START OF PROJECT 'BOCQUET IN BUCHA'. RADIO AND TV BROADCASTS
And so, on May 10, Bocquet appeared on traditional Bercoff's daytime Sud Radio broadcast with his dramatic "exposure of Ukrainian militarists."
The words of support quickly began to appear in comments to the video on YouTube. And not only in French, but also quite a lot in Russian and other languages, for example, in Finnish and Polish (what politically relevant languages!). Moreover, the commentators say how important it is to translate this information into Finnish or Polish ... Ten days have passed. Now there are already 10,500 comments. Of course, I didn't read everything, but those that I managed to see are all positive. Obviously, this is starting to feel like the artificial inflation of pro-Kremlin sock-puppet farms.
Already on May 11, Russian propaganda fired a powerful volley with references to that speech. The headliners were RIA Novosti (part of the Rossiya Segodnya international news agency) and Russia's top-rated Channel One. Also, captions were promptly added to the excerpts from the Sud Radio broadcast and posted on YouTube. After that, several well-known French TV channels – BFM, TF1 – invited Adrien to their programs in the next few days.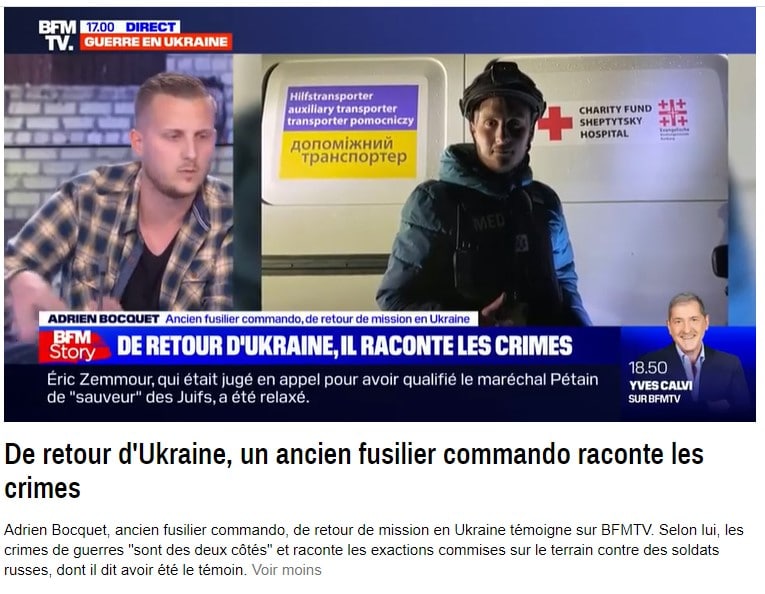 However, there he did not have such a comfortable atmosphere as on Sud Radio. TV presenters looked at the narrator with great skepticism and softened his wording. It's funny, but although Bocquet talks a lot about the revealing videos he has, the background to his TV appearance on BFM was completely different and well-known to everyone, one might say, already classic photos and videos from the war in Ukraine.
To make his volunteer activities more "credible", Bocquet showed five photos taken at the respected charitable Ukrainian medical institution "Sheptytsky Hospital". Moreover, two of the five photos were taken against the background of vehicles for transporting goods with the inscription "For Hospital".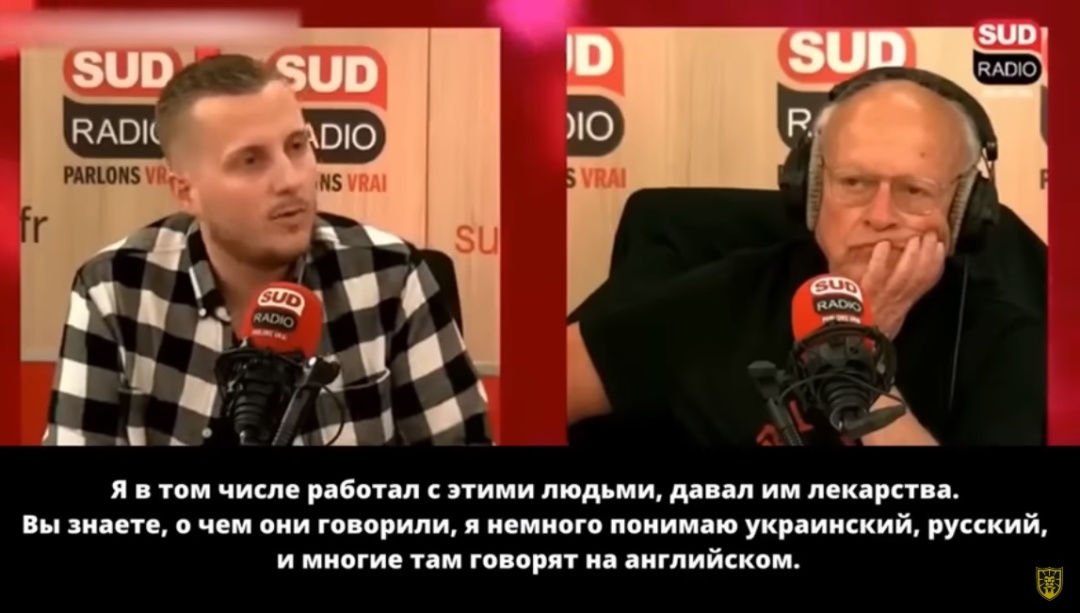 DISPARITY BETWEEN WHAT HAPPENED AND WHAT IS SAID
I called the medical institution based in Lviv, and two of its employees told me about the Adrien Bocquet visits. The first was on April 4, at about 13:30-14:00. He arrived with a group of other French people by two cars. Indeed, humanitarian aid was brought.
But what an oddity and inconsistency with the tales on Sud Radio. There, Bocquet, explaining how he allegedly established contact with the Azov fighters, says that he understands Russian and Ukrainian a little, and many of his interlocutors spoke English (i.e., it is assumed that he also knows this language).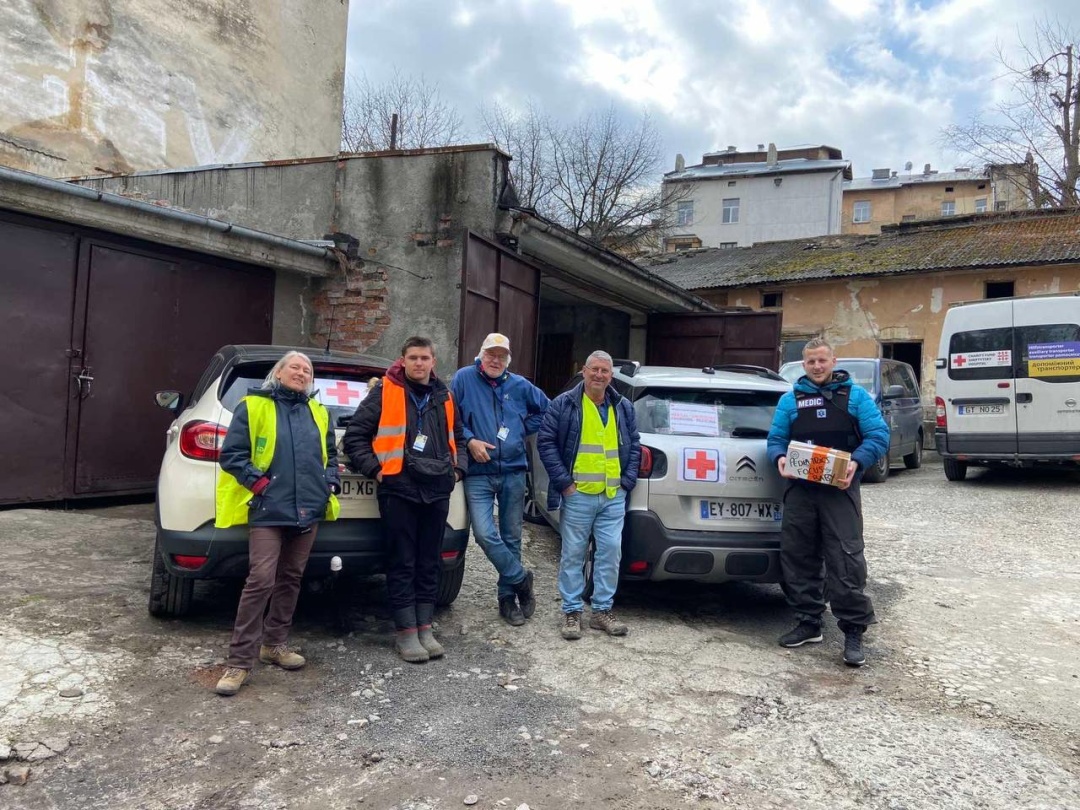 However, an employee of Sheptytsky Hospital, who spoke with the visitors on April 4, told me how difficult it was to establish contact with them. The Frenchmen were very bad in Ukrainian and Russian (only the person wearing an orange vest in a photo could say "vitayu", "diakuyu" and "Slava Ukraini" – and that's it). They could not speak English either. The dialogue was established only when a guy who knew French was found at the Hospital.
So, either Bocquet openly lies here too, or, having brought the humanitarian aid, he masterfully concealed his knowledge of languages ​​in Lviv. But what for?
Another interesting detail. In the evening of the same day, persons in charge called the Hospital management and asked if a group of Frenchmen with humanitarian cargo had come to their institution. It turned out that someone from this group was taken photos of a Ukrainian roadblock along the way. After their visit was confirmed, the volunteers were let go. (Who knows, maybe the incident gave rise to Bocquet's emotional story about a few hours of interrogation by the Ukrainian military or security officers and inspection of his gadget).
The second time Bocquet came to Sheptytsky Hospital was on April 6 at about 23:30. But then there was not much communication. He just handed the humanitarian cargo over to a security guard and left.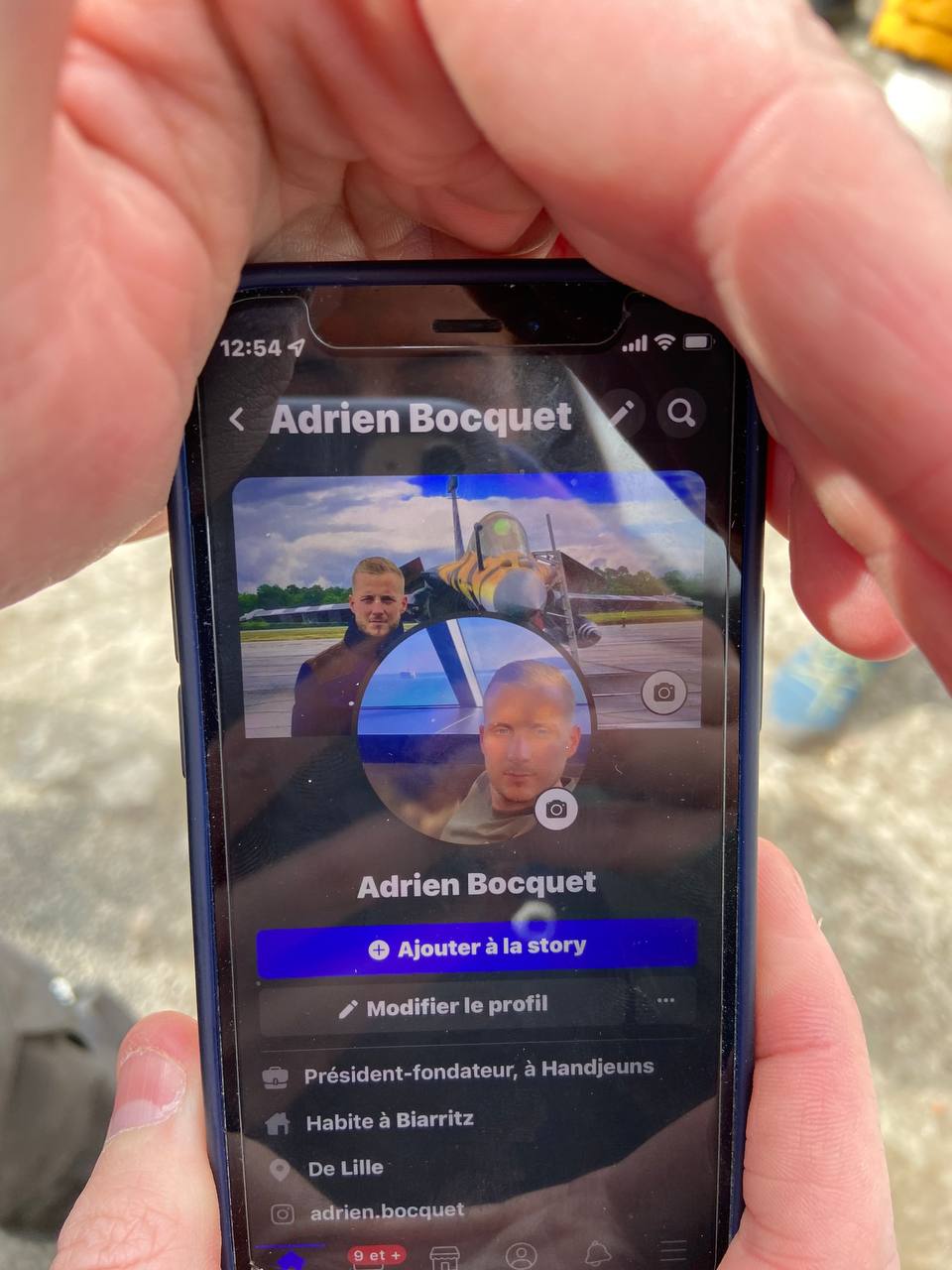 COULD BOCQUET BE IN BUCHA AND WHO HE WOULD MEET THERE
Overall, there is a strange story with Adrien Bocquet's visits to Ukraine.
According to him, he was in Ukraine in April for either "16 days" or "three weeks". He was, as he says, in Lviv, Kyiv, and Bucha (on some broadcasts, he says "in Bucha area"). Over that period, he was engaged in volunteer activities: "helped women and children, maternity hospitals" and also allegedly provided assistance to the Ukrainian military and communicated with them so closely that he was allowed to the place where Russian military personnel had been stationed.
Ukrinform addressed the government agencies to check the dates when French citizen Adrien Bocquet crossed the Ukrainian border. It turned out that Bocquet visited Ukraine five times: between April 4-20. He arrived by different cars with French, Polish, and Ukrainian registrations. Mostly he arrived and left through Shehyni (the Lviv–Przemyśl road), and once left through Krakivets (Lviv–Yavoriv–Rzeszów road). The minimum stay was ten hours on the first visit. Mostly he stayed in the country for about a day. The longest stay was two days.
And now let's count. If you go by car, it takes about six hours to get from Lviv to Kyiv in peacetime. However, in wartime, with all roadblocks and inspections, which were more frequent in April, it takes much more time, it's hard to even say how much. Therefore, it is extremely doubtful that Bocquet managed to go to Kyiv and Bucha and even gain the Ukrainian military's trust there.
In addition, according to the Ukrainian side, the longest, two-day stay of Bocquet in Ukraine was recorded in mid-April, two weeks after the Battle for Kyiv (so it is not clear what kind of mortar attacks he talks about). And, by the way, on April 12, completely different and truly noble people arrived in Bucha: 18 investigators and experts of the Forensic Sciences Institute of the French Gendamerie. So, if Bocquet really was in Bucha, he could get first-hand qualified information about Russian crimes committed in the town.
UNSUCCESSFUL ATTEMPT TO RESTART BERCOFF–BOCQUET REPERTORY
Why did a man like Adrien Bocquet, with such strange and unconvincing testimonies, still gain access to popular French TV channels?
It's because of freedom of speech and the key principle of journalism: to give the floor to different parties and present all points of view. We, a warring country, may have military censorship, prohibitions, and restrictions. France can't have this until it is at war.
After the atrocities of the invaders committed in Bucha, Irpin, Makariv, Husarivka, and other localities that have become public, it is easy to assume that the behavior of the Ukrainian military towards Russian prisoners of war may be incorrect in some cases. Therefore, Western journalists, for the sake of impartiality, are ready to accept and analyze such testimonies (what they also do – more on that at the end of the article). Therefore, there was some interest in Adrien Bocquet at first. But it has faded away already.
So a week later, on May 16, he returned to where he started – the program of André Bercoff on Sud Radio. One feels that Bocquet has already been battered by journalists who are not as biased as Bercoff. He immediately began to clarify that he criticized only the Azov regiment, not all Ukrainian military. That he did not say that only the Ukrainian side committed war crimes, but only wanted to show that a focus must not be put exclusively on Russian crimes. As the main and, most importantly, fresh and exclusive piece of evidence, Bocquet brought an Azov Regiment emblem printed in color on A4 sheet.
Bercoff was good too. However, we need to take a roundabout approach.
Back on March 16, the Le Monde newspaper published an article with the following headline and subtitle: "War in Ukraine: Pro-Russian voices trying to survive in traditional media in France. While Europe banned RT and Sputnik due to economic sanctions, pro-Russian arguments in mainstream French media have become rarer except for some far-right media or shows."
And further on, the main negative example is the two-hour André Bercoff's show on Sud Radio, to which a crowd of personalities has flocked since February 24 to recall the "context" of this war and reconsider the responsibility of Vladimir Putin, laying the blame on NATO or the United States.
As a result, according to the Le Monde author, André Bercoff and others like him actually took the place of RT and Sputnik banned in Europe.
A FEW MORE WORDS ABOUT SOURCES OF BOCQUET'S 'EVIDENCE'
The article was included in the journalist's biography on Wikipedia. And, of course, anyone who was interested in him, found out what he was. This infuriated Bercoff so much that he dedicated part of the show with Bocquet to slam the hated newspaper. And having done this, he said that Le Monde is changing its stance on the war in Ukraine, recognizing the authenticity of the video available on the Internet, showing the mistreatment of prisoners of war in Ukraine.
"Yes, Yes!" Bocquet reacted immediately, "I also have this video in my archive!"
After that, Sud Radio showed a great headline mastery on its Twitter account by posting: "Adrien Bocquet: 'All the media I've contacted have seen the videos I have, which have been confirmed as authentic by Le Monde'."
Just assess the grace of the shifter! In fact, on May 13, the authoritative newspaper published an article on this topic (by the way, it wrote about this, trying to figure it out as early as April 8, so Bercoff's accusations of bias are inappropriate here either). In doing so, Le Monde used video from open sources. And the simple-hearted Bocquet screams that he has the same video. He let it slip, didn't he?
Sure enough … The Azov regiment emblem printed in color on A4, videos from the Internet… Apparently, all the "evidence" of this guy is exactly of such sort.
But that doesn't mean he can't be dangerous in the future. Dirty games now start in Russia around the evacuees from Azovstal steelworks, actually captured Azov Regiment fighters. So, a promoted character, equipped with a better set of "evidence" may still come in handy for Russian propaganda.
The thing is ... I remember the history of Bocquet's illness, his heightened emotionality, a certain fanatical gleam in his eyes. The man was seriously ill for a long time and took significant doses of morphine. Therefore, Russian propaganda may not be able to embed in him a more sophisticated and high-quality program compared to the one that is available and repeated now.
Oleh Kudrin, Riga
ol