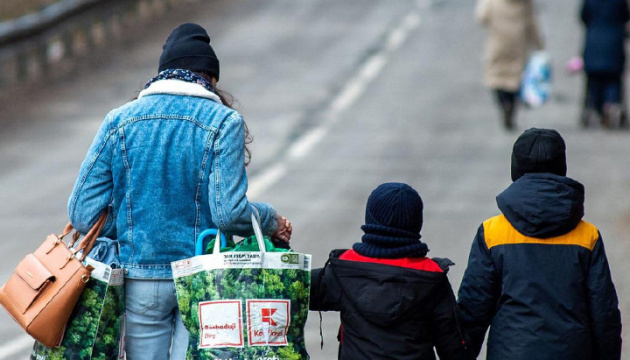 Over 1.3M Ukrainians already deported to Russia - Ombudsperson
More than 1.3 million Ukrainians, including 223,000 children, were forcibly deported to Russia.
That's according to a Verkhovna Rada Commissioner for Human Rights, Liudmyla Denisova, who made the statement via Telegram following an online meeting with the UN High Commissioner for Refugees Filippo Grandi, Ukrinform reports.
"The key topic for discussion with the UNHCR chief was the forcible deportation to Russia of more than 1,300,000 Ukrainians, including 223,000 children. I noted that long before the full-scale military invasion, the Russian Federation had been preparing to deport Ukrainian citizens to its territory," the Ukrainian ombudsperson said.
According to Denisova, the directives on arranging a temporary stay of Ukrainians have been sent across Russia's federal districts.
"I have documentary evidence of this with the addresses, names of responsible persons, the number of locations available in each. Today, 33% of locations in Russia are yet to be filled, so they are obviously not going to stop," said the ombudsperson.
In accordance with the resolution of the UN Human Rights Council, Russia must provide international human rights watchdogs, including UN institutions, unimpeded access to Ukrainian citizens who have been taken to Russia, Denisova noted, adding that UNHCR should play a key role in implementing such measures.
For his part, Grandi noted that currently the Office has no access to Ukrainians held in Russia.
"Even the agreement with the Russian Red Cross does not provide such an opportunity. Its implementation is limited to the transfer of humanitarian aid to the locations where the deported Ukrainians are held in four regions of Russia," she said.
The UN High Commissioner for Refugees asked for Denisova's evidence and other materials to be used along with UN Secretary-General Antonio Guterres to put pressure on the government of the invading power to force it to provide access for UN institutions and talk more specifically about people's return.
Denisova and Grandi also discussed the protection of the rights of asylum seekers in Ukraine. Starting next week, it is planned to resume work on their registration in Ukraine.
"We focused on some violations of the rights of Ukrainian children who left the country unaccompanied by legal representatives, including their return from European countries to Ukraine. I have summarized the problematic issues that arise in this process, in particular, in Poland, Germany, and Italy, and developed recommendations for their solution," Denisova said.
During her visit to Italy, she also plans to work out these nuances with the relevant authorities so that the rights of Ukrainian children are respected.
As reported, Deputy Interior Minister Kateryna Pavlichenko said that since the beginning of the full-scale Russian invasion of Ukraine more than 25,000 people have left for Belarus, according to the available data.