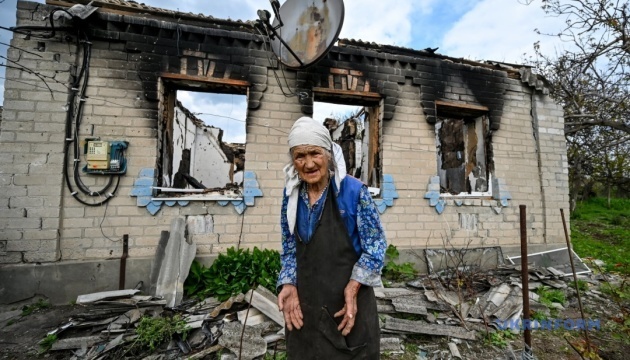 Truth about the war in Ukraine now available in 74 languages
The truth about the war in Ukraine is now available in 74 languages thanks to the International Project #MyWar.
The relevant statement was made by the Ukrainian Culture and Information Policy Ministry, an Ukrinform correspondent reports.
"From now on, every citizen of any country can monitor the course of the Russian-Ukrainian war personally, receiving truthful information directly from thousands of Ukrainians who became witnesses of tragic but at the same time heroic actions," the report states.
The International Project #MyWar is a 'Living Diary' of real stories about the war written by ordinary Ukrainians who were forced to be at the epicenter of events.
In a short time, more than 2,700 stories have already appeared on the project's portal that garnered more than 4 million views. They can be read in 74 languages.
"Now, millions of Ukrainians have witnessed the war. That reality the people of Ukraine are facing now is not only proof of the aggression of the Russian Federation, but also proof of crimes against humanity. Now we are at the forefront, and we are defending not only our country but the entire civilized world, every citizen of democratic countries. We share our experience and feelings with the world. Every story of Ukrainians must be heard. We appeal to every citizen of the civilized world to take the side of Good in the fight against Evil," Ukrainian Culture and Information Policy Minister Oleksandr Tkachenko said.
In addition to real stories of Ukrainians, the #MyWar platform contains videos and photographs that clearly demonstrate what is happening in Ukraine.
"Everyone who posts any material on the platform is moderated before the story becomes available. This was implemented so that other users of the platform can be sure that stories were written by real people," Association for Innovative and Digital Education Executive Director Mariya Boguslav noted.
A reminder that, on March 14, 2022, the Ukrainian Culture and Information Policy Ministry, the Association for Innovative and Digital Education and Totonis Company launched the international platform #MyWar (www.mywar.in.ua).
Using this platform, any Ukrainian, as a witness of the brutal war of the Russian Federation against Ukraine, can tell their story, share real facts and personal experiences. Citizens of all countries of the world can see and read these facts in their native languages and express their support for Ukraine in real deeds.