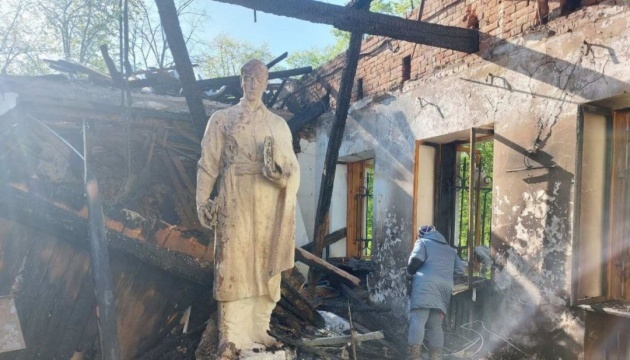 Minister Tkachenko: Destruction of Skovoroda Museum is Russia's planned ideological action
Russians deliberately aimed at the Gregoriy Skovoroda National Museum. The destruction of the Museum of the Ukrainian philosopher in the year of his 300th birthday is a conscious ideological action.
This was announced by Oleksandr Tkachenko, Minister of Culture and Information Policy of Ukraine during the News Marathon # UAtogether.
According to his words, the village of Skovorodynivka, where the museum is located, is situated remotely from other settlements and infrastructure facilities.
"I mean that there are only fields actually. I have no doubt that they shot deliberately at Skovoroda. He himself once said: "Do not fraternize with those who hide evil." Basically, it is a clear proof that this is a conscious ideological action. They even called Skovoroda one of the first Russian philosophers. Nearby, there is the tomb of Gregoriy Skovoroda - they actually aimed in the heart of the Ukrainian philosopher. And shelled in a year of 300th anniversary," Tkachenko said.
The Minister added that a regular meeting of the organizing committee was to take place at the end of February to commemorate the 300th anniversary of the Ukrainian philosopher. In particular, in the village it was planned to carry out restoration work. Instead, due to cynical shelling by Russian troops, the building of the 18th century, where Gregoriy Skovoroda spent his last years, will have to be restored completely.
Tkachenko assured that Ukraine, together with international experts, will record this crime commited by Russians against the Ukrainian cultural heritage.
"We will send relevant letters to the international community, to UNESCO, because it is, in fact, a deliberate hit on what Putin is allegedly fighting against - against Ukraine identity. Skovoroda also has words that "I could not stay without freedom", and this is also a strike on our freedom, the freedom of self-determination, the freedom against which Russian troops are waging this war, " Tkachenko summed up.