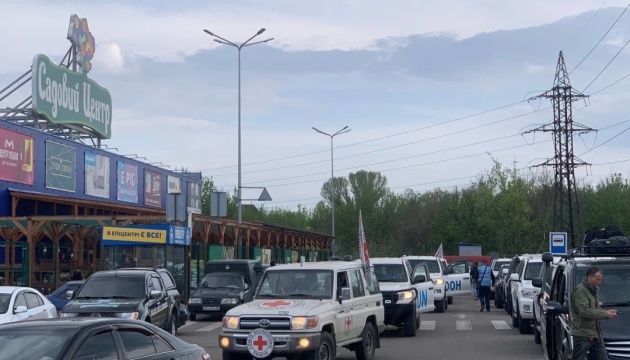 Civilians evacuated from Mariupol's Azovstal arrive in Zaporizhia
The evacuated people from the Mariupol-based Azovstal metallurgical plant have already arrived in Zaporizhia, now being provided with all necessary assistance.
That's according to the Mariupol City Council, Ukrinform reports.
"Evacuated people from Azovstal have already arrived in Zaporizhia. They are being provided with all the necessary assistance," the statement reads.
The City Council published a video of evacuation buses that arrived in Zaporizhia, carrying Mariupol residents.
Mariupol Mayor Vadym Boychenko thanked everyone who made it possible to save the residents of the besieged city.
"We are grateful to all the participants of the evacuation mission – representatives of the United Nations, the International Committee of the Red Cross, and Minister Iryna Vereshchuk. Thanks to our joint efforts, we managed to save Mariupol residents from this hell," he said.
According to the City Council, the UN mission is ready to repeat the operation to evacuate more civilians from Azovstal.
UN Coordinator in Ukraine Osnat Lubrani confirmed the success of the operation on safe passage from Mariupol.
"I'm relieved to confirm that the safe passage operation from Mariupol has been successful," Lubrani wrote on Twitter, Ukrinform reports.
The UN coordinator noted that the people she traveled with told her "heartbreaking stories of the hell they went through."
"I'm thinking of the people who remain trapped. We will do all we can to assist them," wrote Lubrani.
Reintegration Minister Iryna Vereshchuk said earlier that a total of 156 people had been evacuated from Azovstal. According to the official, several hundred still remain on the enterprise's premises.
As reported, as part of a special operation on May 1, more than 100 civilians were evacuated from Mariupol. On April 30, the command of the Azov Regiment, which is defending Mariupol, reported that 20 women and children had been evacuated from the plant. The evacuation from the Azovstal plant does not cover the military and the wounded because the United Nations, with the assistance of which the evacuation mission is underway, does not assume such responsibility.