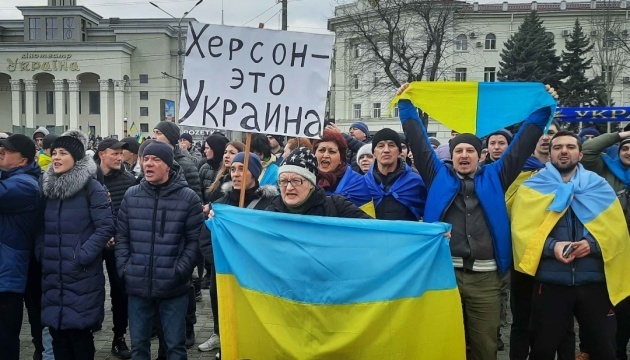 Kherson resistance. Russian-speaking locals take to streets chanting "Get out!" in Ukrainian, addressing invaders
A Ukrainian activist shared a story about rallies ongoing in the city and the risks that those opposing the setup of a sham "republic" are facing.
An Ukrinform correspondent spoke with a Kherson resident who was forced to leave town over fears of being abducted by invaders due to her pro-Ukrainian stance. She is among the vast majority of locals who, as much as it is possible in the face of occupation and threats to their lives and the safety of their families, are resisting Russian troops trying to plant puppet authorities in the region and create pseudo-formations alike the "DPR" and "LPR."
Kherson-based activist Victoria (name altered for security reasons) told Ukrinform how her hometown met the Russian occupation, what stunned the invaders the most, what threats local patriots are facing, and whether the latter believe in the resolve of the Armed Forces of Ukraine.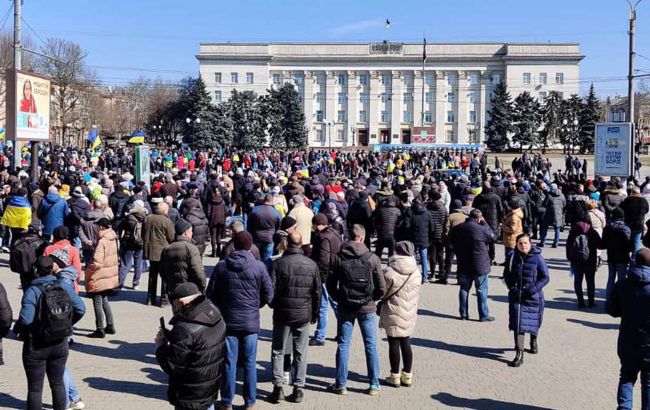 KHERSON RESISTING DESPITE DEADLY THREATS
The day when the full-scale Russian invasion of Ukraine began, Victoria was at home with her 5-year-old child, not fully believing that this could happen in the 21st century and that she would have to forget about a peaceful and happy life. But she has quickly realized what resistance is.
"Liberators" came to Kherson and fixated their presence in the city. These were mostly Russian Guard forces and SOBR (spec-ops policing units). According to Victoria, the Russians initially expected a warm welcome and approval on the part of the local population.
But things went wrong for the invaders, as evidenced by the mass rallies held in the city center almost daily. People take to the streets despite the direct threat to their lives and health, the threat of being detained and abducted.
What we see in amateur photos and videos taken at the protests from day 1, gives strength to the whole country, Victoria is convinced. People see the indomitable spirit of Kherson region, their confidence in their right cause and desire for freedom – things that, in her opinion, the Russians just can't comprehend. In fact, even through the balaclavas covering the occupiers' faces, some images show them a little confused, while some are openly irritated. "They are simply unprepared for such resistance. They do not know how to act in such situations," Victoria said, while acknowledging that the risk of attending these rallies is growing by the day. The invaders are now dispersing the crowds by force, there are reports that many civilians have been injured or detained. But people don't stop their protest.
Victoria, in turn, is also contributing to the fight against the occupation regime on the "information front." She recently launched a flash mob in which locals – students, workers, businessmen, and retirees – spoke in short videos recorded on their phones about their attitude to the very idea of a so-called "Kherson People's Republic," which is being actively promoted by Russia. Everyone expressed their opinion in their own way, but all are united by a common desire – to tell the truth that Kherson residents see themselves as Ukrainians and remain unwilling to become part of an illegitimate entity, let alone live under the Russian flag.
"LIBERATORS" IN SEARCH OF "BANDERITE HIDEOUTS"
Victoria says that the hired "actors" brought to Kherson by the occupiers to film propaganda reports looks miserable, and the locals immediately know that they are aliens in the area – they can tell by a slightly different accent. Despite the fact that many citizens in Kherson speak Russian in everyday life, they can clearly tell who's from their neighborhood and who's not.
Commenting on the traditional Russian mantra of "protecting the Russian-speaking population", Victoria notes that she has never experienced any language-based discrimination. Both in Kherson and in other cities of Ukraine, she always felt comfortable communicating in the language she thinks.
But with the arrival of the occupiers, she immediately felt an almost repulsive attitude towards herself as a Ukrainian. Once she was forced to talk to the occupiers, when they were checking her ID: they laughed in her eyes, mocking her Russian speech with a slight dialect, which they probably found "amusing."
Even more surprised, according to Victoria, the occupiers were at the sight of the shelves at Ukrainian supermarkets – that's before they looted them, as well as houses and apartments of typical Ukrainian middle class, which seemed to them too good to be true.
However, it did not seem to the woman that the Russian forces were beginning to rethink their role in this war and realize its unjust, aggressive nature. They stubbornly see themselves as "liberators" and with an empty look in their eyes continue their search for "Banderite hideouts" and "Right Sector cells," following tips provided by collaborators, whose number, fortunately, is extremely low.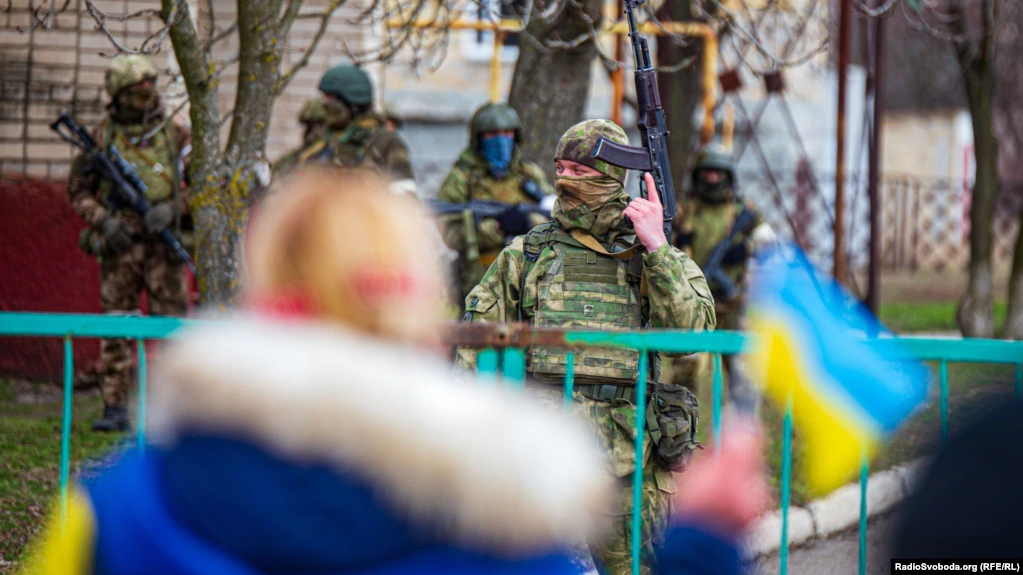 HORRORS HAPPENING IN KHERSON REGION RESEMBLE SITUATION IN BUCHA AND IRPIN
Victoria recalls how the Russians never found local photographers or cameramen to film staged rallies for Kremlin propaganda for a fee of 5,000 rubles. "They were told the same as the Russian ship was," the woman joked, adding that local journalists were not asked to cooperate. On the contrary, the Russians tried to locate and detain them. As far as she knows, most of the journalists managed to flee the city on time, but the fate of many detained Ukrainians remains unclear. Among them are Victoria's acquaintances, who simply vanished.
Recalling the horrific events that were exposed to the whole world in the liberated settlements of Kyiv region - Bucha, Irpin, Hostomel, Borodianka, and other settlements, Victoria admits that, unfortunately, the same horrors occur in rural areas across Kherson region.
"As soon as they entered our region, they were moving in columns, and the advanced group would simply shoot anyone they see on their way. I remember there was a tank that opened fire at a five-story building, for no apparent reason… Also we have many stories of local women raped there… Only a small part of them are already known. In some villages, there is still no connection with the outside world. So, if we ever find out about those atrocities, about what is happening there now, it will be only after these areas are liberated," says Victoria.
Locals are often tortured and killed for their "Ukrainianness" – even speaking Ukrainian can provoke unjustified aggression at checkpoints or during routine ID checks across the city.
Men are literally stripped naked as the Russians are looking for tattoos and scars on their bodies – anything that may suggest their affiliation with the armed forces or law enforcement.
Sometimes the invaders overthink and suspect ordinary passers-by of assisting the Armed Forces, spotting fire, and the like. "My blood gets cold every time I recall the terrifying cries and pleas for life that I heard out of my window near the park. There was this man, who was out there at about half-past six, while the curfew was supposed to begin at eight. He screamed in Russian: "Don't shoot, please, please!" But then I heard a fire burst and everything went quiet. I just can't forget that," Victoria shares.
From the very thought that some foreigners are imposing their rules in her city, for violating which people can be executed, the woman can't contain her anger.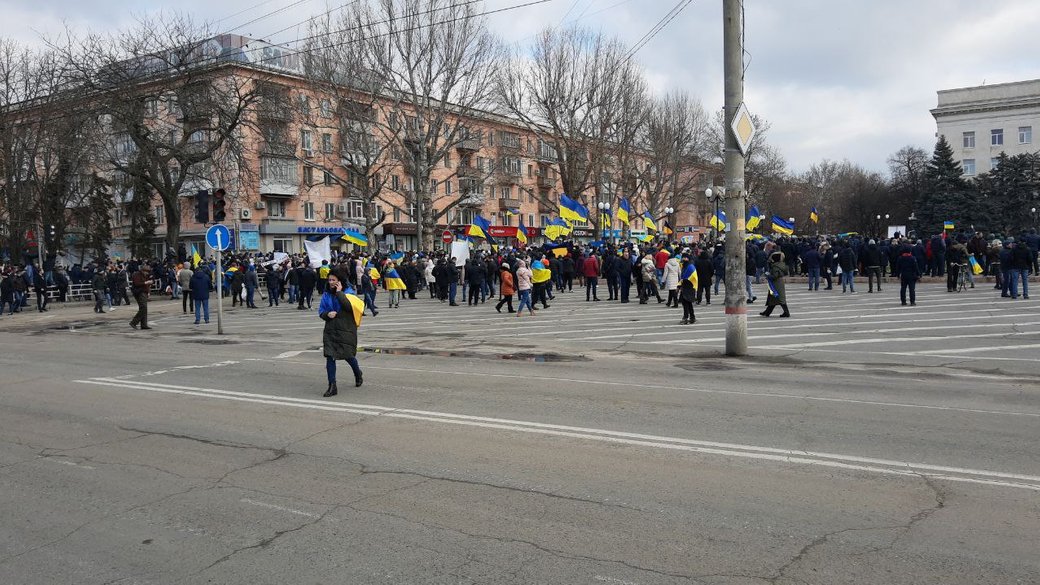 "Even driving their own cars, people can't move freely around the city. You have to drive with white ribbons tied to your car. If you speed up just a little, you'll get immediately shot at. If you fail to stop when told – you're done. It's insane. Who do they think they are? Had we lived so badly here, we would have probably called on them to come save us, right? Like, free us from Ukraine ASAP! But this is not the case! Nobody even thought to ask them about anything like that! Why do we need their hobo 'Russian world!' Watch the videos from the rallies! Those people are almost all Russian speakers, they communicate in Russian, but to the occupiers, they are chanting "Get out!" in Ukrainian, so that they understand even better that they are not happy here. Look at our elderly. They are also there on the streets. According to the Russians, they should become their driving "electorate", perhaps suggesting they will be missing the Soviet Union or something. But they aren't. "The vast majority of our older people don't want any 'people's republic,' they don't want Russia," says Victoria.
"They intend to introduce a rouble zone and force Ukrainian shops to sell Russian goods and ban everything Ukrainian?" Well, let them try. There will be no one left there at all – they can't ban people from leaving the city forever…"
INVADERS GET MAD WHEN TRUTH IS BEING TOLD ABOUT WHAT THEY ARE DOING IN THE OCCUPIED CITIES
When asked whether the locals believe in the Armed Forces and their ability to liberate Kherson from the occupiers, Victoria answered without hesitation. "It's only a matter of time, everyone here is sure they can. Of course, we believe in the Armed Forces, we believe in their power and resolve," she said.
More than a week ago, Victoria was forced to leave Kherson. The decision was made immediately after she was "followed". The woman admits that she was lucky, because they were looking for her at the place of residence, although she lived in a rented apartment. As soon as her acquaintances warned her about the search, she realized that she could not risk the future of the child she was raising. So, with the only backpack over her shoulders, she left the city with the help of one of the local activists, who knows the area well and was able to take it out safely.
When asked why she thinks the invaders are on the hund for her, Victoria just smiles and mysteriously hints "I bet they know why… It's just they are very annoyed when someone tells the world the whole truth about what's happening in the occupied city."
As for her plans for the future, Victoria admits that she will try to learn to speak Ukrainian in everyday life, with which she is struggling so far. "There is no coercion here. I want so. I am generally embarrassed to use the language spoken by murderers and rapists who invaded my land," the woman said.
But Victoria is sure that she will definitely return to her hometown, her sweet home.
"The occupiers are like cockroaches in your house. And now we are poisoning them. We all are, as much as we can. As soon as we do this, we will get back home immediately!" sums up Victoria.
Ievgen Matiushenko