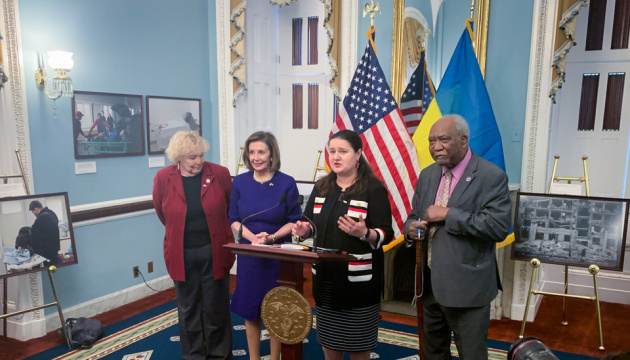 Photos of Ukrainian cities destroyed by Russian forces on exhibit in U.S. Congress
Dozens of photos of Bucha, Irpin, Mariupol, and other Ukrainian cities bombed by Russian troops are included in the exhibition, which opened on Thursday in the U.S. Congress building.
The exhibition was officially opened by the Speaker of the U.S. House of Representatives, Nancy Pelosi, and the Ambassador of Ukraine to Washington, Oksana Markarova, Ukrinform's own correspondent reports.
The photos evidence the difficult times that the people of Ukraine are currently experiencing, according to Pelosi, who commented on the photos exhibited in Congress.
She noted the great heroism with which Ukrainians keep resisting Russian aggression, as well as the courage with which they endure the brutality of the Kremlin's war.
She noted that Congressmen had been told a lot about Russia's firepower significantly outweighing that of Ukraine, but in terms of motivation, Ukrainians are far ahead of the Russians, to which the exhibit testifies.
She also noted that the U.S. Congress is making every effort to secure Ukraine's support, including by passing a land lease bill on the day the photo exhibition opens.
For her part, Oksana Markarova thanked U.S. Congress and the Government for their support, emphasizing that this is important for Ukraine and Ukrainians.
"I would like these photos to show my country differently," the ambassador said.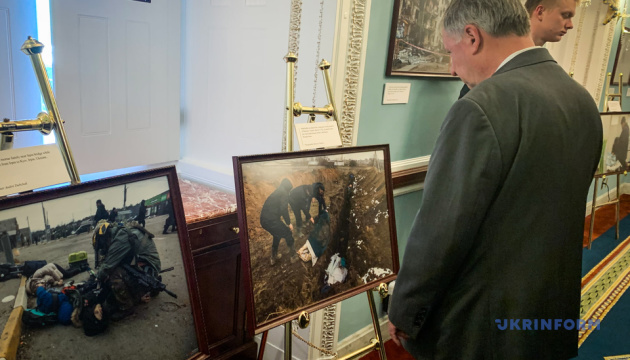 Markarova stressed that Putin's forces are committing an actual genocide of the Ukrainian people, as evidenced by photos shot in Bucha, Irpin, Mariupol, Hostomel and many other Ukrainian cities and villages.
"You can see horrific murders, abductions, torture, and rape," she said, stressing that it is difficult to name which war crimes Russia hasn't committed in a sovereign and peaceful Ukraine.
However, Ukraine continues to repel the Russian invasion, as well as to fight for the preservation of a peaceful international order. In this regard, Markarova thanked the United States and other nations for their support.
As Ukrinform reported, the U.S. Citizenship and Immigration Services (USCIS) said that in the first two days since the special website was launched, more than 4,000 Americans have applied for sponsorship for Ukrainian refugees.