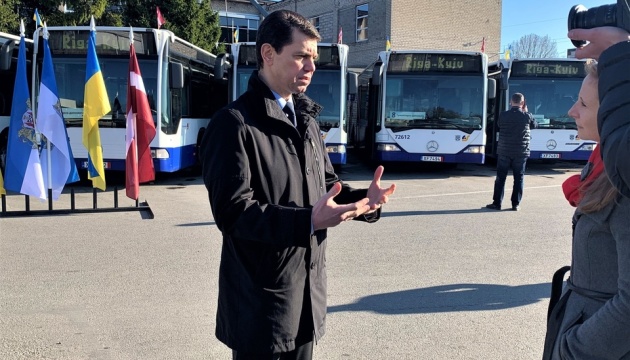 Latvia sends 11 buses with humanitarian aid to Ukraine
On Tuesday, after a solemn ceremony in Riga, 11 Mercedes-Benz buses donated by the Riga City Hall left for the Ukrainian capital carrying humanitarian aid for residents of Kyiv city and Kyiv region affected by the Russian occupation.
"This is one of the projects of assistance provided by Latvia and Latvian self-governments to our country which fights against Putin's aggression together with the world community. By the decision of the Riga City Council, 11 buses were donated to the sister city of Kyiv to support the city's infrastructure affected by the Russian bombing," Ambassador of Ukraine to Latvia Oleksandr Mishchenko told Ukrinform.
According to him, it would be unwise, non-technological for these buses to drive empty. Therefore, in Riga, humanitarian aid – medicines, food, hygiene products, clothing, baby food, other baby products, household appliances, pet food and more – was collected for several days.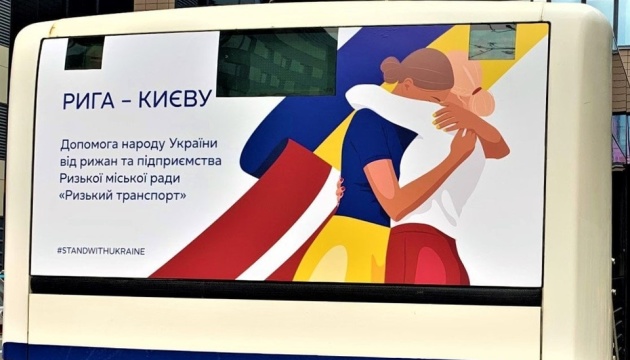 Upon arrival in the capital of Ukraine, these buses will be handed over to Head of the Kyiv City Administration Vitaliy Klitschko with the participation of Riga Vice Mayor Edvards Smiltēns. The humanitarian action was made possible thanks to the coordinated joint work of the Embassy of Ukraine in Latvia, the Riga City Hall, and the Latvian charity fund Ziedot.lv.
The Ambassador of Ukraine expressed his sincere gratitude to the employees and management of the Riga City Hall, the municipal public transport company Rigas satiksme, and the Latvian charity Ziedot.lv.
Finally, Mishchenko added that ties between cities and regions of Ukraine and Latvia are strengthening at all levels and in various spheres. In particular, an online meeting of representatives of local self-governments of Ukraine and Latvia was held on Tuesday to discuss the progress and prospects of cooperation. Particular emphasis was placed on Latvia's assistance to Ukrainian refugees.
"Currently, there are already more than 25,000 Ukrainians in Latvia who arrived here after February 24.… Moreover, during the online meeting, a cooperation agreement was signed between the Ukrainian town of Kosiv and Latvia's Kuldīga within the framework of the twin cities program," the Ukrainian diplomat said.
ol