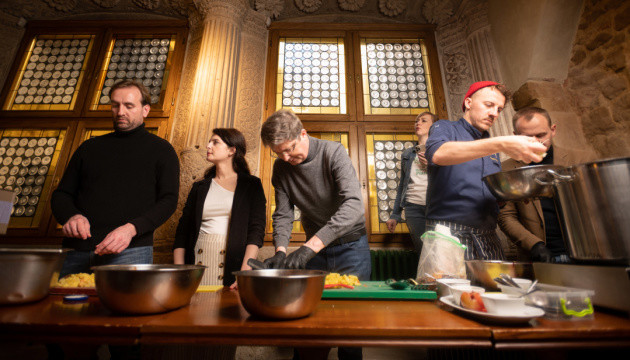 Borscht of unity: to feed the whole world for the sake of peace in Ukraine
A campaign started in Lviv to collect funds for food packages for Ukrainians affected by war
The main purpose of the campaign is to collect funds for 10,000 food packages for Ukrainians in critical areas of the country and those who were forced to temporarily leave or move due to the loss of their homes.
Organizers also want to support domestic manufacturers in a period difficult for the country, as all food products for packages will be purchased exclusively from domestic enterprises. Currently, the initiators set a deadline before Easter. The project was introduced by International Headquarters for Assistance to Ukrainians in cooperation with representatives of the business, government and the public in Ukraine in collaboration with NGO Institute of Ukrainian Culture.
BORSCHT ON THE WAY TO UNESCO
"While the war rages in Ukraine, people all the world are talking about us. They are interested in everything Ukrainian, how we live, our culture, our language, history. Our task, in addition to helping the army and civilians who suffered because of Russian aggression, is to ensure that Ukraine remains after the war in a cultural context of the world. It is important to us to ensure that people will remember what Ukrainian borscht is when the war will end. We have a very hard time now, but at the same time, it contributes to the infusion of Ukrainian culture into the world one. To integrate the culture, we need first of all to offer something simple. For if we make millions of people in the world taste borscht, which is easy to prepare, then they will associate Ukraine with this meal. I believe that we will succeed, and in 5 to 7 years people will not remember just the fact that Ukraine is the country where the war with Russia was. They will understand our identity and culture," chef Yevhen Klopotenko said during the opening of the campaign.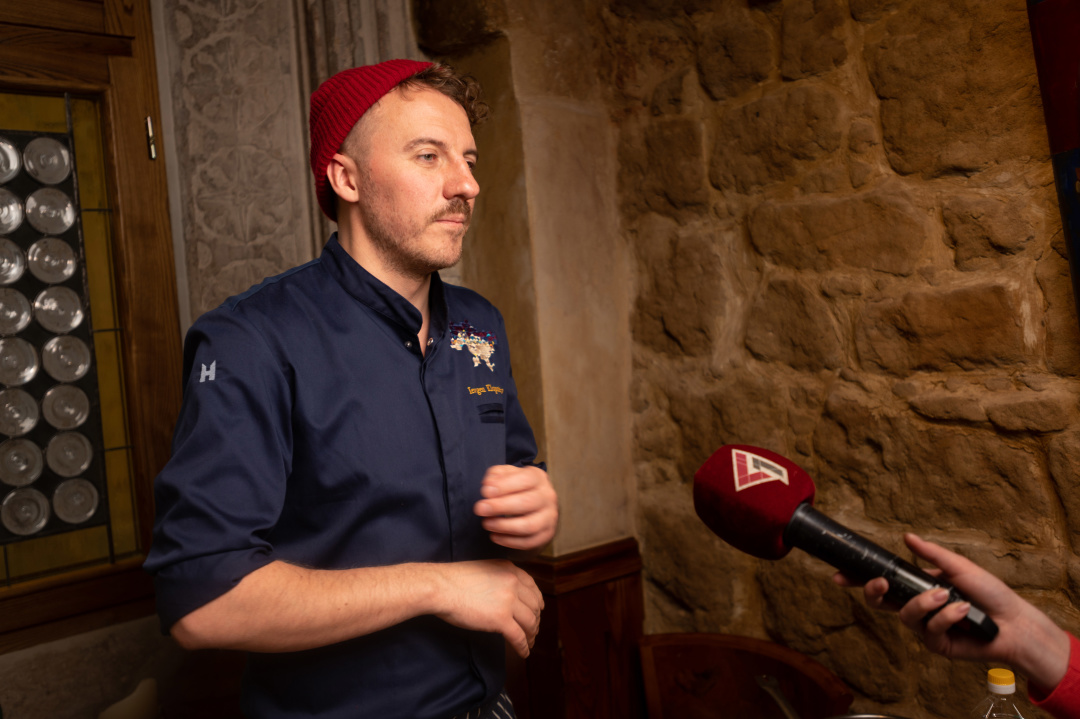 According to Maryna Sobotyuk, coordinator of the project, and co-founder of Institute of the Ukrainian Culture, this campaign will promote both unification and popularization and further promoting borscht on the way to UNESCO. After all, the NGO that united historians, folklorists, culinary experts, was created for this purpose.
"I sincerely believe that our borscht will become the intangible cultural heritage of UNESCO in 2023. Our goal is to promote borscht as much as possible, to organize events that will introduce it to the world. Having been on the expedition to Ukraine, Yevhen made sure that each family, in every corner of Ukraine cooks borscht. That's what unites east and west, north and south," Sobotyuk said.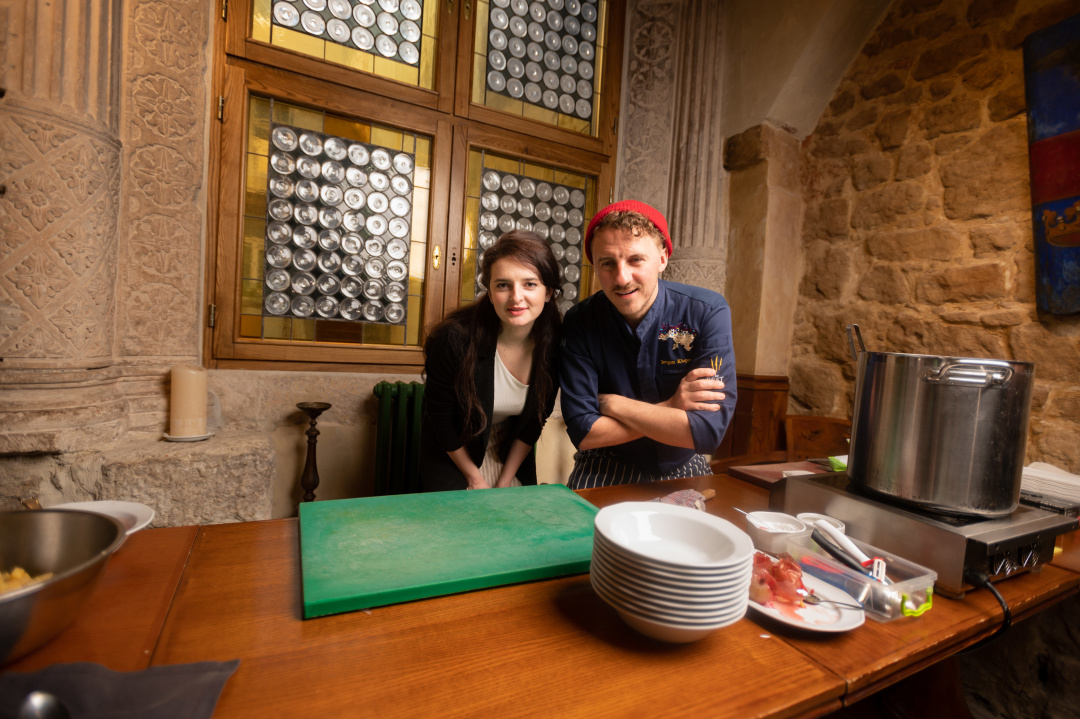 LEAN BORSCHTWITH DRIED FRUIT AND BIRCH JUICE
Representatives of the diaspora from 13 countries joined the event. Together with chef Yevhen Klopotenko and researcher of traditions at the Institute of the Ukrainian Culture Maryna Sobotyuk, they cooked Ukrainian borscht. The chefs were assisted by famous Ukrainians: singer, winner of Voice of the Country-2 show Pavlo Tabakov with his daughter Anastasia, violin virtuoso, laureate of international and national competitions, winner of Ukraine' Got Talent show Oleksandr Bozhyk and TV presenter and producer Ihor Kondratyuk.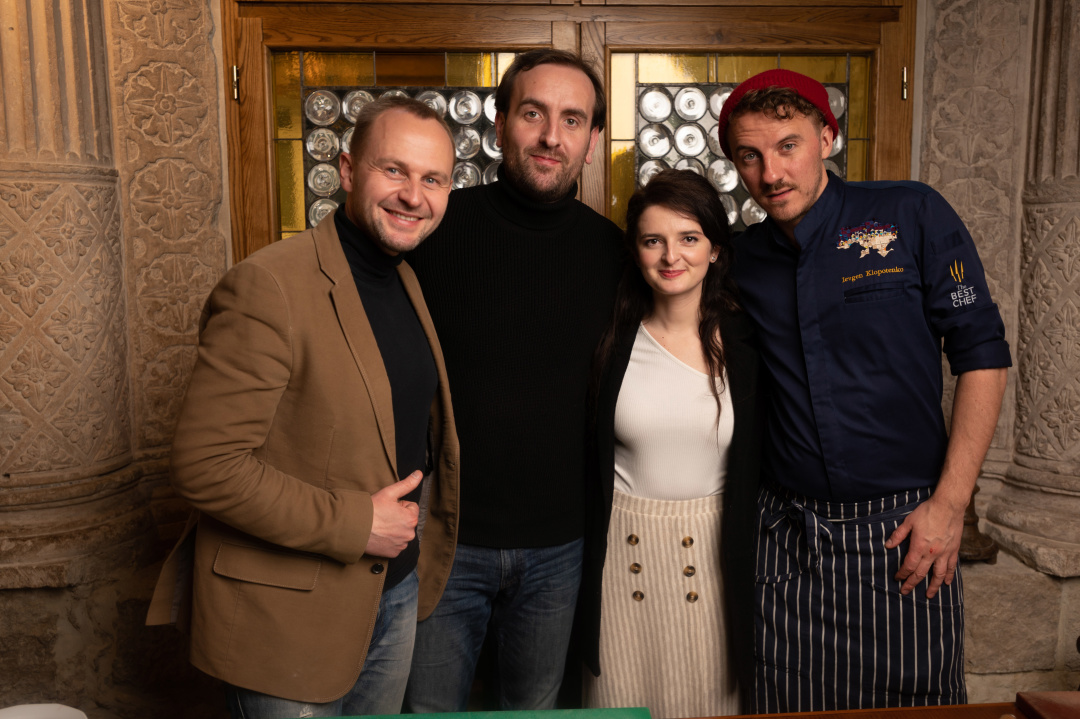 Everyone started to use the worktop, and the work began in full swing: Tabakov peels onions, Bozhyk grates beets, Sobotyuk chops cabbage, Kondratyuk slices potatoes, which are skilfully peeled by small helpmate Anastasia, and Klopotenko supervises all processes and shares new author's recipe for today's borscht.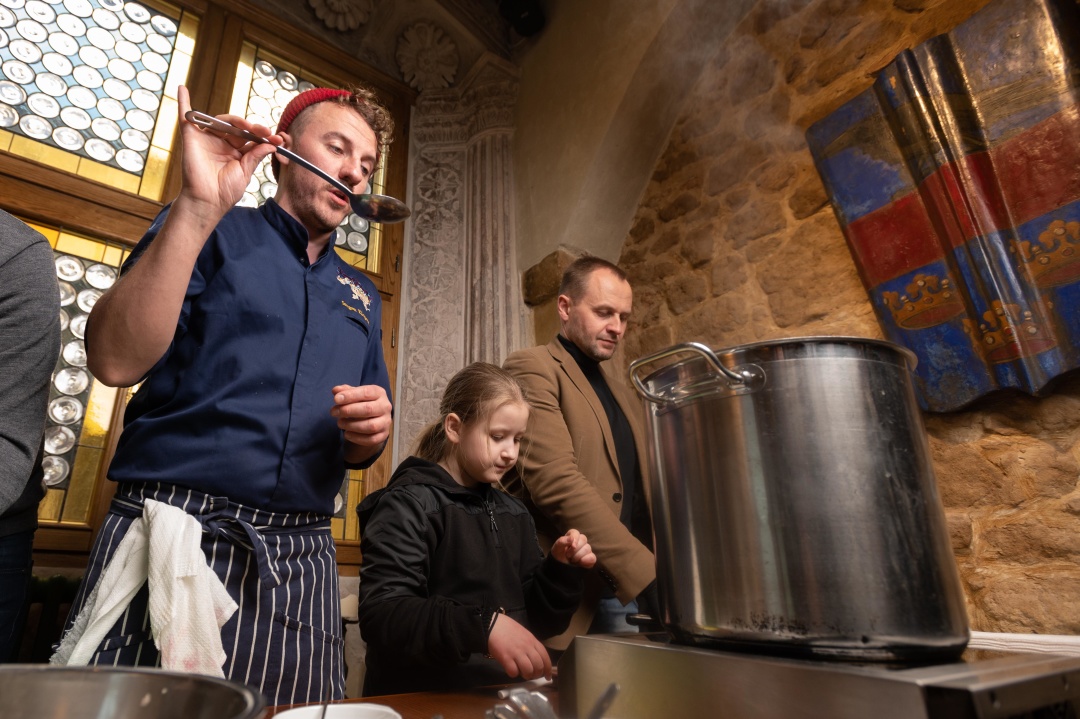 "It will be lean meatless borscht with a huge quantity of beets. We take about two kilograms for four litres of water. We add part of it at once to give a taste, and 600 grams will be added in the end to provide saturated colour. Unusual ingredients also include dried fruits that are usually used for compote, to give flavour. Another nuance is a lot of garlic. Birch juice is a secret ingredient. It is a little fermented, so we take for acidification, to avoid using vinegar or lemon. Let's experiment with it," the chef said.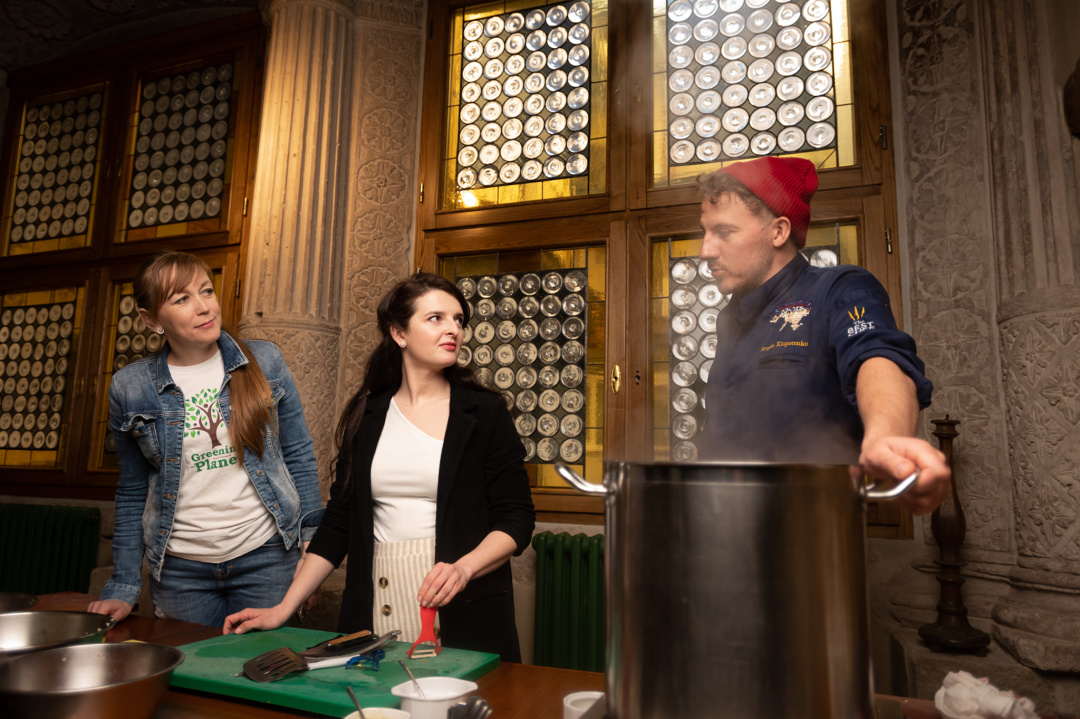 MASTER CLASS FOR PACE
Among guests of the event, there is Parliamentary Assembly of the Council of Europe delegation consisting of 11 MPs who happen to be on the official visit to Lviv. Tiny Kox, the President of PACE, leads the representatives of the Parliamentary Assembly. He is actively involved in the process. Kox admits that he loves to cook meals, including borscht. According to him, cooking food means life, one of ways to unite, to work together, to invite friends to enjoy the result together. He said that he admires Ukrainians who are in such difficult times continue to do ordinary, everyday matters that unite and inspire.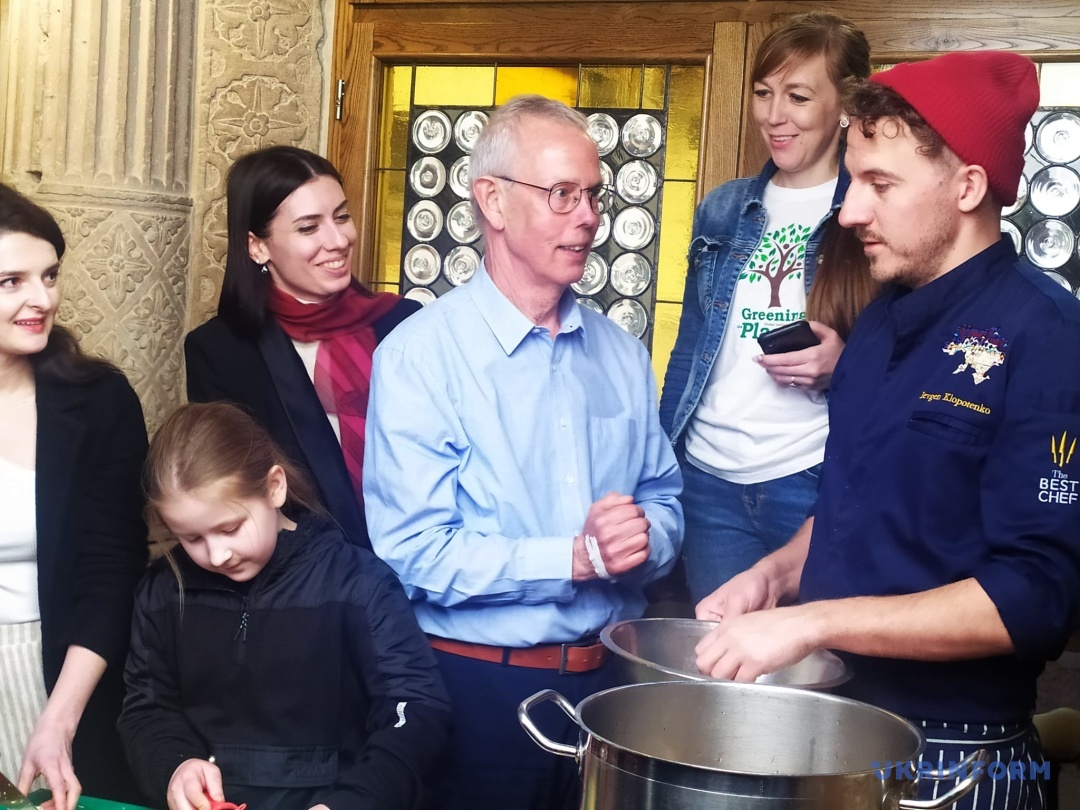 "I understand one thing now: while we are cooking borscht, your people are killed somewhere in the territory of Ukraine. They do unbelievable terrible things against your nation. Your neighbour invaded your country. It is this fact that led to a number of decisions in the Council Europe, where we work. For if a neighbour attacks a neighbour, as is the case in Russia and Ukraine, we drive out the aggressor from the Council of Europe. I believe we will return to you soon and we will cook borscht together again. I wish your strong and free nation good and peaceful sky. You all deserve it," the PACE President added.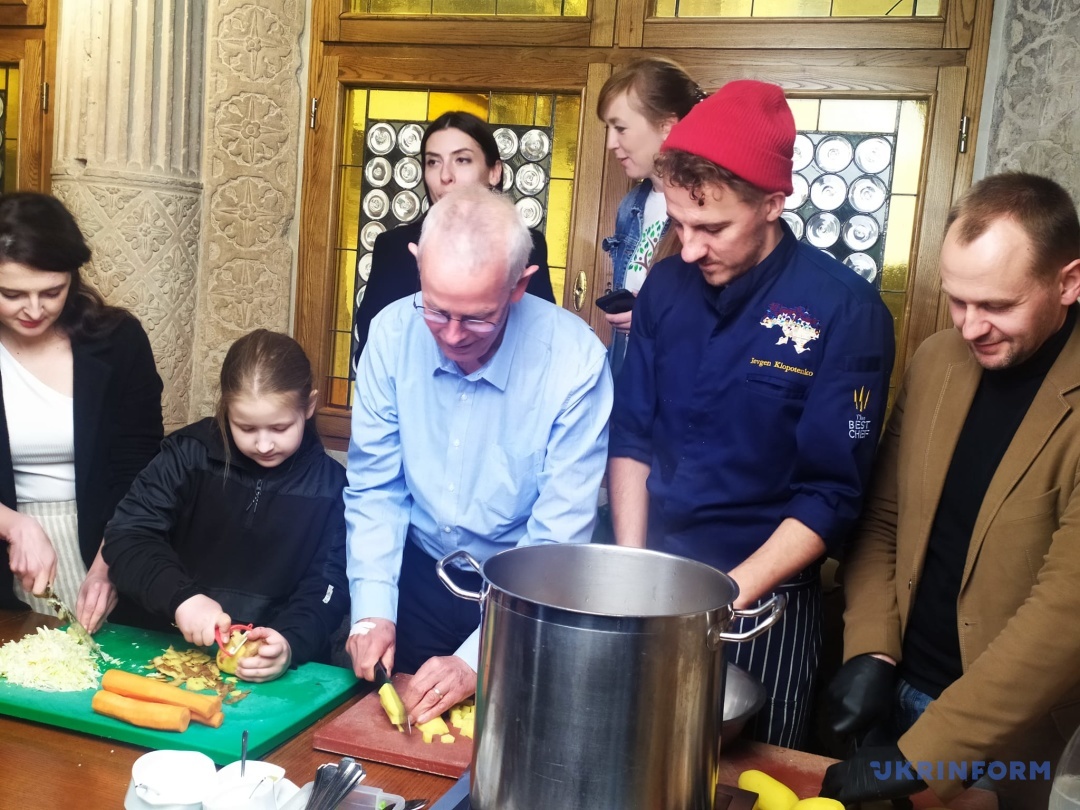 According to the initiator of the event, chair of the International Headquarters for Assistance to Ukrainians Hanna Krysiuk, a lot of European countries provide extraordinary help to Ukraine with all they can. Ukrainians receive tonnes of humanitarian aid, medicine, military ammunition, food products each day. Since the beginning of the war, volunteers of the Headquarters coordinated and settled about 8,000 refugees in 47 countries around the world.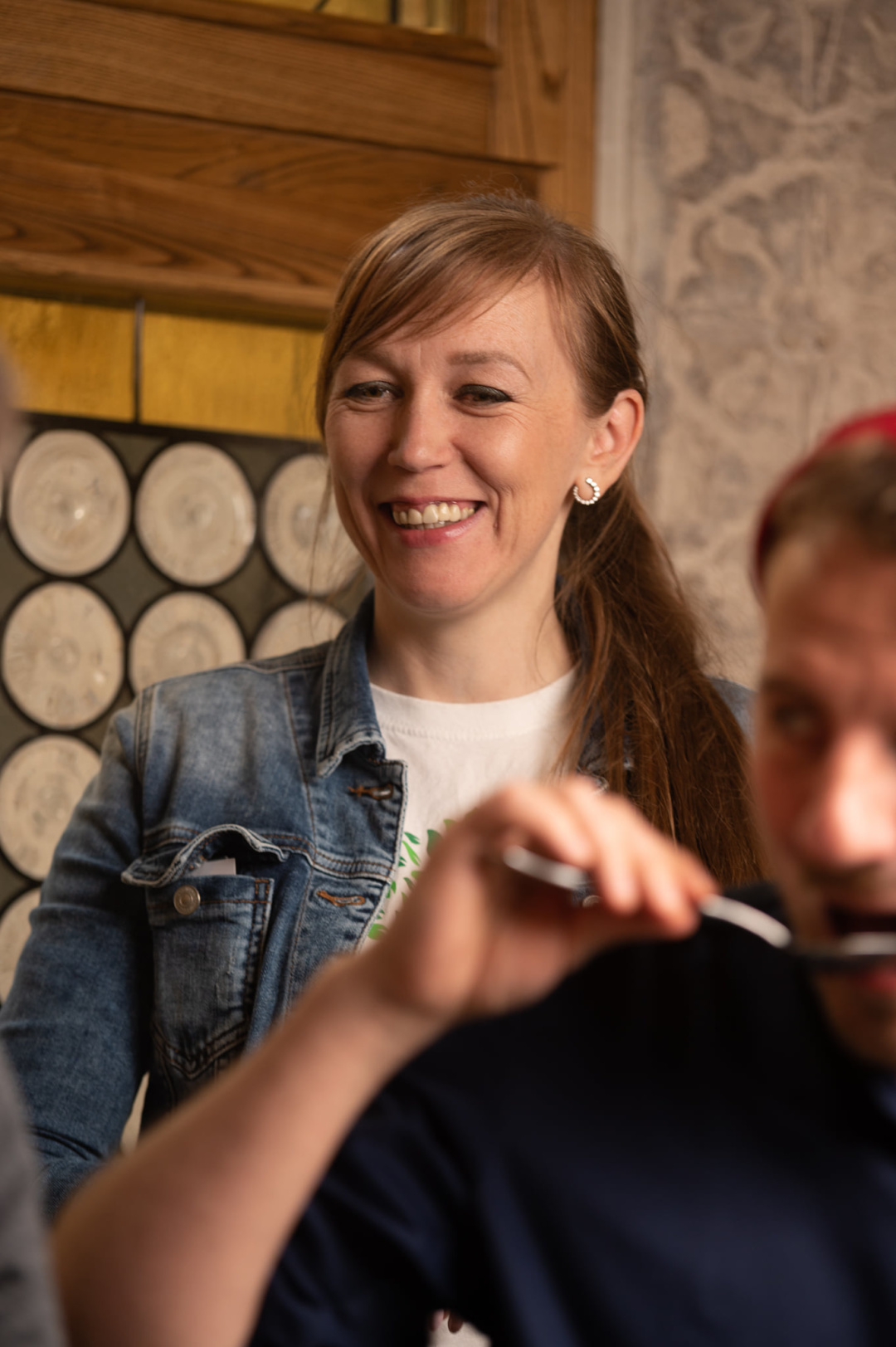 "Our headquarters were created on the first days of the war. Its main goal is to work with IDPs and refugees, providing humanitarian assistance. Currently, we have set the goal to provide as many people with food as possible. I would like to help everyone, but we want to collect funds for 10,000 food packages by Easter thanks to the Borscht of Unity campaign. We have already formed part of the packages, they will handed out to migrants in Lviv region," Krysiuk said.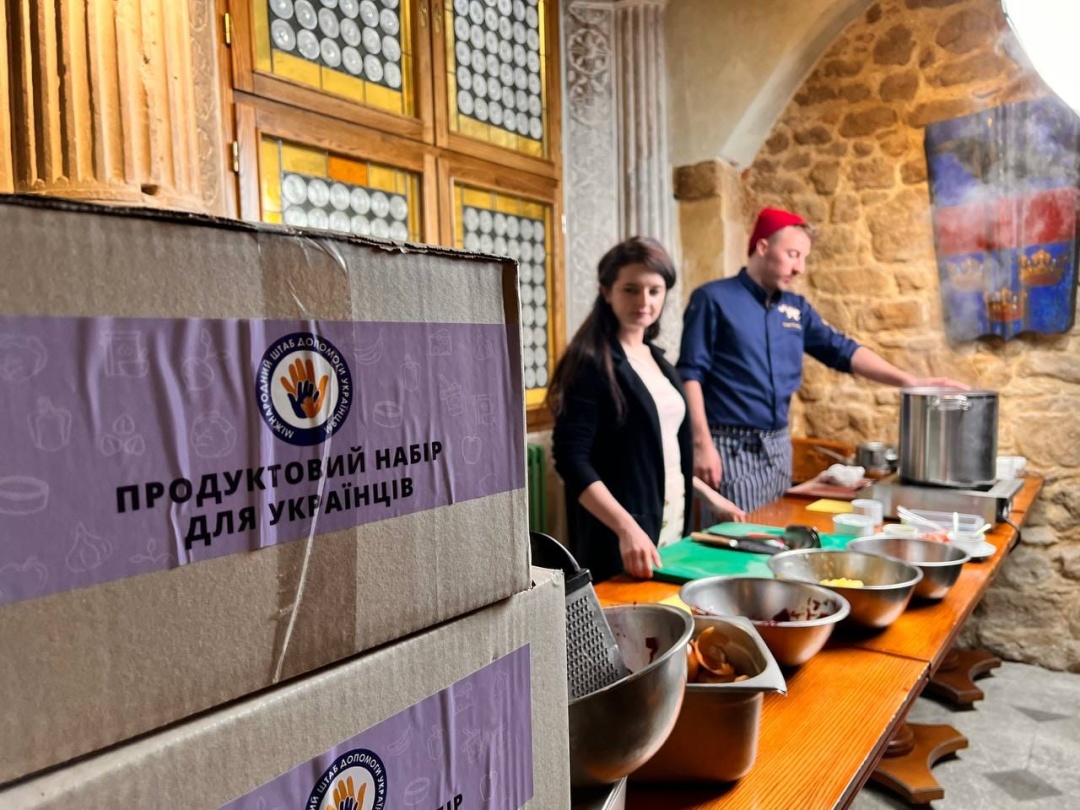 DIASPORA REPRESENTATIVES ARE ENVOYS OF UKRAINE AROUND THE WORLD
While preparation for the event is underway in Lviv at Atlas restaurant under the supervision of Yevhen Klopotenko, Ukrainian diaspora all over the world cooks borscht for support and for the sake of unity. We are watching the cooking processes in Germany, Poland, Canada, the USA, Azerbaijan, Belgium, Slovenia, Italy, Dominican Republic, Georgia via a zoom conference. It is night or five o'clock in some of those countries, but nevertheless they went to the stove to cook Ukrainian borscht. There are countries where people from restaurants joined the event too, in others people gathered with friends; there are those who cook in the family circle.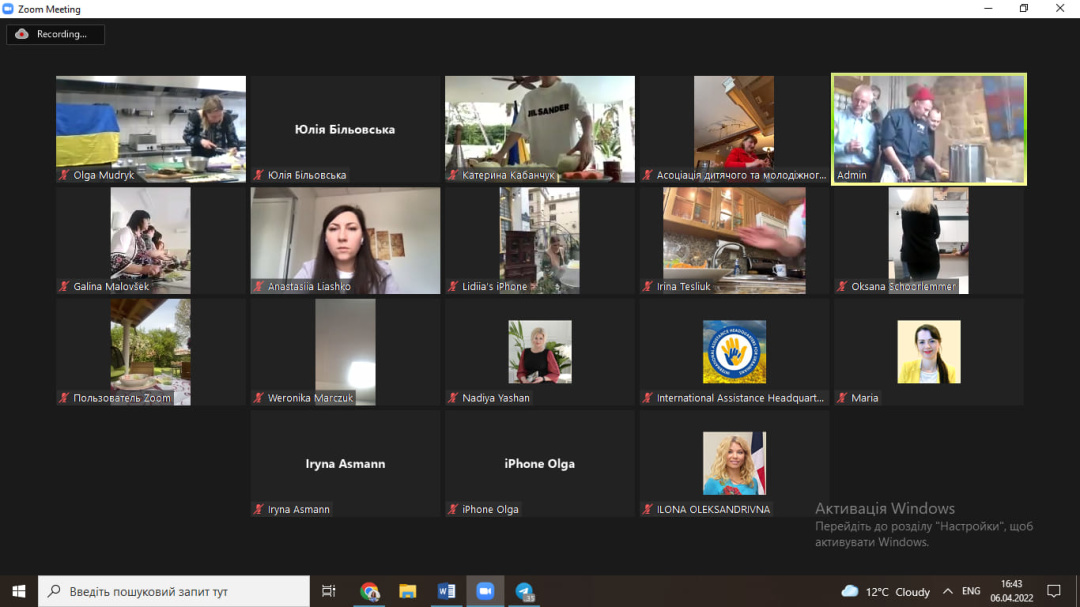 "There should have been about 20 countries, but 13 joined by now. They already invited us to bring the Borscht of Unity project to them so that we can sell borscht and use the proceeds to buy packages that we will distribute to internally displaced persons. And Ukrainian diaspora consist of our envoys to the world who will be able to collect large festivals where we will present borscht. After all, where there are Ukrainians, there is always borscht," Sobotyuk said.
According to the project curator, Borscht of Unity project will go to Poland first, then go to Luxembourg and Belgium.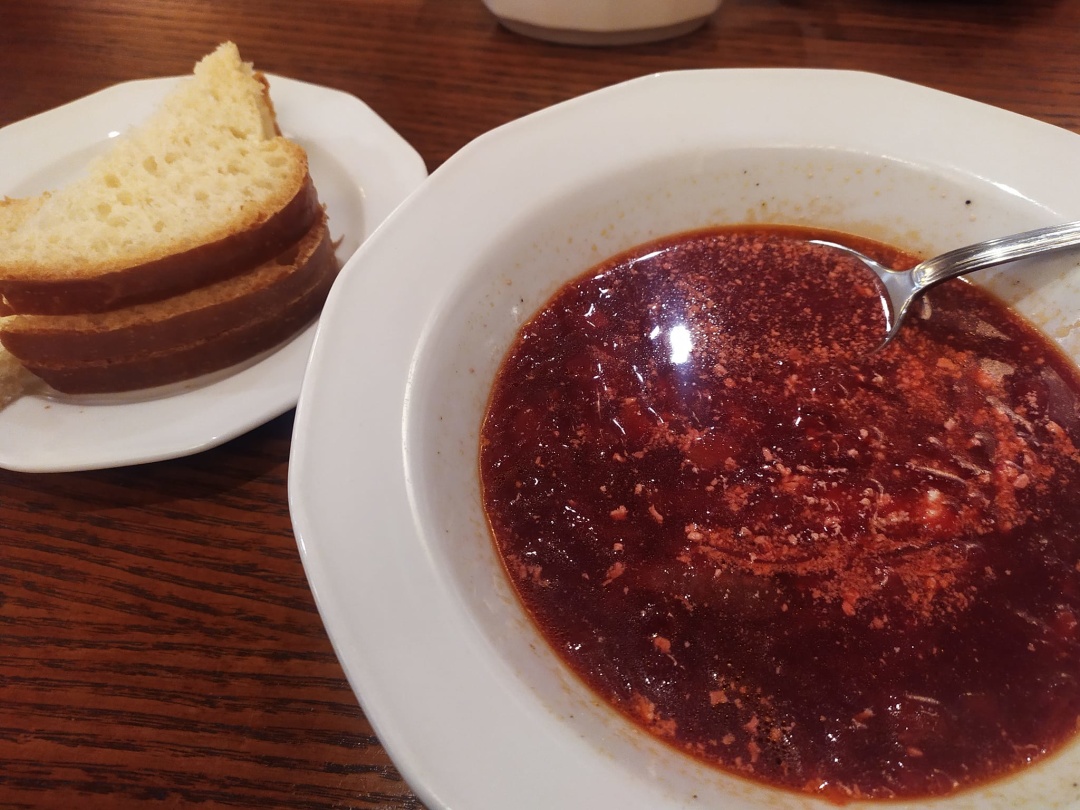 During online cooking, housewives from different countries world shared their secrets of cooking borscht, interesting components and techniques.
"It's difficult to surprise me, of course. However, realizing how difficult it is to find food products in some countries, I am surprised that they cook borscht with beets in the Dominican Republic. And when they said that they would add mango to the meal, it was "wow" for me! And I'm very pleased that they did roasting in the tandoor [an oven dug in the ground] in Azerbaijan. This impressed me very much, and I liked it. There is completely different temperature in tandoor, and the taste turns out to be special. We will also give it a try, " Klopotenko said.
WITH PEPPER! BECAUSE IT IS GENUINE UKRAINIAN BORSCHT
The closer to the end, the more people want to taste "borscht of unity". Diplomats and businessmen, people's deputies and officials, foreigners and Lviv residents are present at the event. However, there will be enough Ukrainian delicacy for everyone.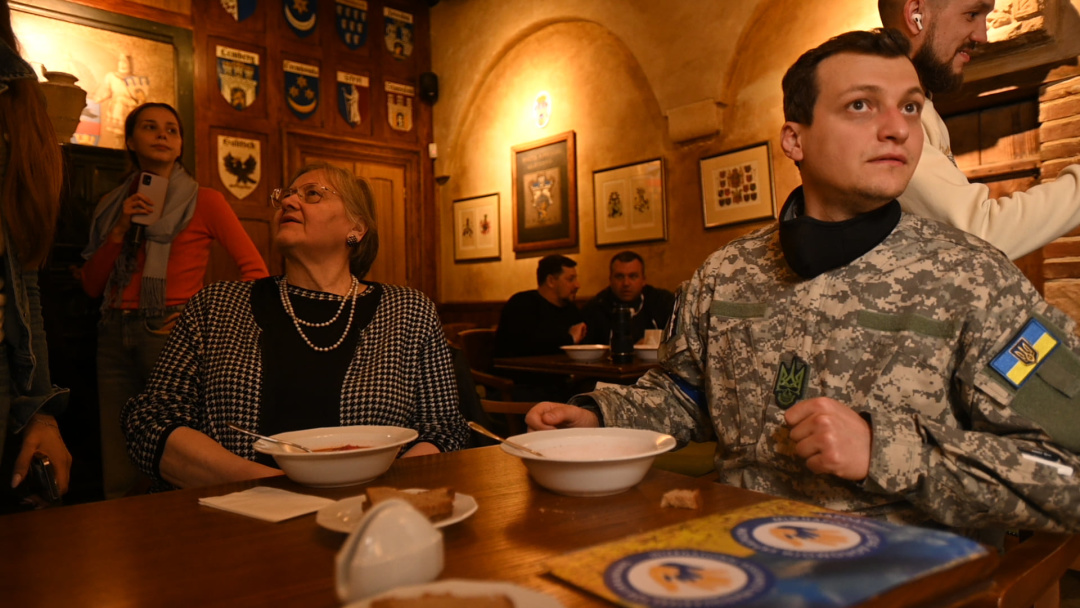 Head of the Lviv Regional Military Administration Maksym Kozytskyi hurries for seconds. He tastes borscht in the company of Ambassador Extraordinary and Plenipotentiary of Croatia Anica Jamic. During the tasting they speak about cooperation, the situation in the country, assistance to people injured during the war. Watching this, you think that borscht really works: it unites, encourages, and erases borders.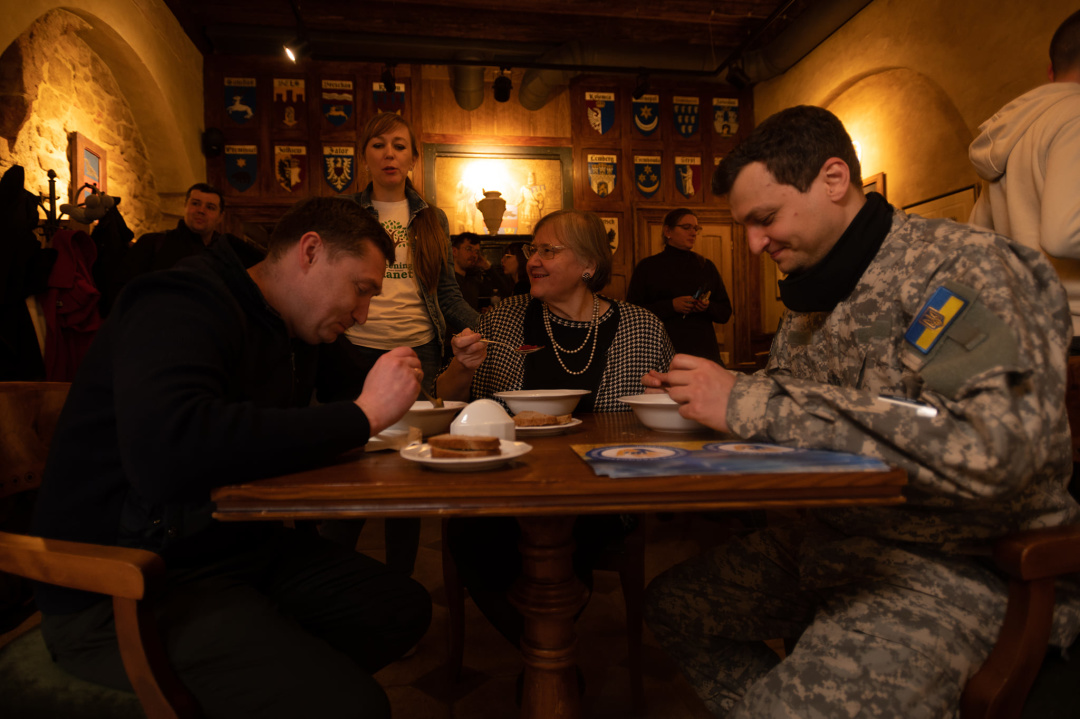 Kozytskyi admits that the borscht is really delicious. This is one of the symbols of Ukraine, and the more this meal will be known in the world, the faster the victory will be.
"If the world will unite around those ideals about which it says so much, but has done too little, namely human dignity, democracy, freedom, honour, the victory over our common enemy will be significantly faster," head of the Regional Military Administration emphasized.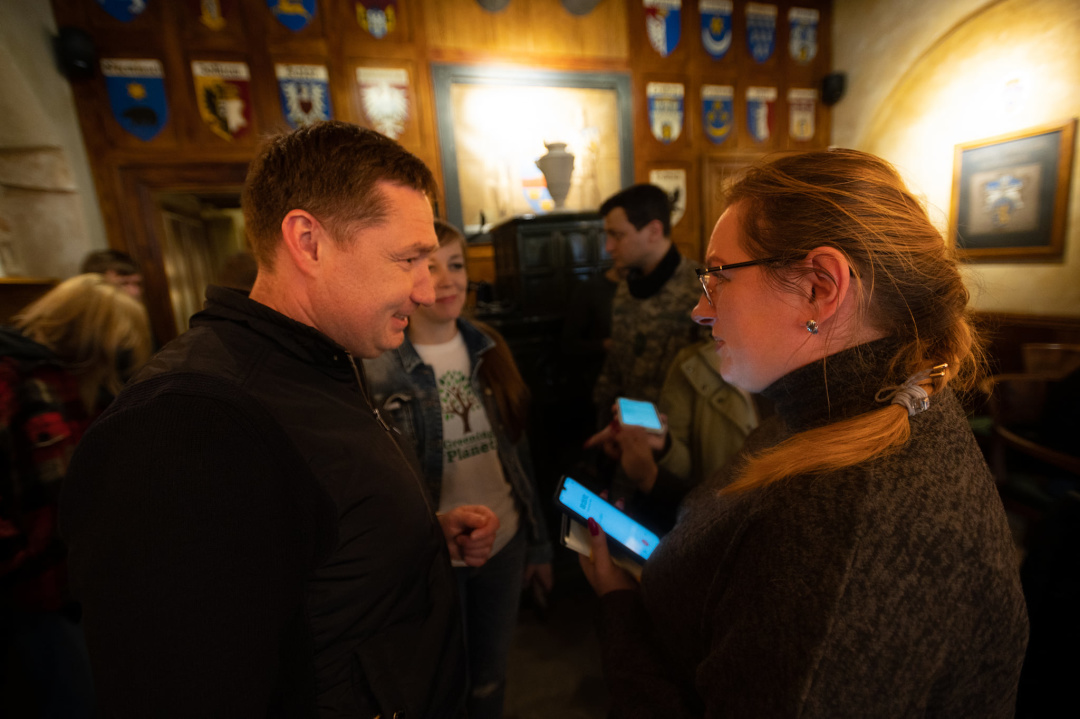 Anastasia, the youngest hostess of today's event, tastes borscht as well. The girl admits that she accepted with pleasure the proposal of her father Pavlo Tabakov to help, as they often cook this meal at home.
"Dad said we make borscht to support Ukrainians: military and refugees. I really like to eat borscht, and I like to cook it even more. However, we do not add dried apples and birch juice there at home. But it turned out to be delicious. With pepper! But that's the way it should be, because it is Ukrainian!" Nastya said enthusiastically.
Everyone tasted borscht under the accompaniment of a guitar and the premiere performance of patriotic songs by Pavlo Tabakov. Eventually, all present sang the words of the refrain, which they heard for the first time. Because the main thing is to aim everything we do at the common victory.
"We are united in grief, because it is time to stop enemies with the price of our life, because peaceful villages, roads, cities were attacked by the enemy and the black war … Get out, war!" - the song sounds in Lviv so that it is audible in Canada, the United States and the Dominican Republic.
Lyudmyla Hryniuk, Lviv
Photo: International Headquarters for Assistance to Ukrainians