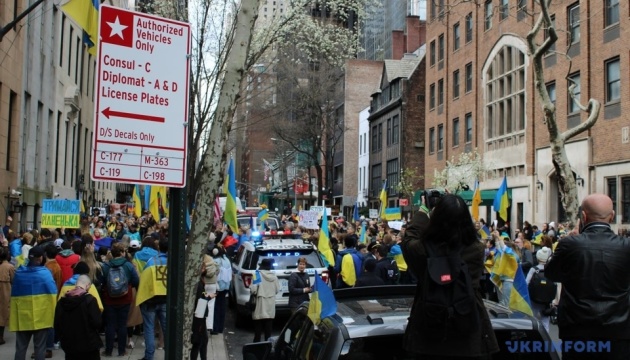 Thousands of people rally against Kremlin's war crimes in New York
Thousands of people rallied in central Manhattan, New York, on Saturday in support of Ukraine and against the Kremlin regime's war crimes.
As an Ukrinform correspondent reported, the protesters gathered in Times Square and marched through the central streets towards the Consulate General of Ukraine.
People carried blue and yellow flags and posters: "Stop genocide!", "Killed because of being Ukrainian", "Putin to The Hague tribunal!", "Stop Russian aggression!", "Stop Putin!".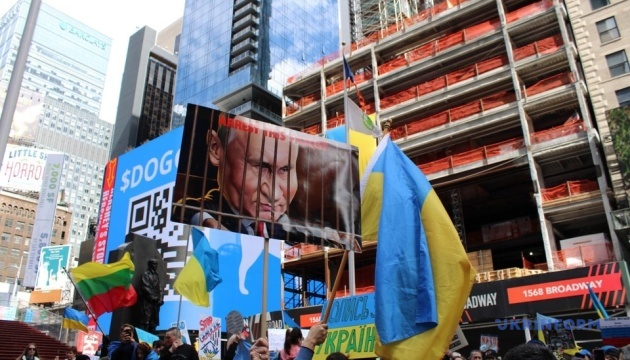 Near the Consulate General, the rally participants honored the memory of the victims of the Bucha massacre, the missile strike on Kramatorsk, and other victims of the Russian war against Ukraine.
Consul General of Ukraine in New York Oleksiy Holubov assured the rally participants that "no war crime committed by the Russian army, no bloody crime on our land will go unnoticed by justice."
"All of them – from ordinary punishers and their commanders to the Kremlin ideologues of the 'denazification' of Ukraine – will face a deserved and inevitable punishment for the crimes which have no statute of limitations," he said.
The Consul General called on the Ukrainian community in the United States to step up cooperation with Ukrainian foreign groups around the world to "give determination to foreign politicians to provide Ukraine with vital assistance as soon as possible – military, humanitarian and operational – and significantly step up sanctions on Russia to end the aggression."
As reported, Irpin, Bucha, Hostomel and the entire Kyiv region were liberated from Russian invaders. Mass killings of civilians by Russian troops were recorded in liberated towns and villages. In particular, a mass grave with almost 300 people buried was found in Bucha.
ol