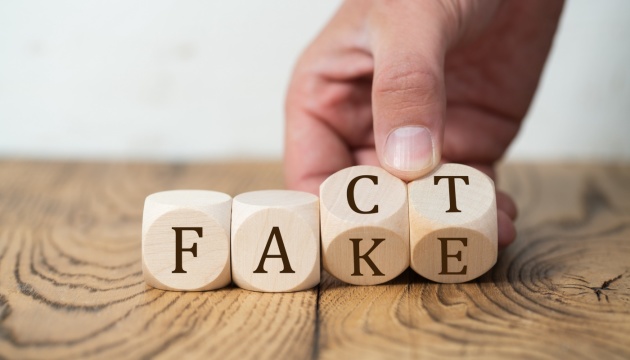 How the world failed to prevent war by misunderstanding the nature of disinformation
Fact-checking and debunking Kremlin lies in its current form fails to prevent escalation and appears insufficient and ineffective.
How they start a war with a fake story
The Russian war against Ukraine officially started March 1, 2014, and was launched with a fake report manufactured by Russian special services and politicians. The Federation Council of Russia had to adopt the decision to allow Vladimir Putin to use the Russian Army beyond Russian borders, in Ukraine.
On the evening of March 1, 2014, the approval was granted because the Federation Council is totally controlled by the President's Administration. But, there was another task to fulfill before starting the war. Russian propaganda had to assure the Russian people that war is an inevitable thing, and Putin did not have another choice but to invade another country.
When the Federation Council worked on the necessary decision, the RT propaganda channel accused leader of the Ukrainian "Right Sector" Dmytro Yarosh calling on a Chechen leader Doku Umarov to make common cause against Russia. The evidence was a screengrab of an unconvincing Russian social media page VKontakte.
The statement pointed out that "many Ukrainians up in arms" supported Chechen militants in their fight against Russians and "it is time to support Ukraine now."
According to the "Right Sector" representatives interviewed afterwards, the access to the page of their group in VKontakte was lost the day before because of a hack or mole job. People who got control of the page have posted the text Yarosh would have never written. In the text, he allegedly appealed to Doku Umarov, a Chechen terrorist, who had been killed by FSB in September 2013, calling on him to unite against Moscow.
Russian media circulated the message, purportedly penned by Yarosh, over the next three hours. Every Russian citizen heard that "Ukrainian nationalists and Chechen terrorists are uniting against Russia". This is how Putin has got his excuse for starting the war.
The story got into the spotlight due to the "Anonymous International" hackers team (aka "Humpty-Dumpty"), who managed to hack the mailbox of Timur Prokopenko, the head of the Internal Affairs Department of the Russian President's Administration. Prokopenko's unofficial duty was to control the bloggers and social networking, as well as coordinating youth organizations.
On March 1, 2014, Prokopenko received an email from Aleksey Gromov, First Deputy Head of the President Administration. In this email, Gromov sent a screenshot of the post mentioned above from the "Right Sector" page. Right after receiving this letter, the information about the hoax started to spread through the media.
This case was published and explained in the "White Book of Special information operations against Ukraine in 2014-2018". This is how Putin has started the war against Ukraine with the help of the fake.
Where does the Ukraine-U.S. "biological labs" story come from?
In February-March 2022, Russians used the same methodology to explain their domestic audience why they invaded Ukraine. This time it was not about some mythical "national battalions" – the story hugely supported by Western media in the last seven years. This time it was about the U.S.-controlled biological laboratories operating on the territory of Ukraine.
On March 6, 2022, Major General Igor Konashenkov, a spokesman for the Russian Defense Ministry, stated that the Russian armed forces during their "special operation" discovered a U.S.-funded military biological programme running in Ukraine. He claimed to have received information from the staff of Ukrainian biological laboratories regarding the urgent destruction of especially dangerous pathogens on February 24: plague, anthrax, tularemia, cholera, and other deadly diseases.
Of course, Western media started to debunk the narrative supported by the MFA Russia. But, frankly speaking, nobody cared about this debunking effort anymore.
The story first unearthed on April 13, 2020, with the official request submitted by two Ukrainian MPs representing a pro-Russian force, Viktor Medvedchuk and Renat Kuzmin, to the Ukrainian authorities – president, prime-minister, SBU, and health ministry. The official request enjoyed the widest coverage in pro-Russian media in Ukraine the very same day. In the wake of this massive propaganda campaign, some of those media outlets were sanctioned by President Volodymyr Zelensky and the National Security and Defense Council.
Initially, Viktor Medvedchuk and Renat Kuzmin stated in their request that their concerns are based on reports by some European media. In their request, they have also provided links to these reports. One of those was published in August 2017 on the Serbia-based Pecat website by a local journalist Zoran Milosevic. Pecat is a Serbian magazine which never hid its pro-Russian attitudes, promoting Russian politicians in Serbia.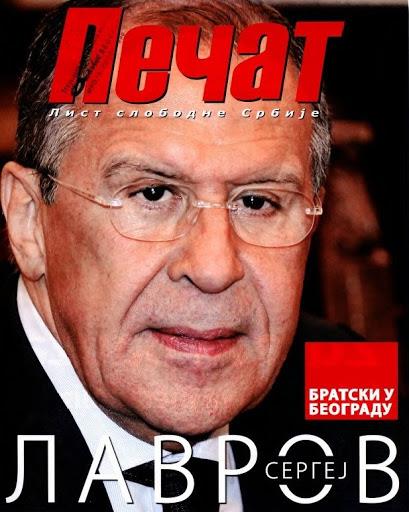 The author of the report about biological weapons in Ukraine, Zoran Milosevic, was in his 60s working at the Russian-funded Institute for Political Studies in Belgrade. For his scientific work, he was awarded a medal "For Service to Russia" in 2004; then a medal of the Writers' Union of Russia for his research "Philosophical thought of St. Nicholas Velimirovic" in 2005; and then a diploma of the Russian Center for Science and Culture in the Republic of Serbia "Russian House" in Belgrade "for cooperation and friendship of the Serbian and Russian peoples" in 2008.
There is no wonder he got all those awards as in his numerous pseudo-scientific publications, he denied the very existence of the Ukrainian nation as such.
Another "evidence," on which Viktor Medvedchuk and Renat Kuzmin were pressing, had been published on the website of Bulgarian non-governmental organization "Center for Middle East Studies," by Dilyana Gaytandzhieva. For the last 10 years, this Bulgarian journalist has been defending Russian interests in the information sphere, spreading the anti-U.S. narratives about Syria and criticizing countries that the Kremlin saw as hostile.
Before working for the Bulgarian Trud newspaper, Gaytandzhieva was employed by the fourth most-watched Bulgarian TV channel, TV7, controlled by Tsvetan Vassilev, the main shareholder in Corporate Commercial Bank. In 2013, 9.9% of Corpbank shares were purchased by Russia's largest bank, VTB. In 2016, Bulgaria filed a $1.3 billion lawsuit against Tsvetan Vassilev, accusing the latter of using bank funds to acquire property and other assets that led to the bank's subsequent liquidity crisis. In 2015, TV7 was taken over by Louvrier Investment Company, managed by Pierre Louvrier. The latter has links to Russian oligarch Konstantin Malofeev, who has been sanctioned by the European Union for his "financial support to separatists" in Eastern Ukraine. Simultaneously, Malofeev owns a conservative TV channel in Russia, Tsargrad TV, with Aleksandr Dugin as its editor-in-chief (2015-2016).
Sometimes Gaytandzhieva is used to cover Russian intelligence operations. Radio Slobodna Evropa reported that on November 17, a Youtube video was published where a member of the Russian Military Intelligence Service (GRU) allegedly handed a bribe to a "Serbian agent – a high-ranking official". Bellingcat representative Christo Grozev commented on this video and also confirmed that the person on the video is Georgi Kleban, who was in the position of Assistant Envoy for Defense at the Russian Embassy in Belgrade and later removed from that post in June 2019.
To distract the Serbian audience from the scandal with Russian intelligence, Gaytandzhieva published a fake story of Serbian weapons being "illegally exported to Ukraine." According to Gaytandzhieva, Serbia-made 60-mm mortars M73 HE, produced at the Krusik factory, were supplied to Ukraine through the United Arab Emirates. But, the facts voiced by Gaytandzhieva dated back to 2016, and the evidence confirming the use of the 60-mm mines M73 HE is accompanied by comments either from representatives of the unrecognized "Donetsk People's Republic", or those of Russian propaganda media, incluging Zvezda, run by Russia's defense ministry.
"American biological labs" and reality
"Scientific and Technical Center in Ukraine" (STCU) was established on October 25, 1993, by an international agreement signed between the United States, Canada, Sweden, and Ukraine. Later, the STCU became a platform for investing in Ukrainian science, distributing millions of dollars among grant applicants from among Ukrainian scientists. It was registered as a foreign diplomatic mission.
The supervisory board included representatives of international bodies called upon to control non-proliferation of weapons: Eddie Mayer, the European Commission's representative on nuclear security, and Phil Dollif, the U.S. State Department's spokesman for non-proliferation programs.
STCU was a part of the programs financed by the U.S. authorities, including the Pentagon, aimed at non-proliferation efforts.
But, Viktor Medvedchuk was not the first to start the talk about "biological laboratories" in Ukraine. Former member of the pro_Russian Party of Regions and ex-MP Olena Bondarenko, speaking at the pro-Kremlin NASH TV channel, said that the "Department of Defense of the USA created and funded 15 biological labs in Ukraine." This was six weeks before the official request filed by Viktor Medvedchuk and Renat Kuzmin.
Right after Medvedchuk's official request was tabled, the sham entity of "DPR" has also stated on April 26, 2020, that they are aware of 15 biological laboratories financed by the U.S. in Ukraine. On April 27, the next day, Ihor Kolomoyskiy's 1+1 TV channel joined the bandwagon with one of the episodes of the "Secret Materials" TV program led by Yevhen Plinskiy.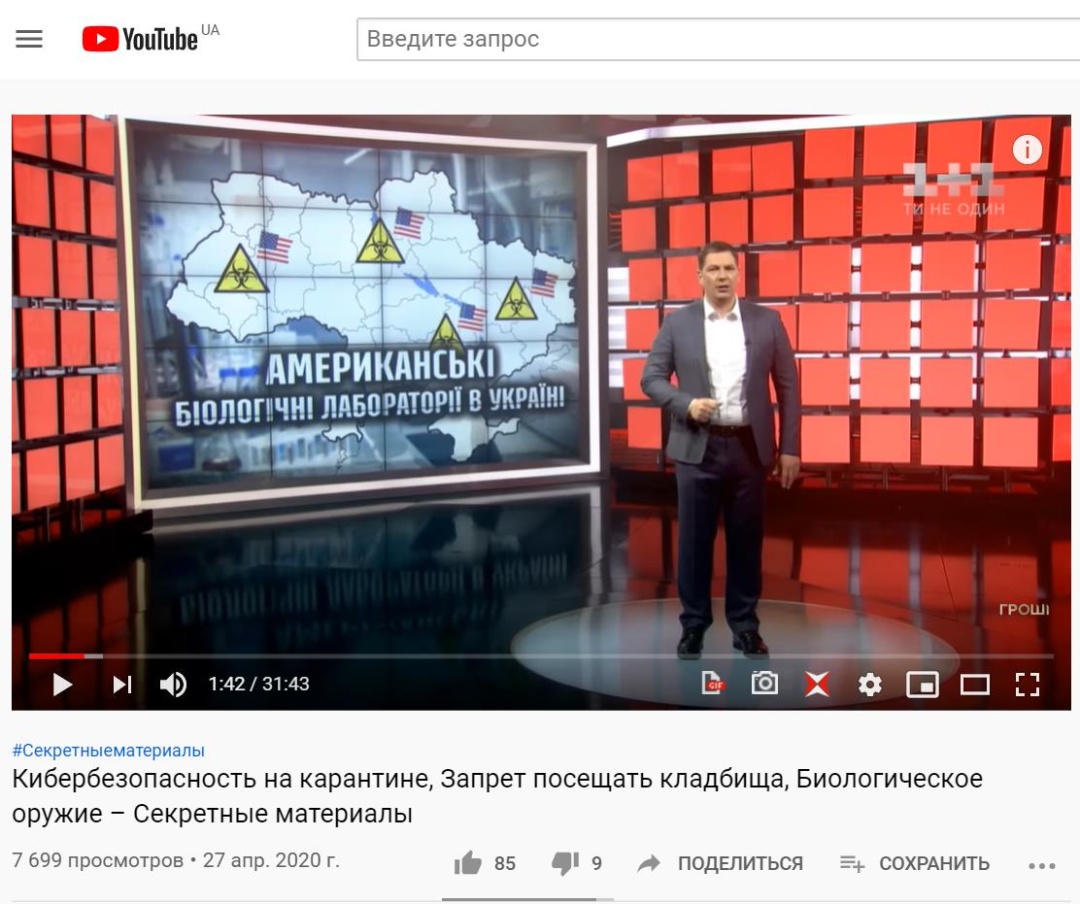 The author of the report on 1+1 was a young journalist Volodymyr Tymophiychuk. He was also an aide to the Servant of the People MP, Oleksandr Kunitskiy, affiliated with Ihor Kolomoiskiy.
He was actively promoting his reporting piece on Facebook.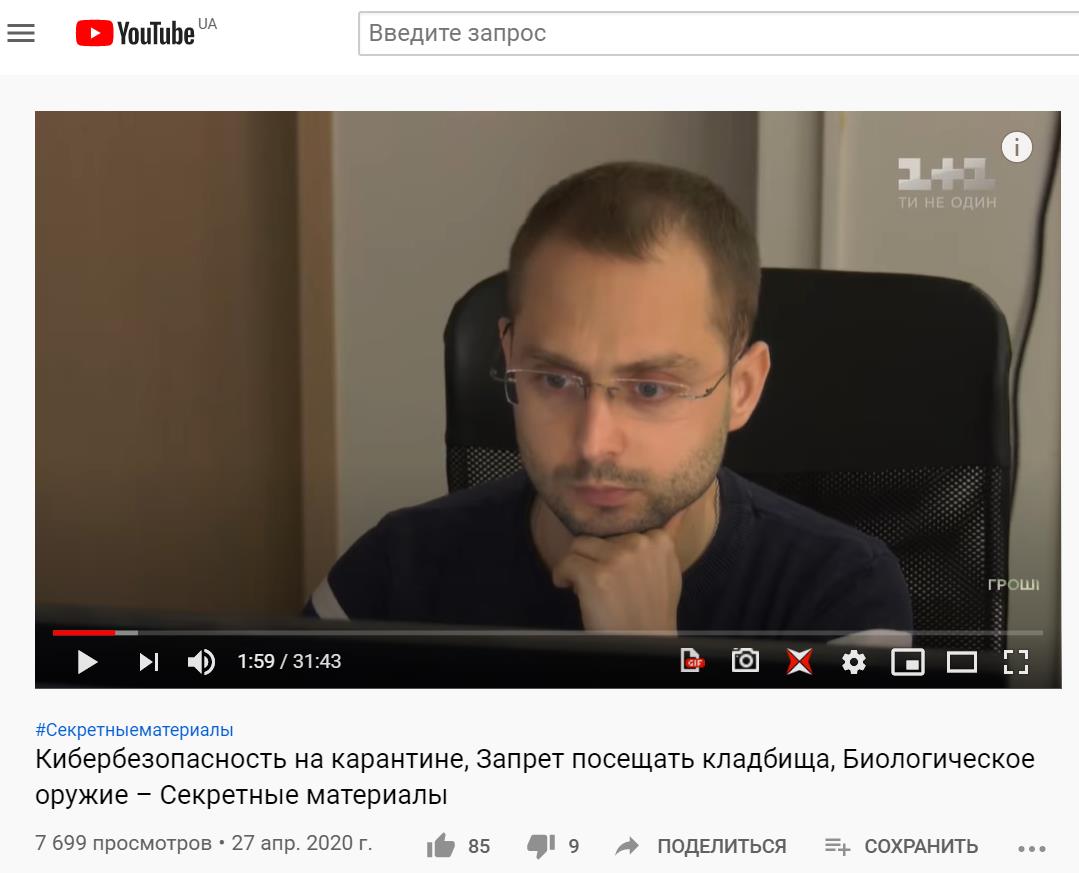 After the widest debunking and civil society inquiries, on May 8, 1+1 branded the report "a superficial opinion" and promised to pursue the probe. But, then on June 18, Kolomoiskiy's TV channel decided to delete all videos of the report from their online platforms.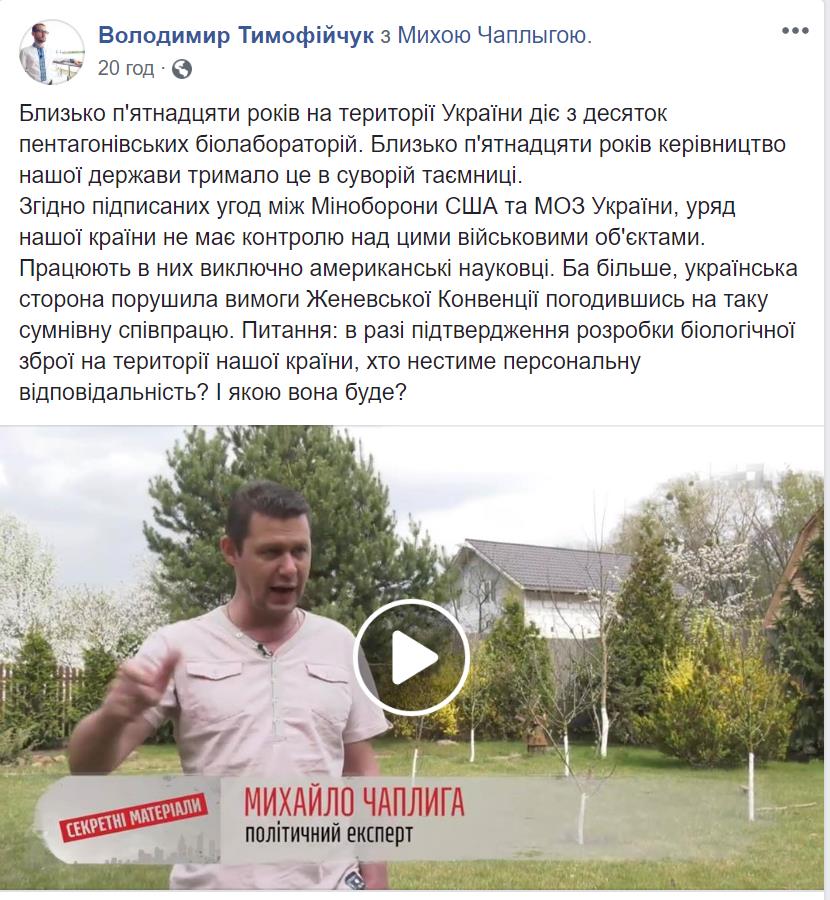 On April 22, 2020, the U.S. Embassy in Kyiv issued a very ineffective and weak statement on the issue that was later used by Russian propaganda in Ukraine as a sign of recognition of the existence of biological labs in Ukraine. My requests for interviewing the STCU head were never returned. In March 2022, Victoria Nuland also made an unclear statement that allowed Tucker Carlson of FOX NEWS to support the Russian propagandistic narrative about some mythical "labs" in Ukraine.
Debunking efforts fail to prevent wars
The fact-checking efforts related to this story continued even after the full-scale invasion against Ukraine unfolded. On March 15, 2022, the BBC News published their report to this end. Ukrainian Texty followed with an even more extensive and detailed piece.
However, this could not save 158 children's lives that we have lost since the renewal of Russian aggression. This is why I keep repeating that the fact-checking and debunking initiatives which I had been supporting and participating in very actively for the last seven years are useless in stopping aggression and wars.
In my opinion, the voices of the Ukrainian government and the U.S. Embassy in Kyiv were too weak to create opposition to massive propaganda. The law enforcement that is supposed to defend people's rights was too weak to stop the spread of life-threatening information, which should be prosecuted by the state in line with Article 259 of the Criminal Code of Ukraine.
Pro-Russian TV channels that ensured massive coverage of this fake story among Ukrainian and Russian audiences were sanctioned by Volodymyr Zelensky too late to stop the process of justification of Russian aggression. And now, it is absolutely clear that even had the story with "biological laboratories" failed due to solid fact-checking, Russian propaganda would have found something else to justify the invasion.
This tells me that the slogan "facts matter" is correct but ineffective in stopping the disaster. And the Ukrainian dead children don't care if we were right or wrong discussing the new fakes circulated by the Kremlin.
Last two weeks I listened to online Twitter discussions on fact-checking and countering disinformation. I was very impressed by one of the phrases I heard from a moderator who was speaking about Russian disinformation: "This is so absurd and ridiculous, but next week we will meet again to discuss it".
This approach drives me mad. I don't understand why international donors, their grantees and numerous fact-checking organizations keep talking about absurd things, knowing that discussing absurd things spread by Russian propaganda doesn't lead us to any effective way out of this trap.
For the past seven years, we've been talking about how the Kremlin lies to the whole world. We knew that the war with Ukraine started March 1, 2014, with a fake story about cooperation between Dmytro Yarosh and Doku Umarov. And this dinn't help us stop another lie about "biological labs" that justified the full-scale invasion against Ukraine on February 24, 2022.
Isn't it time to apply critical thinking to our efforts at critical thinking and fact-checking? Isn't it time to understand that millions of dollars spent for fact-checking work worldwide failed to prevent World War 3? Isn't it time to change the tune from "this is absurd, but we're going to fact-check it and debunk it" toward "this is dangerously absurd, this is why we won't talk about it but we punish those spreading this"?
Dmytro Zolotukhin is a former Deputy Minister of Information Policy of Ukraine