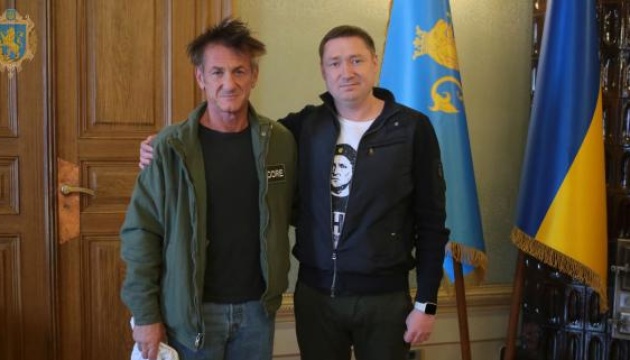 Sean Penn to help Ukrainian IDPs in Lviv region
Sean Penn, founder of the CORE charitable organization, U.S. actor and director, will help internally displaced people in Lviv region who have been forced to flee their homes due to Russia's aggression.
"Our organization wants to establish a partnership right here in Ukraine. We know how important it is now to support the population in the struggle for freedom, so we will help everyone we can. Your experience is an example to the whole world. Now we want to get a list of the most necessary things for IDPs to collect them and provide people with help as soon as possible," said Sean Penn, the press service of the Lviv Regional Military Administration informs.
According to Head of the Lviv Regional Military Administration Maksym Kozytskyi, Lviv region lacks active and systematic efforts of many European humanitarian organizations – the Red Cross, the UN, and others.
Lviv region is the area where the most Ukrainian internally displaced persons come from and where most people cross the border with Poland. Since the beginning of the war, Lviv region has sheltered more than 250,000 IDPs, including 585 people over the past day alone.
In recent months, the actor has been making a documentary in Ukraine about Russia's invasion of Ukraine, the first phase of which began in 2014.
As Ukrinform reported, Sean Penn, a two-time Oscar winner, called on participants to boycott the ceremony if Ukrainian President Volodymyr Zelensky is not given the opportunity to speak, threatening to destroy his awards. The actor said that he had met with President Zelensky the day before the invasion and once again after the invasion and fully supports Ukraine. Sean Penn spoke on CNN about the destruction, humanitarian and migrant crisis caused by Russia's armed aggression against Ukraine and expressed unconditional confidence in Ukraine's victory.
Photo credit: Lviv Regional Military Administration
ol