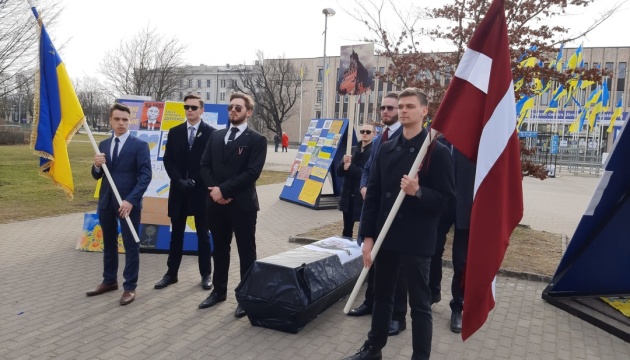 Riga activists bring coffin for Putin to Russian Embassy
In Latvia's Riga, local activists made a coffin with a caricature of Russian President Vladimir Putin and carried it from the Museum of the Occupation to the Russian Embassy, an Ukrinform correspondent reports.
The 'funeral procession' marched through the city center under Latvian and Ukrainian flags. The coffin was carried near the fence of the Russian Embassy and placed on the opposite side of the street, where a round-the-clock picket against Russian aggression in Ukraine is taking place.
The action became popular on Latvian social media. People are sharing photographs and video.
A reminder that, on February 24, 2022, Russian President Vladimir Putin initiated a full-scale invasion of Ukraine, starting a war. Russian troops are shelling and destroying the key infrastructure facilities, launching missile strikes on Ukrainian cities and villages, killing civilians.
mk