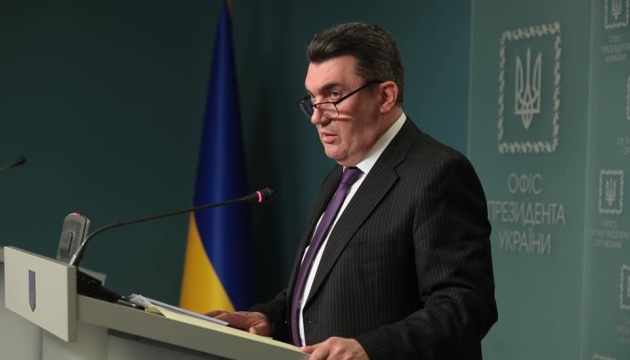 Ukraine's Security Council imposes sanctions on Nash TV channel for five years
The Ukrainian National Security and Defense Council has imposed sanctions on a number of companies, including the Nash TV channel.
NSDC Secretary Oleksiy Danilov said this at a briefing following a meeting of the National Security and Defense Council in Kharkiv on Friday, February 11, according to an Ukrinform correspondent.
"[Chief of Ukraine's SBU State Security Service] Ivan Hennadiiovych [Bakanov] had a report on the application of personal economic and other restrictive measures. Several issues were considered. All these issues were accepted. Who are we talking about? First of all, we are talking about Liberton-start, a construction company that is already under our sanctions. It was registered in Odesa. The city of its registration was changed to Kyiv, and its name was changed under this procedure. We imposed sanctions on the same company for the second time," Danilov said.
According to him, sanctions have also been imposed on Vitryna-TV LLC, a Moscow-registered company that provides broadcasting services for Russian TV channels blocked in Ukraine in order to promote the companies that are subject to restrictive measures in Ukraine. Sanctions have also been imposed on Nasha Praha, Nash 24, Nash 365 and a company that, according to the National Security and Defense Council, owns all of these companies and is registered in Cyprus.
When asked by a Nash TV journalist about the reasons for the sanctions, Danilov said: "Your parent company is in Cyprus. I don't know if you know that you are partly Cypriots. […] Today's sanctions have been imposed against this company. They have been introduced on the basis of a motion from the Security Service of Ukraine."
Restrictive measures against the channel have been introduced for five years.
In September 2021, the National Council on Television and Radio Broadcasting filed a lawsuit with Kyiv District Administrative Court to revoke its broadcasting license for the Nash TV channel. On January 17, it emerged that a petition to the head of state demanding the introduction of sanctions against the Nash TV channel with the subsequent cessation of its broadcasting in Ukraine had gathered the required 25,000 signatures. The author of the document said that the Nash TV channel "regularly broadcasts anti-government statements and propaganda in the interests of the aggressor state."
Danilov said earlier that as soon as the authorized bodies received a request to impose sanctions on the Nash TV channel, the NSDC would urgently consider this issue.
op