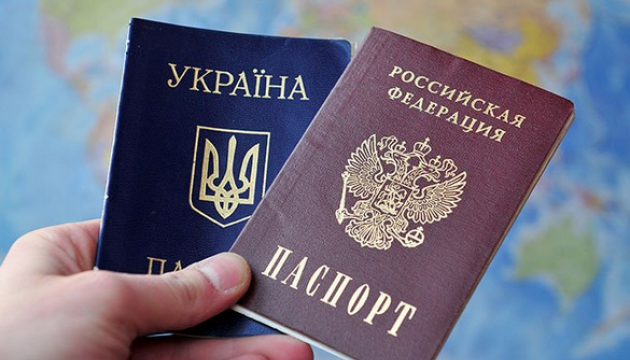 Up to 2.5 million Ukrainians have Russian citizenship alongside – expert
Between 350,000 and 2.5 million Ukrainians have both Russian and Ukrainian citizenships.
"According to some estimates, between 350,000 and 2.5 million Ukrainians have Russian citizenship. Most of them live in Crimea and Donbas. Russian citizenship is a destabilizing factor and a permanent threat as Russia uses proven tactics to protect its citizens as a pretext for military aggression. The increasing issuance of Hungarian and Romanian passports in Zakarpattia and Chernivtsi regions also poses a threat. About 130,000 Ukrainians have acquired the citizenship of Hungary, and up to 100,000 Ukrainians – of Romania," Oksana Markeyeva, the head of the state and public security department at the National Institute for Strategic Studies, said at a round table meeting, an Ukrinform correspondent reported.
According to her, Hungary massively issues its passports to the residents of Zakarpattia region in order to ensure the special status of Hungarians living in Ukraine. Markeyeva noted that this process boosted the electorate for Hungarian politicians and gave the opportunity to influence and put pressure on Ukraine through the growth of the Hungarian diaspora.
"According to unofficial data, from 5 to 10% of Ukrainian citizens have foreign citizenship alongside, and about 5 million people work abroad and have the prospect of obtaining citizenship. Therefore, this trend of increasing multiple citizenship cases in Ukraine cannot be ignored. This process cannot be controlled exclusively through bans," Markeyeva added.
As reported, the Verkhovna Rada may consider a presidential bill on multiple citizenship at the beginning of the 7th session.
ol