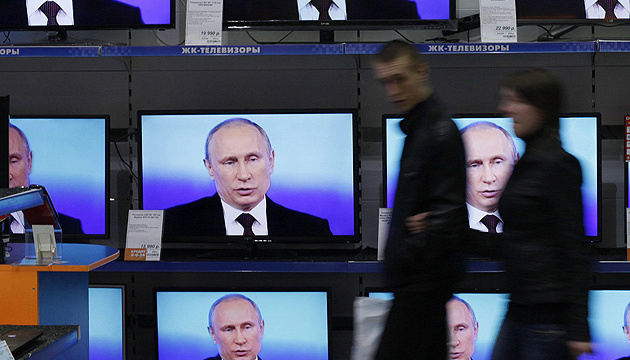 Russia's official websites drivers of propaganda wave on possible "Russian invasion" - expert
The ongoing wave of Kremlin propaganda in the context of a possible invasion of Russian troops into Ukraine is stronger than it was earlier this spring, while Russia's official websites are its main drivers.
Anatoliy Bondarenko, a Ukraine-based analyst and co-founder of the Teksti.org project, addressed the issue during the Kyiv StratCom Forum on Tuesday, December 7, an Ukrinform correspondent reports.
"If you type 'invasion' (in Russian - ed.) in the search bar, you can see that the wave of propaganda, the wave of information support, the stuff Russia is doing now, is significantly increasing compared to this spring, when troops had also been amassed at our border. While last time it was manipulative sites, fringe sites with low-quality content that mostly wrote about it, now the main drivers of this massive propaganda tide are Russia's official sites," Bondarenko said.
The expert presented a project that allows tracking certain topics, looking at it in different sections of the web. "Currently, the greatest cooperation ideas and greatest interest in this instrument have been expressed by think tanks – not only Ukrainian, but also Eastern European ones. Government officials are also looking into it," the Teksti.org co-founder said.
According to Bondarenko, the idea to create such a tool for data analysis arose when his team first had to face the issue of misinformation in 2019, while researching Russian sites.
"Then, while studying this network, we formed a list of dozens of sites that often post manipulative, propaganda content for clickbaiting in these groups. We looked into these sites. They are not too high-profile, although they have a large audience. We call it garbage sites with low-quality content," Bondarenko said.
For his part, Deputy Minister of Culture and Information Policy Taras Shevchenko noted that technologies are now widely used both to spread false information and to combat it.
"On principle, information technology is actively transforming in our time. And we see, on the one hand, how those who try to circulate harmful, hostile content apply technology to spread disinformation, and on the other hand, technology helps in combatting the adverse effects of misinformation," he said.
As Ukrinform reported earlier, the Kyiv Stratcom Forum, Ukraine's first international event on strategic communications, is being held in the Ukrainian capital on December 7-8, 2021. Among participants are NATO and EU diplomats, Ukrainian officials, and members of Ukrainian NGOs specializing in strategic communications and anti-misinformation work. The forum was organized by the Center for Strategic Communications and Information Security.
im