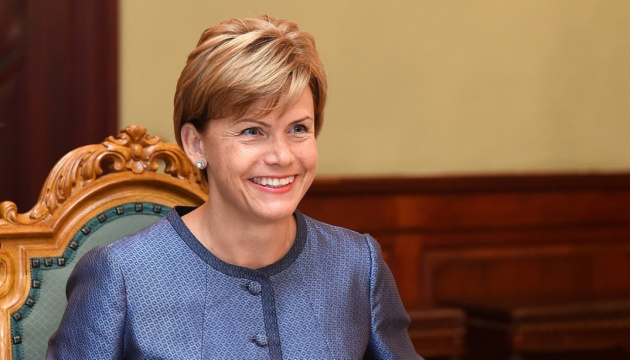 NATO Assistant Secretary General: Safe and democratic Ukraine is key to Euro-Atlantic security
The main goal of strategic communications must be a successful and prosperous Ukraine as a safe and democratic Ukraine is the key to Euro-Atlantic security.
"Safe and democratic Ukraine is the key to Euro-Atlantic security. That is why NATO has and still stands ready to support you in your reforms, your endeavors, your practical steps. We will continue providing continuous support to increase Ukraine's resilience," Baiba Braže, NATO Assistant Secretary General for Public Diplomacy, said at the Kyiv Stratcom Forum, the first international strategic communications forum in Ukraine, Ukrinform reports.
NATO understands resilience as the ability of the country and society as a whole to recover from crises, the expert explained. And this, according to her, requires not only a strong military, but also a very strong non-governmental sector, civilian support to military, involvement of society as a whole in joint efforts.
Braže noted that NATO is implementing joint projects with Ukraine in the field of crisis management, strategic communications, capacity building, and resilience. Not only is NATO sharing its experience with Ukraine, but vice versa: Ukraine has many times provided very valuable knowledge to NATO countries, she said.
According to Braže, the establishment of the Center for Strategic Communications and Information Security in Ukraine is a great decision by the Ukrainian Government and it will surely contribute in the years to come to both parties. "Today's forum demonstrates that Ukraine promotes and tells its story to international partners and the world. And this is the key to successful strategic communications. We know what a great country Ukraine is and what story it has to tell to the world. That does not mean propaganda, that means the consciously created objectives, capabilities and understanding of what we want to do, what Ukraine wants to do, what story it wants to tell and whom. It has to be credible, it has to be fact-based and it has to be effective using all strategic communication tools," said the expert.
On December 7-8, 2021, the Kyiv Stratcom Forum, the first international forum on strategic communications in Ukraine, takes place in Kyiv. It involves NATO and EU diplomats, Ukrainian officials, and representatives of Ukrainian NGOs specializing in strategic communications and combating disinformation. The forum was organized by the Center for Strategic Communications.
Photo: LETA
ol