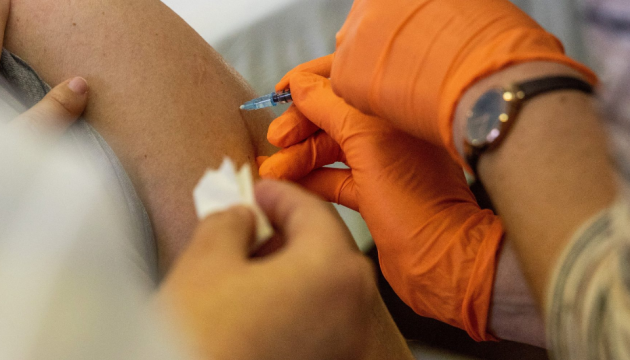 COVID-19 in Ukraine: Health authorities say 38% fully vaccinated
In Ukraine, 40% of the population has already received at least one vaccine jab for COVID-19 in 16 regions. Across the country, 38% of the population has been fully vaccinated.
That's according to Health Minister Viktor Liashko who spoke at a briefing on Monday, December 6, Ukrinform reports.
"There are already 16 regions in Ukraine where more than 40% of adults have been vaccinated with at least one dose. And there are six regions where more than 40% of the population have already completed their full vaccinations course while 44.2% have received at least one dose," said Liashko.
The Ministry of Health reports that among the leaders in terms of vaccination rate remains Kyiv with 66.9% of population vaccinated with at least one dose, as well as Kyiv region (55%), Poltava region (50.8%), Dnipropetrovsk region (48.9%), as well as Cherkasy and Sumy regions who joined the group of leaders just recently.
At the same time, the minister says the current number of jabs administered is far from the ultimate target.
"Despite the fact that the COVID-19 incidence has been on decline across Ukraine for the fourth week in a row (the number of confirmed cases decreased by 15% and hospitalizations – by 13% over the past week), the coronavirus epidemic has not been tackled yet. On behalf of all Ukrainian doctors, I ask everyone: those who have not yet gotten vaccinated should do so as soon as possible. This will be your contribution to preparing the nation for a new wave of coronavirus disease," Liashko said.
He reminded that new quarantine restrictions applied in the yellow zone of epidemic threat came into force on December 6. Namely, they apply to public institutions, theaters, cinemas, cafes, restaurants, gyms, hotels, and more.
The following is prohibited: operations of educational facilities if more than 50% of students and staff are in self-isolation; operations of educational facilities of not all employees have been vaccinated for COVID-19 with at least one dose; mass events; operations of cinemas, theaters, and other cultural facilities, as well as catering establishments and swimming pools; and operations of accommodation establishments (except hotels, sanatoriums, and social assistance institutions); as well as interregional and international transportation services.
These restrictions do not apply if employees, visitors (clients) hold a vaccination certificate (at least one dose), a coronavirus recovery certificate, or a negative COVID-19 test result.
Photo: Evgeny Maloletka
im