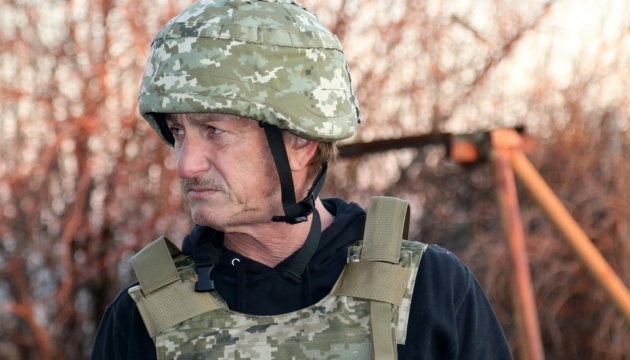 Sean Penn meets with Ukrainian military in JFO area
U.S. film director and actor Sean Penn met with Ukrainian service members in the Joint Forces Operation area in the Sea of Azov region.
"U.S. film director and actor Sean Penn visited Ukraine for the first time. In creative collaboration with a Ukrainian production group, the winner of two Oscars plans to make a documentary about Ukraine. The main idea is to tell the general public about the events that are currently taking place in our country," the JFO press service posted on Facebook.
Penn saw with his own eyes the consequences of the Russian aggression as he visited a populated locality in the Sea of Azov region, which most experienced the full force of "brotherly" love of the Kremlin expansion supporters, the JFO press service noted.
Penn had the opportunity to talk to Ukrainian service members.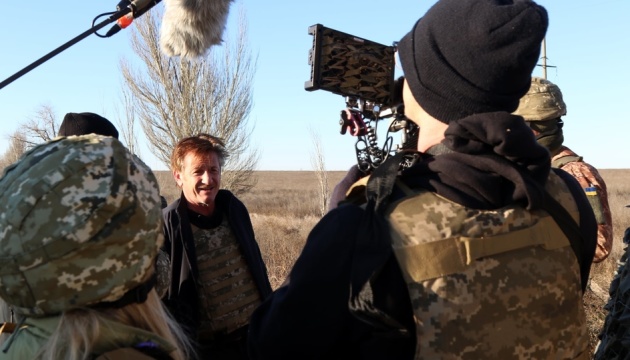 The American delegation was surprised at a significant percentage of women among Ukrainian troops who not only serve in the Armed Forces of Ukraine but also perform combat missions and command combat units directly on the line of contact, the JFO press service added.
Hollywood actor and filmmaker Sean Penn won two Academy Awards for Best Actor for Mystic River (2003) and Milk (2008), Golden Globe and Cannes Film Festival awards. He is also known for his public activities: in 2005, Penn was personally involved in helping victims of Hurricane Katrina in New Orleans. In the period from September to October 2011, Penn toured the Arab Spring countries. In particular, he visited Egypt and Libya, saying he admired the courage of protesters.
Photo: Joint Forces Operation, Facebook
ol