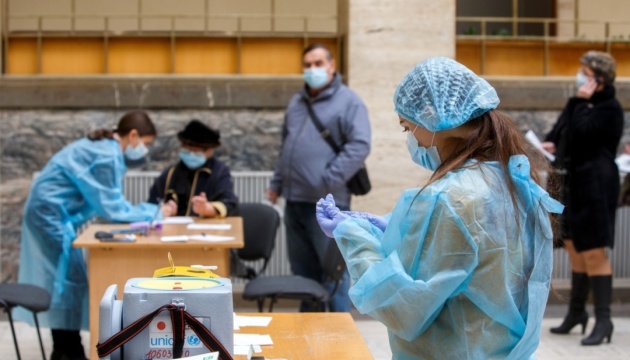 Some 36% of Ukrainians not ready to get vaccinated against COVID-19
Some 46% of Ukrainians have already been vaccinated against COVID-19 (with one or two doses), 16% are ready to do so, and 36% are not ready to get a COVID-19 vaccine shot, according to a survey conducted by the Rating Sociological Group on November 10-13, 2021.
The survey was conducted only among the adult population of Ukraine. The number of those vaccinated for COVID-19 has increased from 36% to 46% over the past week. There are relatively more young respondents who do not want to be vaccinated, the survey revealed.
At the same time, 55% of respondents support the mandatory vaccination of certain categories (teachers, doctors, civil servants), and 35% are against it. Almost 40% support the ban on visiting public institutions without a COVID certificate or test, while 53% support it. Almost 30% support the ban on using public transport, while 65% do not.
According to the survey, two-thirds of respondents (61%) believe that Ukraine is able to develop its own vaccine against coronavirus, and 37% do not believe it can. Most of those who are optimistic about the possibilities of the state to develop its own COVID-19 vaccine are among the oldest.
The survey was conducted among residents of Ukraine aged 18 and older in all regions, except for the temporarily occupied territories of Crimea and Donetsk and Luhansk regions. A total of 2,500 respondents were interviewed. The poll's margin of error does not exceed 2%.
op