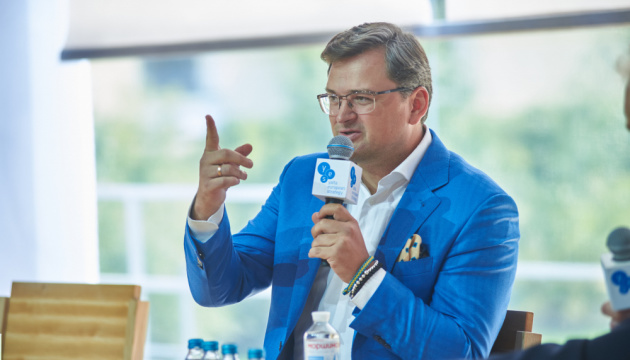 Ukraine planning another evacuation flight from Afghanistan
There are still Ukrainian citizens in Afghanistan who want to leave the country, so Ukraine will keep trying to evacuate them.
"But we will continue to do so [agree on the evacuation of Ukrainians from Afghanistan]. I think that the next evacuation flight will be organized by the Main Directorate of Intelligence again and we will help them in every way," Minister of Foreign Affairs of Ukraine Dmytro Kuleba said at an online briefing on Thursday, an Ukrinform correspondent reports.
"There is no immediate threat" to Ukrainian citizens who now stay in Afghanistan and want to evacuate, he noted.
He added that the Foreign Ministry stayed in constant touch with them.
The minister noted that the latest evacuation carried out by the Main Directorate of Intelligence of the Ministry of Defense of Ukraine with the assistance of the Ministry of Foreign Affairs of Ukraine was difficult.
"The evacuation was difficult, I'll tell you honestly, given the situation on the ground. The need to reach an agreement with the new Afghan authorities for a plane to land, for the people to get on the plane, for the plane to take off," Kuleba said.
However, he noted that Ukraine would continue to evacuate its citizens from Afghanistan "because we have repeatedly said this and proved by concrete actions that Ukraine does not leave its people in trouble."
As reported, in September, Ukrainian special operation forces managed to evacuate about a hundred Ukrainian citizens and Afghans from Kabul as part of a rescue operation, details of which were covered by The New York Times.
In total, Ukraine has already evacuated more than 650 people from Afghanistan: citizens of Ukraine and other countries, including UN representatives, members of human rights organizations, employees of Global Mail, USA Today, The Washington Post, Stars and Stipes and others, as well as people who cooperated with the coalition contingent.
Despite the fact that Ukraine did not have its own peacekeeping contingent in Afghanistan, it ranked eighth in the number of rescued people among European countries.
ol