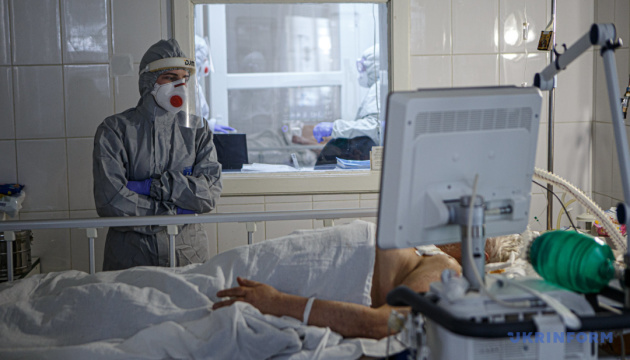 Almost 99% of hospitalized COVID-19 patients unvaccinated – health minister
Unvaccinated citizens account for almost 98.1% of those admitted to hospitals with COVID-19.
That's according to Minister of Health Viktor Liashko, Ukrinform reports citing the ministry's press service.
"Let's give doctors the opportunity to work as usual. To this end, you need to register and come get the vaccine. This way you will give them more bonuses, not more work to do. After analyzing health care data over the three months, we see that 98.1% of people hospitalized with COVID-19 are unvaccinated," said Health Minister Viktor Liashko.
He added that vaccination alone is a way to leave strict quarantine restrictions in the past.
"Few countries allow their citizens to choose vaccines. In Ukraine, there are three products available (recently there were four), so everyone can choose the jab to get and where they are to get it," added the minister.
Three vaccines are currently available in Ukraine: AstraZeneca, CoronaVac by Sinovac, and Comirnaty by Pfizer. Each of these vaccines effectively prevents the severe course of the coronavirus disease and saves lives, "but they only work when they enter your body," the minister stressed.
The Ministry of Health recommends that citizens sign up for vaccinations as early as possible to protect their lives and health, as well as their contacts.
People over 60, those with underlying conditions such as diabetes, cardiovascular disease, cancer, and those who come into daily contact with a large number of people, such as medics, teachers, social workers, and government employees, are at the highest risk of severe COVID-19 and death.
A total of 11,456,848 vaccinations have been performed since the launch of the inoculation campaign. Every fifth adult in Ukraine has already received at least one dose (6,304,016 people have been vaccinated, 6,304,014 have got the first dose, and 5,152,834 have completed the immunization procedure (received two doses).
im