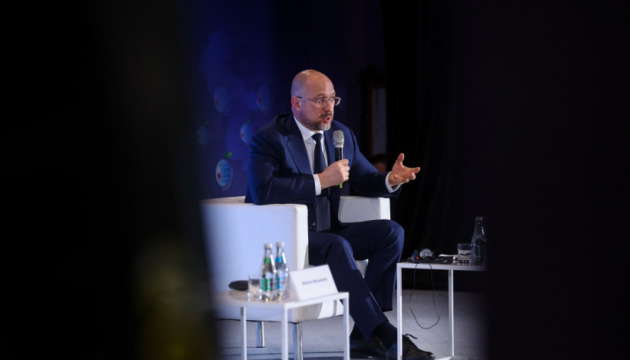 PM Shmyhal names priorities for overcoming COVID-19 crisis
Prime Minister of Ukraine Denys Shmyhal has outlined ways to overcome the crisis caused by the COVID-19 pandemic.
He said this during the discussion panel of the Forum "Europe: Reconstruction", which took place in Karpacz, the Republic of Poland, on September 9, the Government portal reports.
The event was also attended by Polish Prime Minister Mateusz Morawiecki and Slovenian Prime Minister Janez Jansa.
"The crisis caused by the COVID-19 pandemic has affected the whole world; therefore, the countries should look for ways to overcome the challenges together," Shmyhal said.
The Ukrainian PM stressed that there are several scenarios for overcoming the crisis, and the common challenge for the countries today is to ensure a balanced and fair recovery for the whole society.
He voiced a number of priorities, without which it is impossible to find the way out of the crisis today.
"First, it is essential to have an understanding and vision of the strategy. For the first time since Ukraine gained independence, we have elaborated an economic development strategy until 2030, which contains more than 30 vectors and 12 programs," he said.
Shmyhal added that Ukraine is making a lot of efforts nowadays to develop the healthcare system.
"Next year, the budget for medicine will be twice the budget of 2019. In parallel with the reform of medicine, we are changing our approaches. We pay more attention to the scientific basis, development and production of domestic drugs and vaccines," he noted.
In addition, economic recovery, according to the prime minister, is impossible without the support by the government and business of infrastructure projects.
"President Volodymyr Zelensky initiated the Great Construction program. In Ukraine, there is an opportunity to build roads, restore infrastructure, bridges, airports, and railway stations. We pay a lot of attention to public-private partnership, which is also an important way to overcome the crisis. Governments must take the lead to bring countries out of the crisis, but without the support of society and business, it is impossible to overcome the challenges we face," Shmyhal stressed.
Among other things, he noted the importance of the green transition, as it is "not only about climate change, but also about human well-being, significant investments, development of hydrogen technologies, and other innovative areas."
In addition, the prime minister stressed that the countries should pay attention to the development of trade and investment environment, as well as to take joint steps to strengthen security within the region.
ish