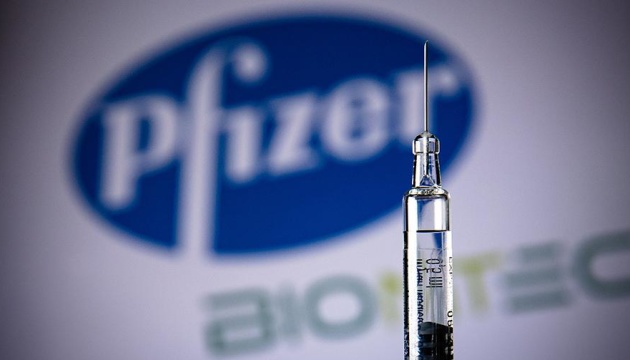 Ukraine receives over 188,000 doses of Pfizer vaccine from United States
Ukraine has received over 188,000 doses of Pfizer-BioNTech's Comirnaty vaccine from the U.S. government through the COVAX Facility, according to the Ministry of Health.
"On Saturday, August 28, the United Nations Children's Fund (UNICEF) delivered 188,370 doses of Pfizer-BioNTech COVID-19 vaccine to Ukraine," the report reads.
These doses, together with diluent, are donated to Ukraine by the United States government through the COVAX Facility, as part of the global effort to ensure fair and equitable access to safe and effective COVID-19 vaccines for all countries around the world.
"I extend my warmest thanks to the U.S. government and our partners, who within and beyond the COVAX initiative are helping to protect from grave consequences of coronavirus disease as many Ukrainians as possible, first and foremost those from priority groups. I would also like to reiterate that the COVID-19 vaccine is available to all adults. All you need to do is book a convenient appointment, show up and get the shot," Minister of Health of Ukraine Viktor Liashko said.
"The United States is fully committed to the global fight against COVID-19, and we are proud to partner with Ukraine to scale up access to quality, approved COVID-19 vaccines across the country. Vaccines are one of the best tools we have to fight this pandemic," U.S. Chargé d'Affaires Kristina Kvien noted.
According to the ministry, the newly arrived vaccines are to be used at mass vaccination centres and for vaccination of professional groups.
Deliveries under COVAX will continue. By the end of 2021 Ukraine is expected to receive enough vaccines produced by various manufacturers to protect up to 20% of the population from COVID-19, within COVAX.
Previously, in July, UNICEF delivered 2,000,040 doses of Moderna COVID-19 vaccine, donated by the United States through COVAX. In total, 4,325,910 doses of vaccines by different manufacturers (Pfizer, Moderna and AstraZeneca) have been delivered to Ukraine to date through the COVAX Facility.
In early August, UNICEF also supported the delivery of 509,400 doses of AstraZeneca vaccine, donated by Denmark.
The COVID-19 vaccination campaign started in Ukraine on February 24, 2021. As of today, 8,931,640 doses have been administered in Ukraine, with 5,308,725 people receiving their first dose and 3,622,915 people receiving both doses (two people received their first dose abroad).
ish