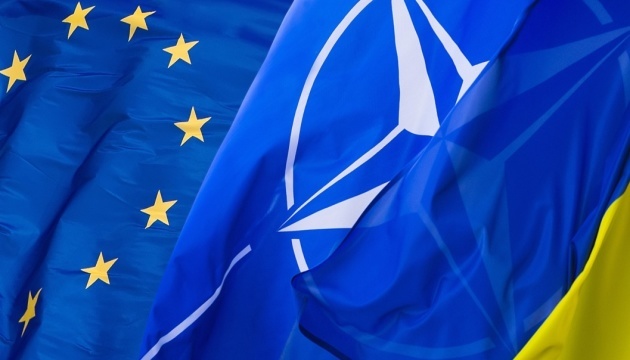 Over 60% of Ukrainians support EU integration, 54% back Ukraine's joining NATO
Some 62% of Ukrainians support their country's accession to the European Union, whereas 54% back Ukraine's joining NATO, according to a survey conducted by the Razumkov Center between April 23-28, 2021.
"If a referendum on Ukraine's accession to NATO took place in the near future, the vast majority (71%) of Ukrainians polled would take part in it, which is evidence of high public interest in the country's strategic course. Some 54% of Ukrainians surveyed are ready to vote for [their country] joining NATO, 31% are against that, and 15% were undecided," the survey says.
In addition, according to the study, the level of public support for European integration is traditionally slightly higher than support for Euro-Atlantic integration.
"Some 62% of all respondents voted for Ukraine's accession to the EU, and 26% voted against accession. At the same time, the share of supporters of accession significantly exceeds the share of opponents in all age categories, regardless of the gender of respondents. The balance between 'for' and 'against' varies significantly, depending on the region of residence, but remains in favor of supporters of EU accession," the study shows.
Sociologists also studied the opinion of Ukrainians about possible threats to their state. According to the vast majority of respondents, the most relevant threats to Ukraine are threats from Russia (74%) and external aggression (72%). The majority of respondents also consider relevant the internal and external threats: separatism (63%), international terrorism (53%) and the growth of extremism in Ukraine (49%).
The study was conducted by the sociological service of the Razumkov Center in all regions of Ukraine, except for Crimea and the temporarily occupied territories of Donetsk and Luhansk regions. Some 2,021 respondents aged 18 and older were interviewed. The poll's margin of error is 2.3%.
op