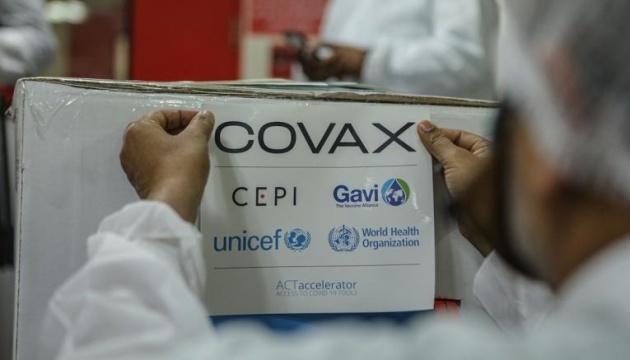 UNICEF delivers 117,000 doses of Pfizer vaccine to Ukraine under COVAX
On Tuesday, June 8, UNICEF delivered 117,000 doses of Pfizer-BioNTech vaccine to Ukraine.
During this and early next week, Ukraine will receive 473,850 doses of Pfizer vaccine under the COVAX Facility, according to the UNICEF Office in Ukraine.
"Today, UNICEF delivered 117,000 Pfizer-BioNTech vaccines from COVID-19 to Ukraine as part of a new supply in the framework of the COVAX Facility. In total, during this and early next week, Ukraine will receive 473,850 doses of Pfizer vaccine - free of charge under COVAX," the report reads.
Earlier, under COVAX, Ukraine received 590,850 doses of Pfizer-BioNTech vaccine and 1,072,800 doses of AstraZeneca. Ukraine receives all vaccines within COVAX free of charge.
"UNICEF is grateful to partners and donors who are helping to make COVID-19 vaccination more accessible in Ukraine. Thanks to the support of colleagues from WHO, the governments of the United States, the European Union, the United Kingdom, the United States Agency for International Development (USAID), the World Bank and other donors, more and more people in Ukraine receive protection from such a dangerous infection as COVID-19. We thank the healthcare professionals of Ukraine who are relentlessly fighting to save the lives of their patients, and hope that vaccination will help ease strain on the healthcare system - will protect you and your patients from severe illness, complications, hospitalization, need for oxygen support or death. Please get vaccinated yourself and encourage patients, friends and relatives to do so as soon as they get an opportunity - this is lifesaving," said Lotta Sylwander, UNICEF Representative in Ukraine.
COVAX Facility is a result of the unprecedented solidarity of the international community to ensure equitable access to COVID-19 vaccines for all countries. Deliveries will continue and by the end of 2021, as part of the Facility, Ukraine is expected to receive enough vaccines from various manufacturers to protect up to 20% of the population from COVID.
As of June 8, Ukraine recorded 1,602 new coronavirus cases, bringing the total number of confirmed COVID-19 cases to 2,216,654.
Since the beginning of the vaccination campaign, which started on February 24, 1,284,145 people have been vaccinated, of which 152,142 people have received two doses.
ish