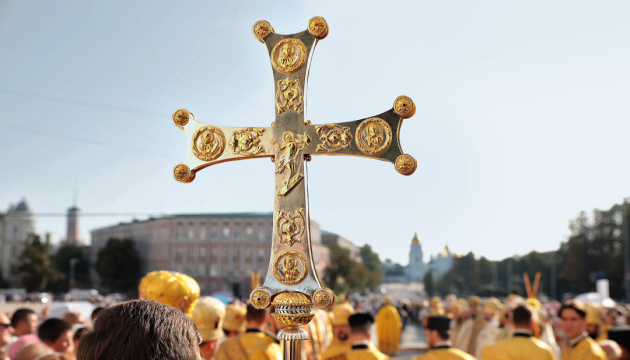 Orthodox Church of Ukraine calls on Putin to repent, end war
The Ukrainian people want to live in peace and understanding, but will not allow the imperial yoke to be imposed again, according to an address by the Holy Synod of the Orthodox Church of Ukraine (OCU) on the escalation of Russian aggression against Ukraine, published on the OCU's Facebook page.
"Numerous reliable reports confirm the largest massing of Russian troops near our borders since the beginning of Russia's undeclared war against Ukraine in 2014. The first and obvious purpose of such amassing of troops is the Kremlin's intimidating Ukrainian society, putting pressure on our state and Ukraine's allies in the free world with a view to achieving their own interests. We are not afraid! – this is our response to this aggressive intention of the Russian authorities," the address reads.
The Synod said the Ukrainian people want to live in peace and understanding with everyone. "But we will not allow the imperial yoke, from which the Ukrainian people freed themselves three decades ago, to be thrown on our necks again!" the statement reads.
The Synod also appealed to the Russian authorities: "Stop, repent, make up for your guilt by ending the war and agreeing to a just peace."
At the same time, the OCU warned "Russian servicemen, all official and secret mercenaries of the Kremlin" from participating in the crimes of their superiors: "Let the fate of Judas Iscariot be a warning to you - do not stand in the way of betrayal and servitude to the enemy."
The Synod appealed to all believers and people of good will to continue praying for a just peace for Ukraine. "Until now, we have seen many times the Lord's mercy to the Ukrainian people - we believe that even in the current trials, God will not leave us defenseless against the aggression of the enemy," the OCU said.
The OCU also thanked all allies, the countries of the free world that unanimously support Ukraine in these difficult circumstances and call on the Russian authorities to stop the escalation of aggression.
"Friendship, devotion to the principles of peace and democracy are evidenced by the willingness to defend them. Freedom and peace for Ukraine is peace and security for Europe and the world. And this is the cornerstone for a better future for Russia itself, when sooner or later it realizes the perniciousness of the now chosen authoritarian way of rebuilding the 'empire of evil'," the address reads.
op