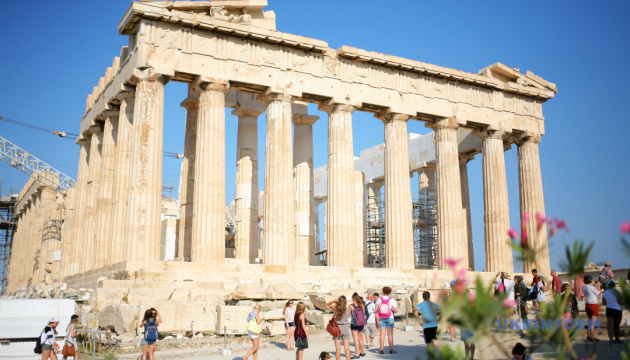 Greek tourism minister: We are waiting for Ukrainians from May 14
Greece plans to accept Ukrainian tourists from May 14 when it opens its borders to a number of countries outside the Schengen area, Greek Tourism Minister Harry Theocharis has said in an interview with Ukrinform.
"The reality is that we will be able to accept Ukrainian people coming to our borders and, of course, hopefully, Greeks that want to come to Ukraine. We have mixed marriages, we have people who have ties between the two countries and we want to allow these people to be able to travel," he said.
Theocharis added that May 14 "is the date when we can project with confidence that things will go according to plan."
According to him, to enter Greece, Ukrainians will need to present a negative PCR test or a vaccination certificate approved by the Ukrainian authorities.
"We are waiting for the Ukrainian authorities to give us examples of those certificates so that we can check them at our borders. We are also trying to accept other vaccines [not approved by the European Medicines Agency]," Theocharis said.
He also said that Greece was currently considering replacing a PCR test with an antigen test "to bring the cost of travel further down," which could be introduced from May 14.
Upon arrival in Greece, Ukrainians and tourists from other countries will be randomly tested for COVID-19 at Greek airports, given the current situation of morbidity in a certain country.
The minister added that children under the age of five would be able to enter Greece without a PCR test.
"The discussion about the kids has changed since last year because it seems that the kids spread the disease a lot. So the minimum age they have decided on is five years old. A child over the age of five must present a negative test," Theocharis said.
At the same time, he stressed that Greece would make the final decision on opening its borders in cooperation with health professionals, taking into account the epidemiological situation in the world.
"We miss our friends from Ukraine, and we want to see your friendly faces again. We assure you that we in Greece are waiting for you with open arms, but we also do it in ways that suit both parties," he said.
Greece earlier promised to open its borders to tourists on May 14, complying with a set of anti-coronavirus measures. They include, in particular, the confirmation of vaccination or negative tests at entry, a system of random EVA checks at borders and airports, isolation hotels for visitors with COVID-19, the vaccination of representatives of the tourism industry, which will begin after the vaccination of the vulnerable groups of citizens, and strict compliance with treatment protocols.
op