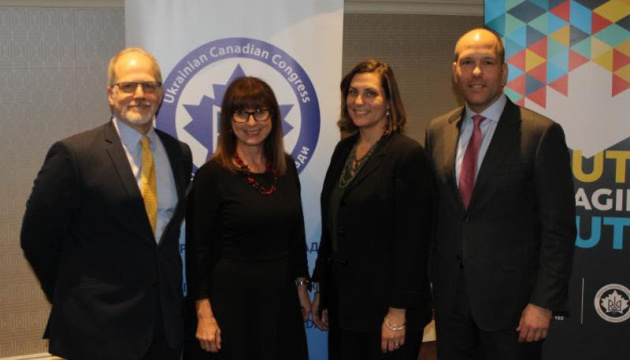 Canada's FM meets with Ukrainian diaspora representatives
Canada's Minister of Foreign Affairs Marc Garneau held a virtual meeting with representatives of the Ukrainian Canadian Congress (UCC).
The UCC delegation, led by UCC National President Alexandra Chyczij, briefed Minister Garneau on the current situation in eastern Ukraine and presented recommendations for actions that Canada and allies should take in support of Ukraine.
"We are grateful to Minister Garneau for the opportunity to discuss the latest developments and Russia's increasing aggression against Ukraine. Minister Garneau underlined Canada's unequivocal support for Ukraine's sovereignty and territorial integrity, and condemned Russia's recent escalations," Chyczij stated.
She added that "in order to deter further Russian aggression against Ukraine, it is vital that Ukraine's allies respond strongly and forcefully."
As Ukrinform reported, the Russian armed forces have recently been building up troops near the state border of Ukraine in the north, east and south, as well as in the occupied Crimea. In addition, the number of ceasefire violations in eastern Ukraine by the armed formations of the Russian Federation has increased; there are losses among the soldiers of the Armed Forces of Ukraine. In parallel, the Russian Federation is conducting a propaganda campaign to justify possible aggression against Ukraine.
On April 6, it also became known that, against the background of a buildup of troops to the Ukrainian border, Russia had begun a control check of the army's combat readiness.
ish