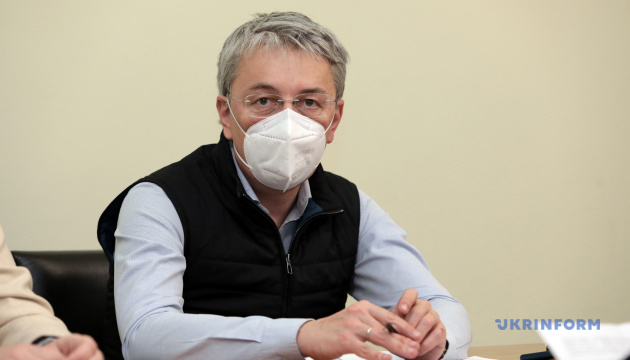 Tkachenko: Eighty percent of monuments in Ukraine need serious restoration
In Ukraine, 80% of immovable monuments need serious restoration and about 30% are in disrepair.
Minister of Culture and Information Policy of Ukraine Oleksandr Tkachenko wrote this in a column for the Ukrayinska Pravda online media outlet, Ukrinform reports.
Commenting on the situation with architectural and historical monuments, the minister noted: "Most immovable monuments — 80% — need major restoration and about 30% are in disrepair. However, active restoration works have begun since March 2021."
He noted that the works in the Oleskiv Castle in Lviv region and the National Art Museum of Ukraine in Kyiv are already in full swing. Among the agreed sites is the second stage of the Holodomor Memorial, which is scheduled to open by August 24.
Tkachenko reminded that the Great Restoration project budget for 2021 is UAH 2 billion, of which UAH 1.7 billion comes from the special fund.
"This is not only a big step towards the development and preservation of monuments, but also a movement towards communities' and local authorities' understanding of the importance of our common heritage. And I am grateful for all the initiatives that put forward by territorial communities and representatives of local authorities," the minister wrote.
Apart from restoration, the Great Restoration project also provides for repairs, construction and emergency works. Preference will be given to monuments that are dilapidated, have national significance, are included in the UNESCO World Heritage List, are included in tourist routes.
About 150 cultural monuments in all regions of Ukraine are planned to be restored and completed within the framework of the Great Restoration project in three years.
ol