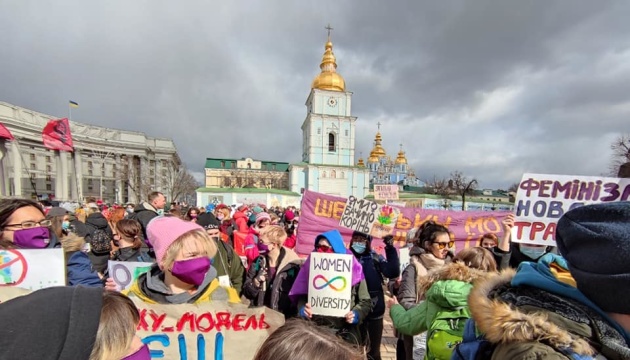 Women's March taking place in Kyiv
On March 8, the Women's March takes place in Kyiv and other cities of Ukraine.
This year's Women's March is dedicated to the negative consequences of the pandemic for women, Ukrinform reports with reference to the event's Facebook page.
"The pandemic has a woman's face. The COVID-19 pandemic has significantly affected the lives of people around the world, changed the usual rhythm of the functioning of society, exacerbated social problems and led to the emergence of new challenges. Women have suffered the most from the negative effects of the pandemic," the report reads.
The organizers of the Women's March in Kyiv demand the following immediate actions to improve the lives of women and work toward a future of gender equality: ratification of the Istanbul Convention; increased social assistance for mothers working at home, including additional supports for children with disabilities; increased social assistance for individuals who have lost their jobs due to COVID-19; ensure safe working conditions for women in jobs that place them at high risk of contracting COVID-19; ensure online access to all medical and preventive healthcare services; open public shelters in all regions of Ukraine for women experiencing domestic violence; and ensure fair investigations into cases of violence against women perpetrated by far-right organisations.
Ukraine and the world mark International Women's Day on March 8.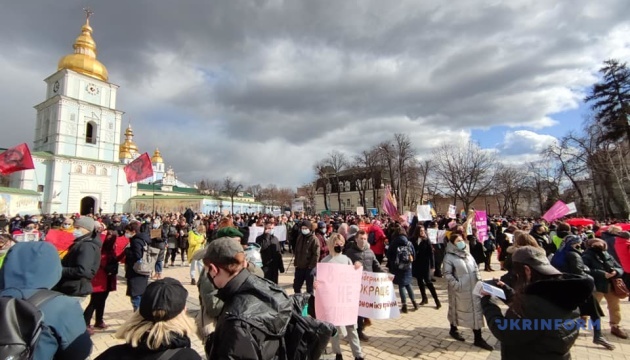 ish