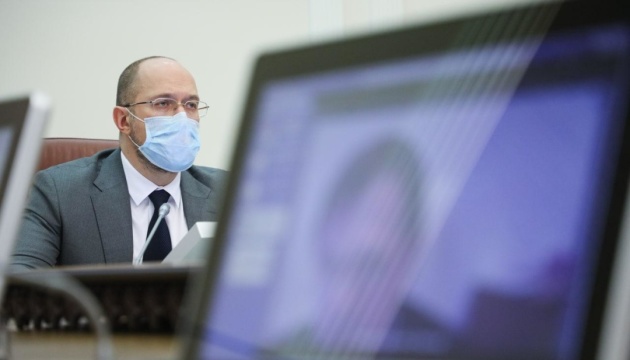 PM Shmyhal: Quarantine to be extended until April 30
On Wednesday, the Cabinet of Ministers will make a decision to extend the quarantine restrictions in Ukraine. The adaptive quarantine will be in force from next week.
"The decision will take effect next week, so all Ukrainians will be able to get acquainted with it, prepare," Prime Minister of Ukraine Denys Shmyhal said at the Cabinet's meeting, an Ukrinform correspondent reports.
According to him, the Cabinet of Ministers plans to introduce green, yellow, orange and red levels of epidemiological danger in Ukraine as a whole or in the regions and to extend restrictive anti-epidemic measures for the period of quarantine, to introduce additional measures for individual regions based on epidemiological indicators.
"I want to announce a return to the model of adaptive quarantine, when a certain level of quarantine restrictions will be established within a region. Depending on the epidemiological situation, there are four levels of epidemiological danger, each of which has clear restrictions, criteria and definitions," Shmyhal said.
In addition, it is planned to extend the state of emergency for the unified state system of civilian protection throughout Ukraine until April 30, 2021.
It is also planned to establish procedures for the implementation and abolition of relevant additional restrictive anti-epidemic measures and the procedure for informing about their entry into force. The changes, if adopted, will take effect on February 22.
As of February 17, Ukraine has reported 1,280,904 laboratory-confirmed COVID-19 cases, including 4,286 cases recorded over the past day.
ol