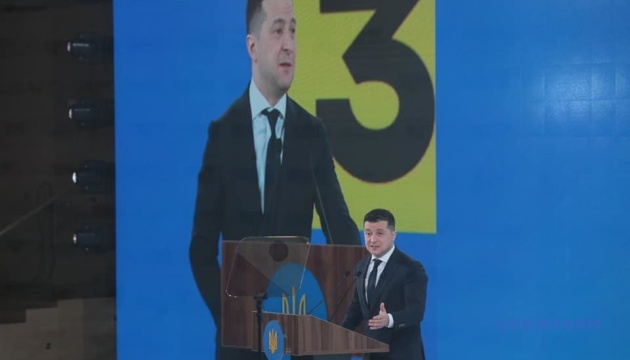 Russian vaccine will not be tested on Ukrainians - Zelensky
Ukrainian President Volodymyr Zelensky has denied the possibility of vaccinating Ukrainians with the Russian Sputnik V vaccine until the official confirmation of its effectiveness at the global level.
According to an Ukrinform correspondent, the head of state told this to journalists as part of the All-Ukrainian Forum "Ukraine 30. Coronavirus: Challenges and Answers" in Kyiv on Monday, February 8.
"There is no official information from the WHO or from leading European and world experts that the Russian-made Sputnik V vaccine has an efficacy of 90-91%. [...] I believe that Ukrainian citizens are people and they, sorry for this comparison, are not rabbits. We have no right to do experiments with them. Therefore, we negotiated only with leading manufacturers of vaccines that have been approved by the world and give the world a very serious positive result," Zelensky said.
In this context, he recalled that Ukraine would receive the first part of Pfizer vaccines in February under the COVAX scheme, and European Commission President Ursula von der Leyen also confirmed this in her speech to the participants in the forum.
Zelensky noted that due to the high demand for vaccines in the world, the situation is quite tense and, according to his forecast, it will remain tense in March.
"I think we have purchased the amount of the vaccine so as to give all Ukrainians the opportunity to get vaccinated, and then we'll see, because sociology says that about 50 percent generally do not believe in COVID-19," Zelensky said.
op