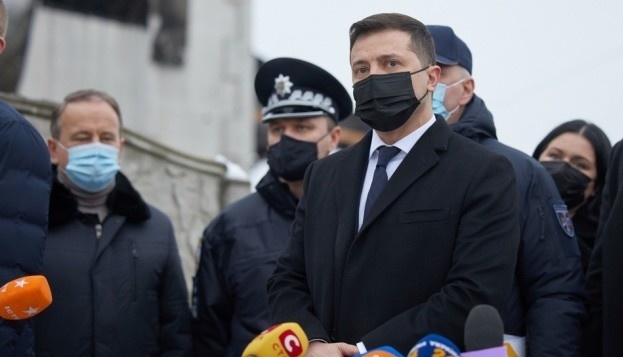 Zelensky calls for reform of social services market after fire in Kharkiv
Ukrainian President Volodymyr Zelensky has said that the sphere of the provision of social services in Ukraine, in particular the activities of elderly care homes, should be regulated at the legislative level.
He told this to journalists after visiting in hospital the victims of a January 21 fire in a private home for the elderly in Kharkiv, according to an Ukrinform correspondent.
"Reform should be global in this case, I think. [...] There will be legislative initiatives, there should be reform. People can get normal quality services. I think that these could be both private and municipal services, no matter how it sounds. Such a market of fair social services should be open in Ukraine," Zelensky said.
He said that he "partially does not morally understand children who send their parents to such hospice facilities, into such conditions." After talking to one of the Kharkiv fire victims, he stressed that such facilities do exist, but they do not pay taxes.
"At least I already understand that people, in principle, know about such private hospices. The fact that - some of our colleagues from law enforcement agencies told me - no one knows about it is not true, because you can get registered on the Internet. It costs from 5,000 to 15,000 [hryvnias] a month," he said.
Zelensky arrived in Kharkiv on Friday morning.
On January 21, a fire broke out on the second floor of a two-story residential building in Kharkiv which, according to tentative reports, had been converted into a home for the elderly. Fifteen people were killed in the fire and five more were injured.
The event has been classified as a state-level emergency. A government commission will work in Kharkiv on January 22 to establish the causes of the tragedy.
According to Kharkiv Regional State Administration, the institution for the elderly where the tragedy took place was not included in any register.
op