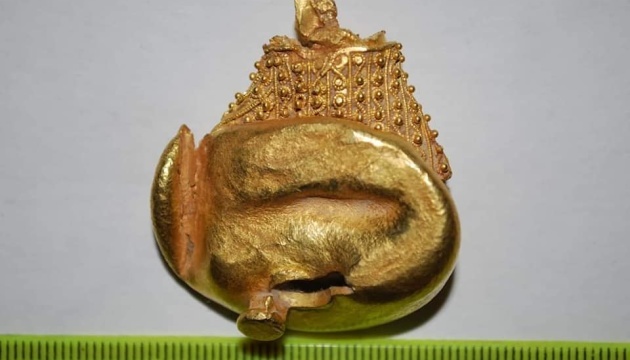 Archaeologists in Zakarpattia region show biggest gold find
In Zakarpattia region, western Ukraine, archaeologists have shown the biggest gold find, a torc weighing 544 g and made of Transylvanian and Ural gold.
"A neck ring, torc weighing 544 g, was found in Mala Kopania sacred complex. The ring is composed of 94.52% gold. The analysis suggests that Transylvanian and Ural gold was used to make it. Currently, this torc as a separate artifact is the biggest gold find in Zakarpattia region," Volodymyr Moyzhes, archaeologist, candidate of historical sciences, head of the Archaeological Museum at the Uzhgorod National University, told Ukrinform.
According to him, the torc was found in fragments during a study of the Dacian sacral center in Mala Kopania. The fragments were scattered over a large area of about 70 square meters. The total weight of the collected fragments was 544 grams.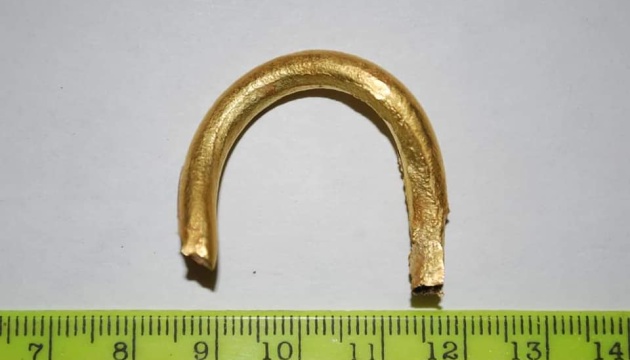 "Torcs not so much had a function of decoration as emphasized the social status of the owner. In particular, this is indicated by the famous marble statue Dying Gaul kept in the Capitoline Museum (a copy of a bronze image cast by order of King Attalus I of Pergamon in 230-220 BC). By the way, the torc of the Dying Gaul is very similar to the one we found in Mala Kopania. So it could be an accessory of a chief," the archaeologist explained.
According to him, the fact that the torc was found cut is linked with certain rituals as the place of its discovery (the sacred center) suggests that burials and other rites were performed here.
"Perhaps the owner died and the torc was cut," Volodymyr Moyzhes said.
According to him, the base of the golden Dacian torc found in Zakarpattis consists of four intertwined gold strands 9-10 mm in diameter. A thin threaded rod is twisted inside.
The decoration is currently preserved in the Zakarpattia Regional Museum of Local History.
ol