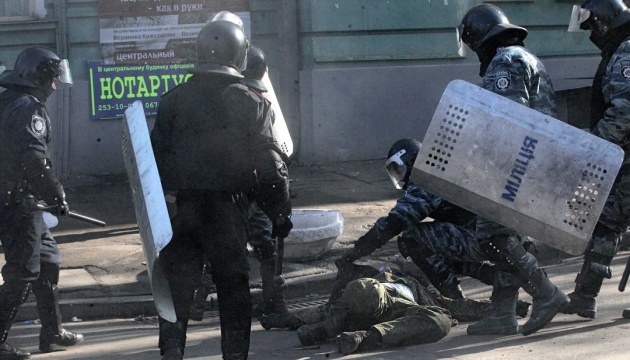 7th anniversary of Maidan: Clashes with Berkut riot police started on this day
During the Revolution of Dignity, on January 19, 2014, the confrontation on Maidan went from a peaceful to forceful phase.
Hundreds of thousands of people, outraged by the adoption of "dictatorship laws" [which violated the principles of freedom of expression, freedom of assembly and demonstrations, as well as freedom of the media] on January 16, gathered for a viche [public assembly].
Despite numerous calls by opposition leaders to continue the peaceful protest, the column of thousands of people went to the Verkhovna Rada and collided with the Berkut riot police cordon on Hrushevskoho Street. The clashes began and lasted all night.
During the confrontation, the protesters threw stones, fireworks and Molotov cocktails at the police. At the same time, six buses and police trucks were burned. Berkut used percussion grenades, rubber bullets and water cannon against the protesters.
According to the capital's doctors, 122 people sought medical help and 50 of them were hospitalized in the period from 16:00 on January 19 to the morning of January 21. At the same time, according to the Euromaidan medical service, 1,400 people were injured on Hrushevskoho Street on January 19-20.
After these events, the US leadership and representatives of the European Union started to talk about the imposition of sanctions on the then Ukrainian authorities.
оl