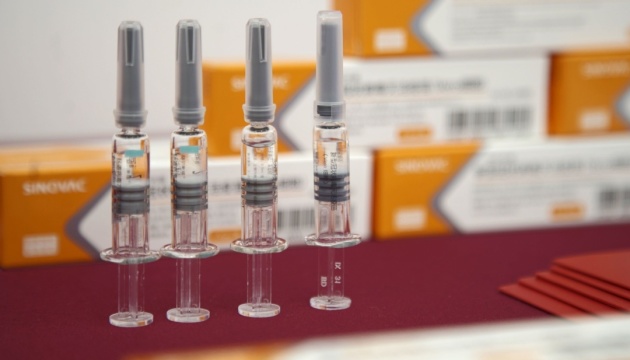 Ukraine to manufacture Sinovac flu and COVID-19 vaccines
The Lekhim group of pharmaceutical companies has agreed with China's Sinovac Biotech to manufacture company's flu and COVID-19 vaccines at the Ukrainian facilities.
"At the beginning of last year, we decided to organize the vaccine production in Ukraine. We chose Sinovac and agreed to organize the production of flu and coronavirus vaccine as it was already clear in February that such a disaster was imminent," Valeriy Pechayev, chairman of the Lekhim supervisory board, member of the Health Ministry board, said at the press conference, an Ukrinform correspondent reports.
Pechayev explained the choice of Sinovac vaccines, saying that the technology of inactivated vaccine production has been known for a long time, vaccines of this manufacturer have confirmed their reliability and safety, and their effectiveness, according to him, has been proven in practice. Also, according to Pechaev, the storage temperature of the vaccine is +2-8 degrees, allowing it to be used on a large scale. One of the criteria for choosing Sinovac was also the fact that the company's shares are listed on the NASDAQ OMX Group.
Pechayev also said that Lekhim had built two plants – in Uman and Kharkiv – and completes the construction of a third plant in Obukhiv. So it is planned to launch a manufacturing and storage facility in February and the first stage of the plant in August.
On January 11, the Lekhim group of pharmaceutical companies announced that they had signed an agreement with the Chinese vaccine manufacturer Sinovac Biotech on the supply of 5 million doses of COVID-19 vaccine to Ukraine. It was also noted that the company will launch the production of the vaccine at the Ukrainian enterprise PJSC Lekhim-Kharkiv in 2022.
On December 12, Sinovac COVID-19 vaccine was found to be 50.4% effective in Brazilian clinical trials.
Health Minister Maksym Stepanov said that if the vaccine does not meet the efficacy standards of at least 70%, the manufacturer will reimburse the funds in full.
ol