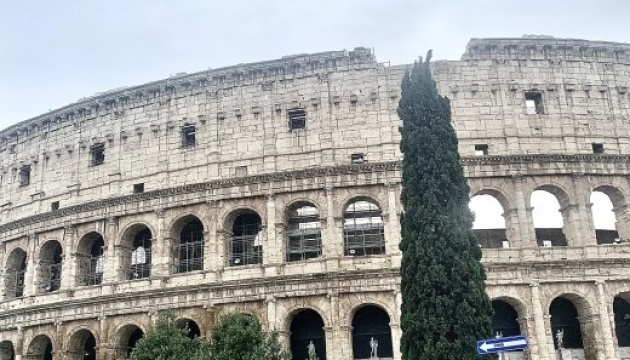 Ukrainian-language audio guide launched in Colosseum
The Ukrainian-language audio guide was launched in the Colosseum in Rome, becoming the ninth audio guide as part of the project initiated by First Lady of Ukraine Olena Zelenska.
"The launch of Ukrainian-language audio guides is part of the cultural diplomacy vector. This project is aimed to spread the Ukrainian language in the world, so that the voice of Ukraine is heard in the world's most outstanding landmarks," the press service of the President's Office informs.
"The idea of launching Ukrainian-language audio guides first came to me in Berlin during a bus tour of the city. In fact, this was the first time I saw Ukrainian in the list of possible languages," Olena Zelenska said.
Ukrainian dubbing actor Yuriy Soskov became the "voice" of the audio guide at the Colosseum.
"I am glad to join this, in my opinion, necessary project. It is great that our country started to take care of the native language in museums around the world," Yuriy Soskov said.
According to the First Lady, next year Ukrainian-language audio guides will be launched in the Tower of London, the Palace of Versailles, the National Museum of Natural History in Berlin, the Vatican Museum, the Yad Vashem Holocaust Memorial, and the Savitsky State Museum of Art in Uzbekistan.
The Colosseum ranks first among the most visited monuments in the world and third among the most visited museums, trailing only the Louvre Museum and the National Museum of China.
As reported, the Ukrainian-language audio guides were already launched in the Albertina Museum and the Art History Museum in Vienna, the Dolmabahçe Palace in Istanbul, the Ephesus Open-Air Museum, the Göreme National Park, the National Carpet Museum in Baku, the National Museum of Art in Riga, and the Maritime Museum of Montenegro in Kotor city.
ol