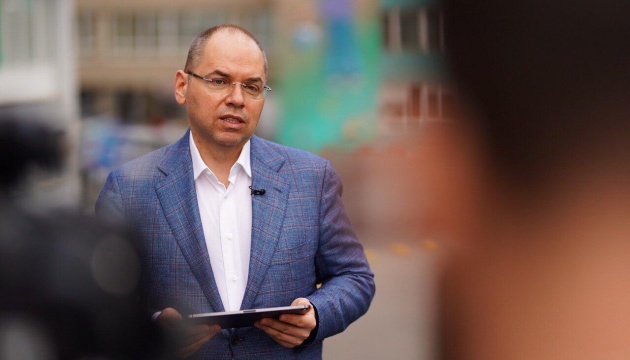 Over 2,000 people in Ukraine fined for not wearing mask in public places - Stepanov
As many as 2,111 fines have already been imposed on people not wearing a face mask in public spaces, Ukrainian Health Minister Maksym Stepanov has said.
"A law has been in force in our country since November 21, introducing administrative liability for those not wearing masks in public places. As many as 2,111 on-the-spot fines have been issued since then," Stepanov said at a briefing on Wednesday, November 25.
The law "On the Introduction of Amendments to the Code of Ukraine on Administrative Offenses to Prevent the Spread of Coronavirus Disease (COVID-19)" came into force on November 21.
The law is aimed at preventing the spread of coronavirus disease (COVID-2019) among residents of Ukraine.
Article 44-3 of the Code of Administrative Offenses of Ukraine provides for punishment for people staying in public buildings and on public transport during the quarantine without face masks, respirators or protective masks that cover the nose and mouth, including homemade masks, in the form of a fine from 10 to 15 non-taxable minimum incomes of citizens (from UAH 170 to UAH 255).
The offenders face on-the-spot fines that can be paid via a payment terminal.
Fines can be imposed by law enforcement agencies, the National Police, authorized health authorities, the authorized bodies of the State Sanitary and Epidemiological Service, as well as local government agencies.
op