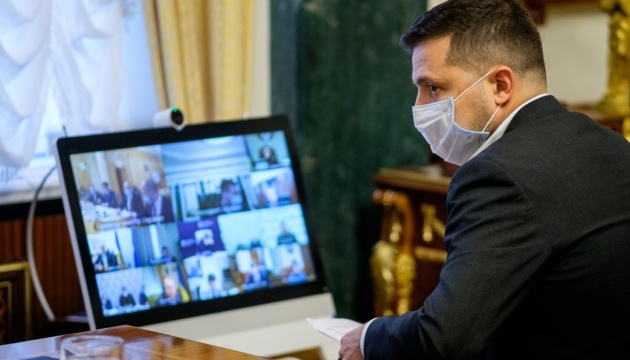 Weekend lockdown can help avoid tough lockdown - Zelensky
Ukrainian President Volodymyr Zelensky has said that a temporary weekend lockdown, lasting about a few weeks, can help avoid a tough lockdown and will make it possible to prepare the required number of hospital beds.
He said this during a conference call with representatives of the Cabinet of Ministers and law enforcement agencies to monitor the situation with the spread and prevention of the coronavirus disease, the presidential press service reported.
"A temporary weekend lockdown, for about a few weeks, can help us avoid a tough lockdown. In this way, we will avoid a large increase in patients and have time to prepare the required number of beds. Increasing the number of beds, wearing masks and a temporary weekend lockdown will give a good effect. Our scenario of the epidemic situation in the cold season will be far from the worst," Zelensky said.
According to the President's Office, the meeting participants focused on the preparation of beds in case of an increase in the number of patients and said that about 100,000 more should be provided in a few weeks.
Prime Minister Denys Shmyhal, in turn, said that last week another ten hospitals began to receive patients with COVID-19. In addition, he noted that the number of beds for such patients had increased by 4,400.
He also said that the government continued to increase the number of coronavirus tests.
At the same time, Health Minister Maksym Stepanov said that oxygen concentrators were being purchased and companies producing medical oxygen were being licensed. He noted that an additional 16 such companies had been licensed.
According to the report, the government is additionally purchasing antibody tests and three million such tests will be purchased for UAH 1 billion.
Secretary of the National Security and Defense Council Oleksiy Danilov, in turn, said that the number of people wearing masks was noticeably growing, as Ukrainians have become more responsible in observing anti-epidemic measures.
As many as 8,687 new cases of COVID-19 were registered in Ukraine on November 8.
op