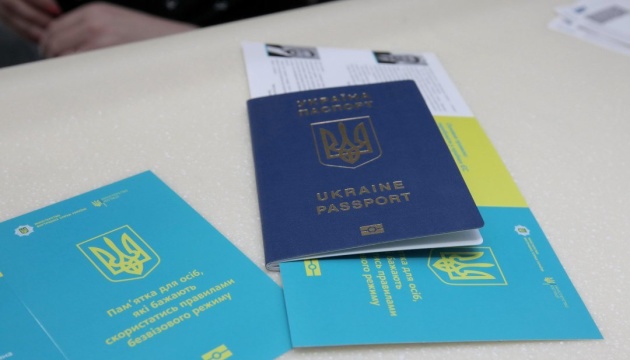 Poll: 55% of Ukrainians oppose possible abolition of visa-free travel to EU
The majority of Ukrainian citizens - 55% - have a negative attitude towards a possible abolition of visa-free travel to the European Union.
This is evidenced by the results of the poll conducted by the sociological group "Rating", Ukrinform reports.
According to the poll results, 55% of respondents have a negative attitude towards a possible abolition of visa-free travel to the European Union, and only 11% have a positive attitude. 31% of respondents have a neutral attitude, and 3% are undecided.
According to sociologists, young people, residents of the capital and western regions, supporters of the parties "European Solidarity", "Svoboda", "Holos" and "Servant of the People" have the most negative attitude towards possible abolition of visa-free travel.
The poll was conducted among Ukrainian citizens aged 18 years and over throughout the entire territory, except for the temporarily occupied territories of Crimea and Donbas, on November 2-3, 2020.
As reported, on October 27, the Constitutional Court of Ukraine declared unconstitutional Article 366-1 of the Criminal Code of Ukraine that provides for punishment for inaccurate declaration of assets.
On October 28, the National Agency on Corruption Prevention (NACP) closed access to the unified state register of asset declarations in pursuance of a ruling of the Constitutional Court of Ukraine. The NACP stated that Constitutional Court judges had made this decision in their own interests as the agency found signs of some of them declaring inaccurate information.
On October 29, President Volodymyr Zelensky held an urgent closed-door meeting of the National Security and Defense Council to determine measures for the immediate proper response of the state to new threats and challenges to national security and defense.
On October 30, Zelensky tabled in the Verkhovna Rada the bill "On Renewal of Confidence in Constitutional Judiciary," which proposes to terminate the powers of judges of the Constitutional Court, declare its ruling on asset declarations "null and void" and repeal the relevant amendments the law "On Corruption Prevention." In addition, it is envisaged that the powers of the composition of the Constitutional Court will be terminated from the date of entry into force of this law.
The European Union responded to the CCU's decision, stating it questions a number of international commitments Ukraine has made to its international partners, including the EU. The European Union stressed that the fight against corruption was one of the key indicators and commitments that Ukraine had undertaken under the Association Agreement, the recently agreed EU-Ukraine macro-financial assistance program, and the visa liberalization process.
ol