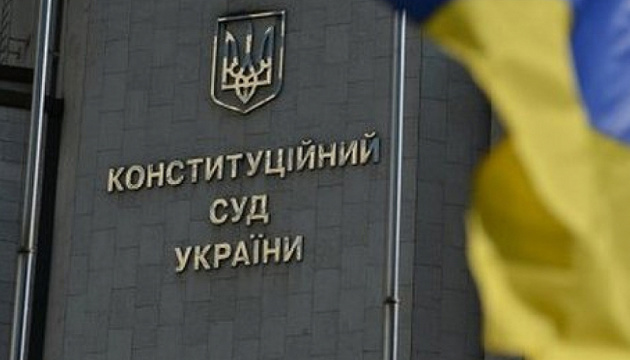 Constitutional Court decision will lead to rollback in anti-corruption reform - TI Ukraine
The Constitutional Court of Ukraine granted the whim of certain MPs, effectively terminating the majority of the anti-corruption reform, Transparency International Ukraine has said in a statement on its website.
According to the statement, the Constitutional Court abolished criminal liability for intentional false declaration of assets or intentional failure to file a declaration (up to two years in jail). The court also declared the powers of the National Agency on Corruption Prevention (NACP) to control and verify declarations, open round-the-clock access to the register of e-declarations and lifestyle monitoring unconstitutional. The rights of NACP commissioners and the task of authorized divisions (individuals) on corruption prevention and detection has been effectively abolished.
"Reports on significant changes in the financial status of electronic declarations subjects, and the article of the Law 'On Corruption Prevention' on liability for corruption or corruption-related violations have also been declared unconstitutional," the organization said.
TI Ukraine said that the court deprived the NACP of multiple rights, such as access to registers, drafting reports on administrative violations, issuing conclusions on violation of the anti-corruption legislation, conducting "anti-corruption" inspections in government agencies (including those connected with whistleblower protection), filing lawsuits with the court on recognizing regulatory acts as illegal, etc.
"The decision of the Constitutional Court will lead to a significant rollback in Ukraine's anti-corruption reform. These legislative provisions were the cornerstones of the anti-corruption system, while corruption has been recognized one of the threats to the national security. In addition to the loss of accountability, thousands of officials will remain unpunished for lying in declarations," TI Ukraine's Executive Director Andrii Borovyk said.
On August 4, MPs from the Opposition Platform - For Life political party filed a constitutional petition, which was signed by a total of 47 MPs. The submission concerned the compliance of certain provisions of the Law of Ukraine "On Corruption Prevention," the Criminal Code of Ukraine, the Civil Procedural Code of Ukraine and other relevant laws of Ukraine affecting the rights and freedoms of citizens with the Constitution of Ukraine.
op