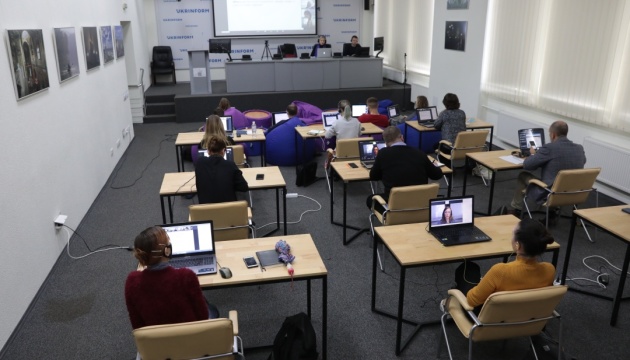 Ukrinform, dpa hold series of fact-checking webinars
The Ukrainian National News Agency Ukrinform and the German Press Agency (dpa) have held a series of webinars for journalists and editors of Ukrainian media outlets on the topic "How to recognize lies and fakes in social networks and media. Tools and methods of verification."
Speakers at the event were dpa editors Nicole Wehr and Jan-Nikolas Picker, dpa chief verification officer Stefan Voss, as well as StopFake fact-checker Artem Laptiiev.
During the webinars held on September 22, 24, 29 and October 1, German colleagues shared their experience and techniques they use to detect fakes in text, photo and video materials, which are mostly spread via social media. The workshops focused on useful journalistic skills that can be acquired quickly.
The discussion of experts from StopFake and dpa allowed the participants to understand the peculiarities of the news verification work in Ukraine and Germany, as well as the main trends in the development of fact-checking in the world.
In total, four workshops were attended by about 60 representatives of Ukrainian media outlets, a number of non-governmental organizations dealing with media issues, and faculties of journalism in Kyiv universities. The participants received the relevant certificates.
Representatives of Ukrinform and dpa are talking about continuing their cooperation on fact-checking in the future, in particular by organizing a workshop for journalists who want to become fact-checkers. Both sides are convinced that further training of Ukrainian journalists is useful in the interest of social dialogue and quality improvement in journalism.
op