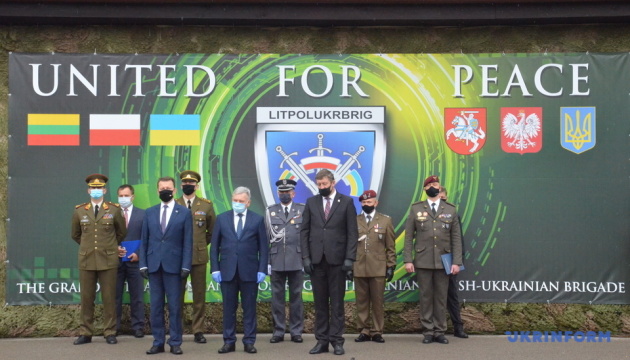 Defence ministers of Ukraine, Poland, Lithuania mark 5th anniversary of LitPolUkrBrig establishment
On October 2, Defence Minister of Ukraine Andriy Taran, Minister of National Defence of Poland Mariusz Błaszczak and Minister of National Defence of Lithuania Raimundas Karoblis took part in the events dedicated to the 5th anniversary of establishment of the international Lithuanian-Polish-Ukrainian brigade LitPolUkrBrig.
As an Ukrinform correspondent reports, the ministers underscored the need for defence cooperation between the three countries in view of the threat posed by Russia.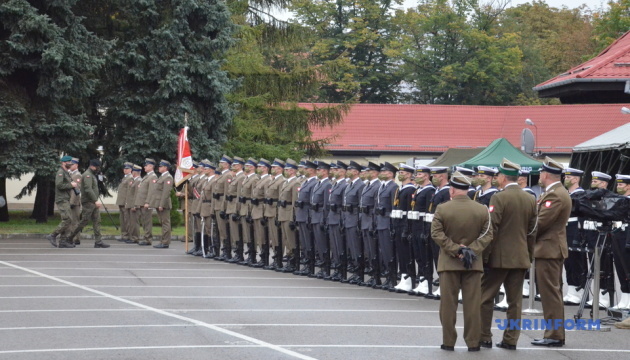 "The efforts of the three countries are aimed at ensuring peace and stability in Central and Eastern Europe. This is especially true today, when the Russian Federation is waging war against Ukraine for the seventh year in a row, as a result of which the Crimean peninsula was annexed and part of eastern Ukraine was occupied, more than 14,000 Ukrainians have died and millions have become displaced," said Ukraine's Defence Minister Taran.
He stressed that the decision to create a brigade was "timely and far-sighted", and the Kremlin received a clear signal that "any manifestation of aggression will receive a consolidated response."
In turn, Minister of National Defence of Poland Mariusz Błaszczak pointed out that Russia had attacked Ukraine in 2014.
"We must draw conclusions from this and make every effort for the armies of our countries to be as strong as possible, trained and cooperate with each other," Błaszczak said.
According to him, the brigade's slogan "Three nations, one vision" shows the dimension of cooperation between the three countries and the challenges which Kyiv, Warsaw, and Vilnius face.
LitPolUkrBrig is a good format of cooperation that needs to be developed and expanded, Minister of National Defence of Lithuania Raimundas Karoblis stressed.
"The challenges to our security and the threats to us are similar. Russia poses a threat to our countries and to our region in general," Karoblis noted.
After the official events, Minister of Defence of Ukraine Taran held talks with his Polish and Lithuanian counterparts.
The agreement on the establishment of LitPolUkrBrig was signed in September 2014. The brigade was finally formed in autumn 2015, and the operational status was reached in January 2017. In the fall of 2017, the brigade was named after Grand Hetman Konstanty Ostrogski. The brigade command is headquartered in Lublin, the higher command changes every three years.
ol