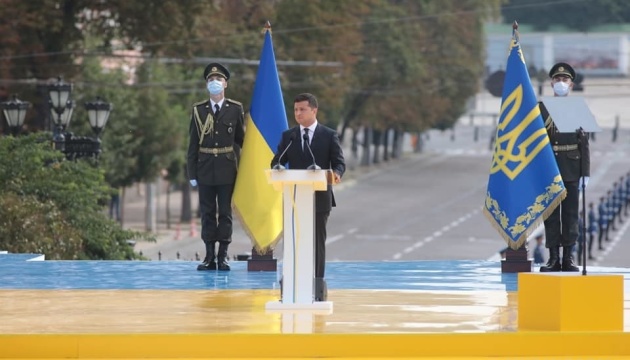 President: Ukraine suffers no combat casualties for 29 days in a row
On the 29th anniversary of Ukraine's independence, no combat losses in Donbas have been reported for 29 days in a row.
"A year ago I said that I began every morning with a text message from the General Staff of Ukraine. SMS about the number of wounded and dead over the past day on the frontline. The numbers may be different, but only one message makes the morning good: 'Zero wounded. Zero dead.' Today is the 29th day in a row when the morning is really good for me and the whole of Ukraine. Yes, we face many new challenges. But today marks 29 days with no combat losses in the east of Ukraine," President of Ukraine Volodymyr Zelensky said in his speech on the occasion of the Independence Day of Ukraine.
He added that Ukrainian cities and villages had not buried their heroes for 29 days already. "Mothers have not cried for 29 days. Wives and children have heard on the phone: 'I kiss you, my love. I'll be home soon' for 29 days," the President said.
Zelensky noted that, while being on a working trip to eastern Ukraine recently, the local residents told him that the declared ceasefire was really observed.
"And today, on the 29th day of truce, on the 29th anniversary of Ukraine's independence, we all ask God for only one thing - let the days of ceasefire become months. Months - years. Years - centuries, and then millennia. Peace, harmony and prosperity for the Ukrainian land," the Head of State emphasized.
Ukraine marks the Independence Day on August 24.
ol