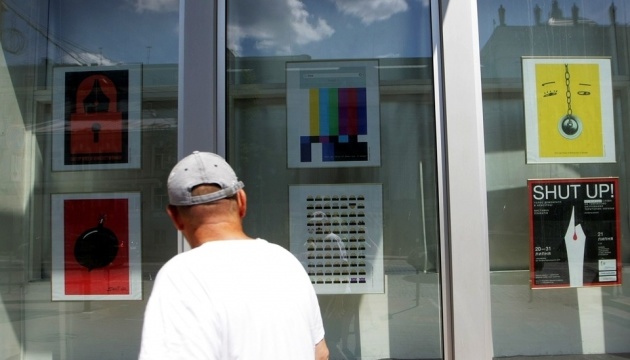 Exhibition 'Shut UP! Voice of Democracy in Danger' opens at Ukrinform
An exhibition of posters by Ukrainian artist Mykola Kovalenko entitled "Shut UP! Voice of Democracy in Danger" has opened in Ukrinform's windows as part of an information campaign in support of public journalists imprisoned in Crimea and Donbas.
The campaign was launched by the Ukrainian Foreign Ministry and NGOs, according to an Ukrinform correspondent.
Mykola Kovalenko, who now lives in Slovakia and is the author of an international exhibition of thematic posters on the protection of freedom of speech, said at a press conference entitled "Lack of freedom of speech in the temporarily occupied territories of Ukraine" at Ukrinform on Tuesday, July 21, that the world should learn about the harassment of journalists in the occupied territories of Ukraine.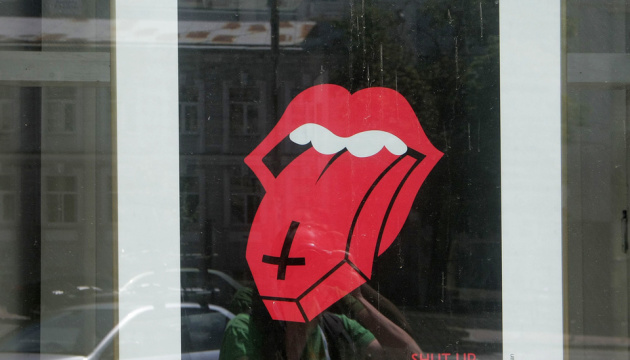 "Now the problem of freedom of speech can be seen not only in Ukraine or Slovakia. This is a problem for the whole world. It was very interesting for me to see how it is seen in Japan, Mexico, Portugal, or Iran. We need to talk about what is happening now in Crimea and Donbas. As a designer, I talk with the help of my posters, works, and I organize a community of designers to somehow shed light on this problem," Kovalenko said.
Ukraine's First Deputy Foreign Minister Emine Dzheppar, in turn, promised to create an exhibition based on the published posters and stories of 11 public journalists from Crimea who are subjected to torture by the Russian occupation authorities. Information about the exhibition will be spread through dozens of Ukrainian embassies and missions around the world, so that the whole world community learns about the problem of freedom of speech in the occupied territories.
"Based on these works - 21 posters, which we have selected from hundreds of the best posters created by the world's leading experts, famous designers - we will make an exhibition with personal stories of 11 people we talked about today and who serve as citizen journalists. This exhibition will focus on what freedom of speech means in the occupied territories, what challenges Ukraine has to protect journalists and non-classical journalists. They [the posters] will be distributed among our embassies – these are dozens of foreign diplomatic missions," she said.
The exhibition of 21 posters in the windows of Ukrinform will last for two weeks. The next exhibition, which will feature the stories of 11 citizen journalists from Crimea, will start in September and will be indefinite, Dzheppar said.
On July 21, Dzheppar announced the launch of a large-scale project to support public and professional journalists who are subjected to persecution and torture in the occupied parts of Donbas and the Autonomous Republic of Crimea.
The project aims to inform the international community about the oppression of freedom of speech in Crimea and the arrest of 11 public journalists and streamers of Crimean Solidarity: Server Mustafayev, Tymur Ibragimov, Marlen Asanov, Seyran Saliyev, Remzi Bekirov, Ruslan Suleymanov, Osman Arifmemetov, Rustem Sheikhaliyev, Nariman Memedeminov, Ernes Ametov, and Amet Suleymanov.
op