Epiphanius visits Heavenly Hundred Heroes memorial in Lviv
Metropolitan of Kyiv and All Ukraine Epiphanius arrived in Lviv on July 15 to visit the Heavenly Hundred Heroes memorial together with Head of Lviv Regional State Administration Maksym Kozytsky and Lviv Mayor Andriy Sadovyi, the city council's press service has reported.
"It was interesting for me to come here, to the Memorial, because this is not the first time I'm here. I was at this beautiful place to honor the memory of our Heavenly Hundred Heroes before the opening. I had an invitation to the opening, but then I did not have the opportunity to be here. Now, when I am in Lviv, I decided to visit such a place to pay tribute to our Heroes, thanks to whom Ukraine has chosen the path of European development without weapons in their hands. Now we must continue to move on this path and remember the sacrifices that were placed on the altar of our independence," the head of the Orthodox Church of Ukraine said.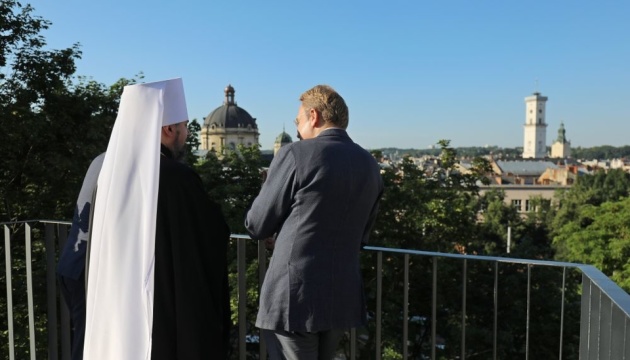 Today, according to the metropolitan, he will hold a Divine Liturgy on the Holy Mountain in the Zolochiv district.
The Holy Mountain is located 60 kilometers from Lviv, between the villages of Bilyi Kamin and Ushnia in the Zolochiv district.
op