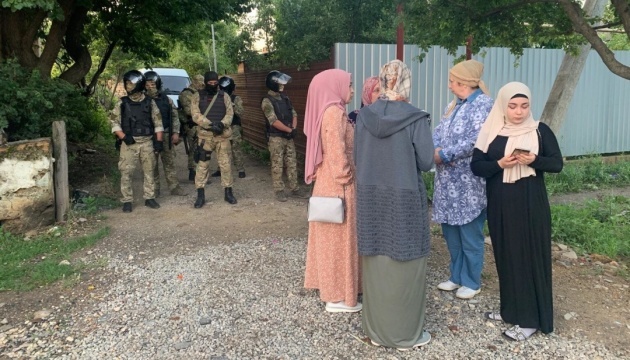 Russian security forces raid homes of Crimean Tatars
This morning, Russian security forces raid the homes of Crimean Tatars in several parts of the Crimean peninsula occupied by the Russian Federation.
"04:15. The Crimean Solidarity hotline got calls about several raids in various parts of Crimea," the human rights organization "Crimean Solidarity" posted on Facebook.
As of 07:00, the human rights defenders were informed about seven searches in houses of Crimean Tatars - Emil Ziyadinov (Zhovtneve urban-type settlement), Ismet Ibragimov (Kurtsy village, Simferopol district), Dyliaver Memetov (Alushta town), Alim Sufyanov (Zaliznychne village, Bakhchisaray district), Seyran Khayretdinov (Bilokamyanka village, Bakhchisaray district), Oleksandr Syzykov (Sevastyanivka village, Bakhchisaray district), Vadym Bektemirov (Kamyanka village).
According to preliminary data from the lawyers of the human rights organization, six people have been detained: Emil Ziyadinov, Ismet Ibragimov, Alim Sufyanov, Seyran Khayretdinov, Oleksandr Syzykov, Vadym Bektemirov. They have been taken to the Federal Security Service Department in Simferopol. Dyliaver Memetov was not in his house during the search.
Photo credit: Crimean Solidarity
ol