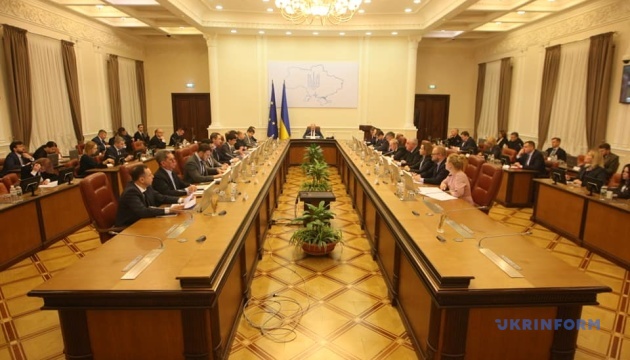 Cabinet restricts passenger transport services, mass events in Ukraine
The Government of Ukraine temporarily restricts passenger transport services in the territory of Ukraine to prevent the spread of coronavirus infection.
"Following the order of the President of Ukraine and the decision of the State Commission on Technological and Environmental Safety and Emergencies, the Cabinet of Ministers decided to restrict passenger traffic in the territory of Ukraine in order to prevent the spread of coronavirus infection," Ukraine's Government portal reports.
The resolution imposes a ban on rail, air as well as bus intercity and interregional passenger transport services, as well as the operation of subways.
The document, in particular, stipulates for the suspending from March 18 to April 3:
· on the whole territory of our country regular and irregular carriage of passengers by motor transport in suburban, intercity internal and interregional communication;
· transportation of more than 10 passengers simultaneously in trams, trolleybuses and road transport, in buses that perform regular passenger transport services on city routes.
From March 17 till April 3, subway operation is suspended in Kyiv, Kharkiv and Dnipro.
From March 18, 2020, until a separate decision is adopted, passenger rail transportation is suspended on all internal routes (suburban, urban, regional and long-distance).
Meanwhile, JSC "Ukrzaliznytsia" is allowed to operate separate passenger trains on internal routes with the decisions on each particular train being taken separately in accord with the Ministry of Infrastructure and the Ministry of Health, or on international routes in accord with the Ministry of Infrastructure, the Ministry of Foreign Affairs and the State Border Guard Service.
Moreover, from March 17, all mass (cultural, entertainment, sports, social, religious, advertising and other) gatherings involving more than 10 people are prohibited in Ukraine. Only the gatherings necessary to ensure the work of state and local self-government bodies are allowed.
From March 17, catering establishments (restaurants, cafes), shopping and entertainment centers, other entertainment establishments, fitness centers, cultural establishments must temporarily suspend their work. It is allowed to provide catering services with the use of targeted delivery of the order, provided the relevant staff is supplied with individual protective means.
Trade in food, fuels, hygiene products, medicines and medical products is permitted. Banking and insurance activities are allowed as well.
The Ministry of Health has been commissioned to temporarily suspend planned hospitalization and planned surgeries, except for immediate ones. In addition, to prepare and re-profile medical facilities for admission and treatment of infected patients with severe symptoms.
The Ministry of Internal Affairs and the National Police are authorized to control the implementation of this Government Resolution.
Authorities, enterprises and organizations are advised to provide shifts for employees, and, if technically possible, to ensure work online.
ol